Global Market Comments
August 3, 2009Featured Trades: (NATURAL GAS), (TM)
Special Announcement
1) The Mad Hedge Fund Trader will be presenting a lecture to San Francisco's prestigious Commonwealth Club of California at 5:30 pm on Tuesday, August 11, 2009. It is entitled Does America Have a Future? I will give a brief history of the hedge fund industry, and then launch into a broader explanation of the long term investment trends that will dominate for the next decade. An extended Q & A will follow. This is your chance to question the logic, the analysis, and yes, even the sanity of The Mad Hedge fund Trader in person. It will be held at the club headquarters at 595 California Street, second floor, San Francisco, CA 94105, which is right at the Montgomery Street BART station.  Non members are welcome, but you must buy tickets in advance for $15, as the event is expected to be a sellout. For more information, please go to this link to the lecture by clicking here , or go to the club website at http://tickets.commonwealthclub.org/. Please leave the bags of rotten tomatoes at home, as I don't want to get stuck with a cleaning bill.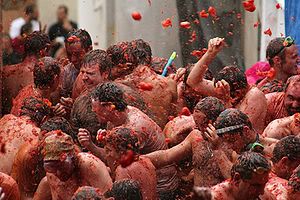 2) Perhaps it was the newspaper gene in me that made me screech my car to a halt when I saw a near riot in progress at my local Toyota (TM) dealer. The showroom was more jammed than the unemployment office, with eager salesmen recalled from vacations, manning card tables set up in every available space. I managed to grab one peripatetic salesman by a lapel, who gushed that they sold 45 cars yesterday, compared to ten for a normal Friday, and that 35 of these were the fruit of  the 'Cash for Clunkers' program. Sure I could get a $4,500 credit for my 1995 BMW (17 mpg), and apply it to a new Prius (50 mpg), taking the price down to $19,500 and the monthly payment to $450/month for five years. In fact, the government stimulus program was so successful, that it ran out of money in the first four days, and congress rushed to triple it to $3 billion on Friday. It was like the survivors of a ship torpedoed at sea were swimming frantically for the only piece of wreckage that floated. Assuming that the average car drives 10,000 miles a year, and the average swap generates a mileage improvement from 15 mpg to 27 mpg, junking 750,000 clunkers will save 30 million barrels of crude a year, 1.5 days of our total annual consumption, or three days of imports. I asked to see the cars that were traded in and was told that the lots for the dealer, the used cars, and the detailer were all full, but I could see some if I went to the Target nearby where they were renting extra spaces. There I saw the fleet condemned to clunkerdom, GM Safari's, Jeep Cherokees, Buick Regals, Dodge Ram pickup trucks and vans, and Chrysler minivans by the dozen,  all with 'CFC' marked on their windshields, a certain death sentence. These sorry excuses for transportation will never belch blue smoke, nor drip oil on our interstates again. I can't imagine a sorrier commentary on the management failure of the US car industry for the last 30 years.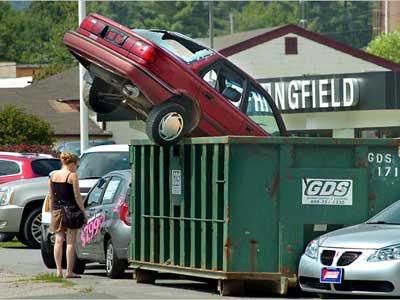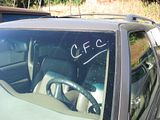 3) My favorite coincident economic indicator, the 'Boot Index,' is showing that we may be entering a very modest economic recovery. That is the price at which you can buy Asolo's top line mountaineering boot at the REI member sales. I bought this hiker's dream for $5 last March, and yesterday the price had climbed back up to $27. Of course, this is not the full retail price it should be selling for of $280, with tax. Similarly, we should be equally cautious about Friday's report of Q2 GPD growth of minus 1%, and the downward revision of Q1 from minus 5.5% to minus 6.4%. To say this is an improvement is like taking money out of one pocket and putting it in the other, then booking a profit on the transaction. The hard truth is that consumer spending, business investment, housing, and inventories are still in terrible shape. Consumers are broke and getting broker, a big problem when they account for 71% of GDP. Only massive federal government spending is supporting the economy, and what happens when that runs out? The next $2 trillion in stimulus is going to be a lot more expensive than the first. Sorry, but I remain a skeptic. I'd rather go hiking in the Sierras than put money in the market here.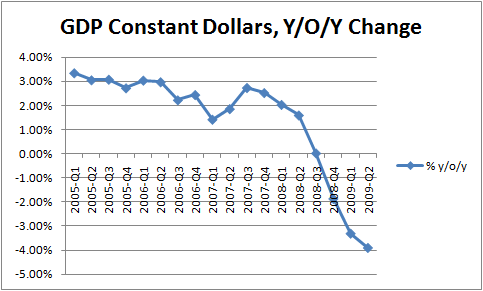 4) With the media going gaga over the imagined economic recovery, it's time to take another look at Ben Bernanke's exit strategy, or the lack of one. There is no doubt that a large part of our current financial stability is owed to massive Fed support of  the entire spectrum of the debt markets and the forced recapitalization of the banks. If Ben vacates too soon, we'll descend back into the depths of Hell. If he hangs around too long, he'll be doling out massive dollops of hyperinflation. It's like having an annoying dinner party guest who you can't ditch because you need him to pay the bill. Fed watchers say the dilemma is as challenging as threading a needle in the dark while wearing pruning gloves. There are also the two 800 pound gorillas swept under the carpet named Fannie Mae and Freddie Mac, which are still major sources of home loans for the catatonic housing market. I'm glad it's his headache and not mine. For a more in dept analysis of the problem, look at Shah Gilani's work by clicking here.
QUOTE OF THE DAY
'What's happening in shale gas is that in three years we've gone from a nine year reserve life to a hundred year reserve life,' said Steve Farris, CEO of independent oil and gas production and exploration company, Apache (APA).