Global Market Comments
July 1, 2009
Featured Trades: (VIX), ($BVSP), (RSX), ($BSE), (FXI), (EEM), ($KOSPI), (TBT), (JNK), (PHB), (HYG), (FCX), (X), (CHK), ($XEU)
1) Equities: UP
The collapse of the volatility index (VIX) is telling us that the horrific, gut churning, 10% daily moves are over. But equities are no longer a US play. Extracting the insane leverage of the last decade means chopping the US growth rate down from a booming 5% to an anemic 2%. This is not a strong argument to buy American companies, which is why most analysts only see the indexes recovering 10%-20% this year. You might just get tedious range trading after the late 2008 dead cat bounce. The real action will be in the BRIC countries, which will see upside returns double what you will get with the S&P 500. Buy Brazil's Bovespa ($BVSP), Russia's RSX (RSX), India's Bombay Sensex ($BSE), and China's FXI (FXI) or Hang Seng. And it may be time to spell BRIC with a 'K' by throwing in the Korean Kospi ($KOSPI) as a sweetener.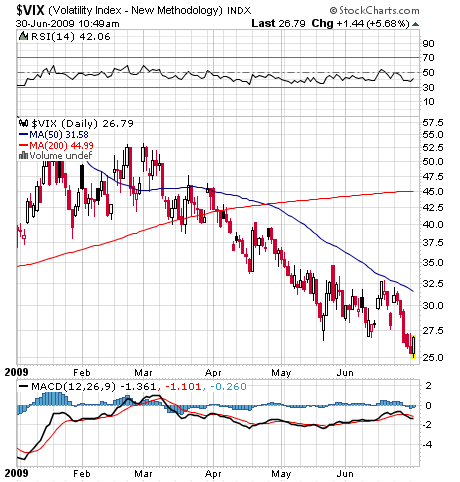 Grade: A+. The VIX went down virtually every day this quarter, plunging from 46% to 25%, so a ton of money was made on short volatility and time decay plays. My call that the export sensitive BRICK's were a 'Buy' was a total home run, as they massively outperformed the US. At their H1 highs, Brazil was up on the year 45%, Russia 100%, India 58%, China 41%, and Korea 32%. At its highpoint the S&P 500 was up on the year by a woefully anemic 6%. With 80%-90% of the world's economic growth over the next ten ears expected to come from emerging markets, Bricks are the place to be.  Although you may get a decent pull back this summer, this trade has much, much further to run. We are still in the first inning of a 12 inning overtime game. If you want to be conservative and diversified, buy the iShares MSCI Emerging Market basket ETF (EEM), up 38% on the year, on the next major dip.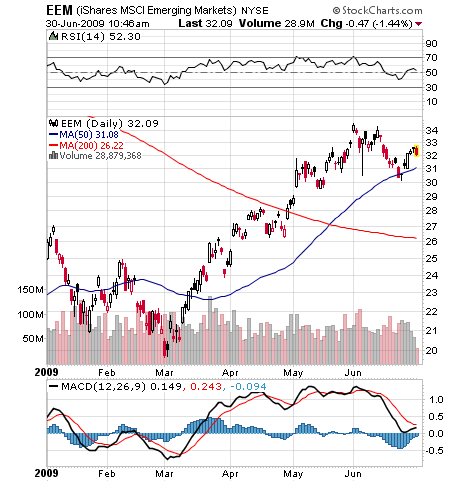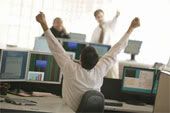 2) Bonds: Treasuries Down, Private Debt Up.

As I have been vociferously arguing in these pages for months, US Treasury bonds are witnessing the final stages of an overinflated bubble, and you don't want to be anywhere near this asset class when it bursts. Take out the flight to quality and year end balance sheet window dressing bid from this market, and you have an accident begging to happen. Take in the long term inflationary impact of Obama's plans, and you have a 30 year contract that peaked at 142 last week which is really only worth 70. It's just a matter of time before massive government issuance buries largely foreign buyers. Throw in the 50:1 leverage offered by a long bond futures contract, and the profit potential of a short position is so enormous that there are not enough zeros on my calculator to total it up. Buy the Lehman 20 year plus ultrashort bond ETF (TBT). Unfreezing of the debt markets will move the prices for every other type of debt off of their current throw away levels. Buy corporates of every grade with a heavy weighting in junk, or fixed income securities backed by REIT's, emerging markets, credit cards, student loans, or subprime loans. A convenient way to do this is to buy the ETF's for the Lehman High Yield Bond Fund (JNK), the PS Corporate High Yield Bond Fund (PHB), and the iShares iBoxx Fund (HYG).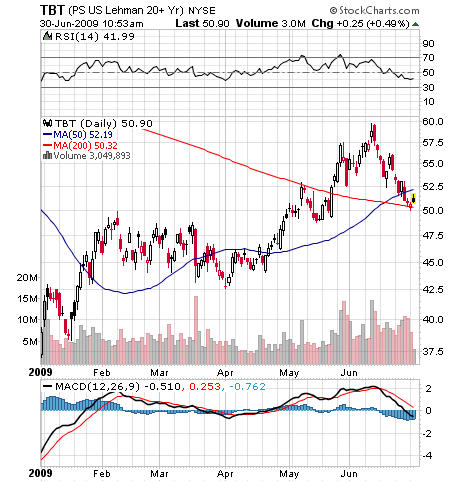 Grade: A+. My recommendation to short the Treasury's long bond was spot on, with the US Lehman 20 year 200% short ETF (TBT) soaring by 60%. With the government's printing presses running overtime, this is going to be your new free lunch. We have had a ten point pullback from the top, which may allow latecomers an entry point. The junk bond ETF's PHB (up 16%) and HYG (up 11%) also were profitable, but did less well, as credit concerns linger. I believe these positions have further to run. But we need to see a real economic recovery, not just a mirage of a few green shoots, to get some serious upside movement from here. For the short term, the easy money has been made.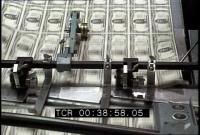 3) Commodities: UP
After giving up almost all of their 21st century gains, virtually all commodities, including grains, softs, energies, and metals, are due for a recovery. A good part of the sell off resulted from the disappearance of financing, which is slowly working its way back into the market. Now that newbie investors who never should have been involved, like pension funds, have bailed on this asset class, conditions are set for some serious base building. Commodities will be the principle beneficiaries of an epochal trend away from paper assets, towards hard assets, that will be the dominant investment theme for the next decade or two. Chinese and Indians still want to raise their standard of living faster than these substances can be grown, or ripped, or pumped out of the ground. Now Obama is adding America to the infrastructure build out story. A safe way to play this is through beaten down, dividend yielding, producing equities like Freeport McMoran (FCX) for copper, Chesapeake Energy (CHK) for natural gas, and US Steel (X) for steel and iron ore.  However, don't expect huge gains until we see signs of a global economic recovery by the middle of the year. Then watch out.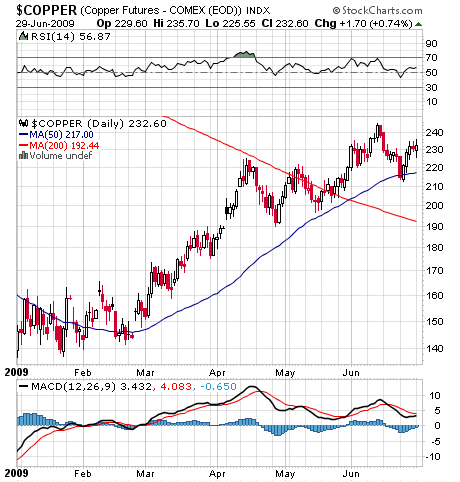 Grade A+. Commodities and their underlying stocks have been the place to be in 2009. You really couldn't miss, with grains, softs, energies, and metals all doing well. Freeport McMoran rocketed by 148% on a robust 75% move in copper.  Oil is up 78%, and gold ran 17% before its current pullback. The only letdown has been natural gas, which due to huge new discoveries, supply and storage difficulties unique to this one energy source, and the threat of imports, has fallen by 30%. However, my stock pick in the area, Chesapeake Energy (CHK), jumped by a robust 53%. Again, this trade has a long way to run. While they stopped making almost everything in this recession, the world hasn't stopped making more people. They are all going to need to eat, travel on more roads, and live in more houses. The emerging market thirst for a higher standard of living is as strong as ever. Look for crude to move to $200/barrel on the next spike. Move your portfolio out of paper assets into hard ones.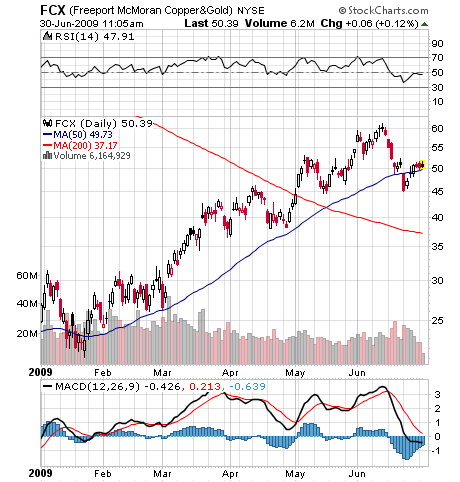 4) Currencies: Dollar and Yen Down, Everything Else Up

Since we are smack dab in the middle of a six year trading range, I don't really have a handle on what the buck is going to do short term. Could we see $1.20 or $1.00 for the greenback in an event driven overshoot, short term? You betcha! But longer term, the trend is still down. Obama's highly inflationary reflationary policies will eventually lead to an utter collapse in the dollar. If they are successful, the economy will recover, bringing Americans back to their old low saving, high consumption, high importing ways, adding fuel to the fire. Don't bet against the 45 year trend. No one ever got rich betting against the US consumer. Expect to pay $2.00 for a Euro in the years ahead. Take that European vacation now!
Grade: Pass. Here we are, Uncle Buck dead unchanged against the Euro on the year at $1.40. Since I really didn't take a view, I don't deserve a grade, so pass/fail applies. Even so, the collapse of the dollar is a mathematical certainty resulting from current US government reflationary policies in the extreme, and may be the trigger for the world's next big financial crisis. Expect more action in the second half.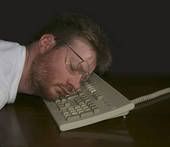 4) Real Estate: Down
With markets still deleveraging, and the son of subprime, the Alt-A loans on our doorstep, real estate is dead money at best. Although the cost of carry for home ownership is rapidly approaching equivalent rental costs on an after tax basis, fewer and fewer buyers are qualifying for loans. Add 1.2 million unsold homes from builders, to three million existing homes already on the market, and you have a staggering 4.2 million homes for sale in the US. There are at least another two million homes being held off the market waiting to smack down any recovery in prices. This is 7% of the total American housing stock. Probably 20% of US homeowners are underwater on their mortgages, and they're not buying anything anytime soon. We also have an impending crisis in commercial real estate to deal with, generating lots of mall bankruptcies and empty retail space. Remember, 'debt' is a four letter word. I don't see a meaningful recovery in residential real estate for five years, and then it will be a slow claw back at best.
Grade: A+. There is so much inventory out there it is unbelievable, yet the relentless tide of foreclosures keeps dumping more properties on the market. The sickness has metastasized to commercial real estate, which may be the next big shoe to fall. Look at the chart of the Case-Shiller Real Estate Price Index, which shows us back at 2003 price levels. If this were a stock, would you want to buy it? It is starting to take on the flavor of an all out capitulation. Only the 1990-1997 bottom looks safe. Stay away. Rent, don't buy.
Final Grade: A. OK, so my self grading is biased. But I am sticking to my guns on all of my core trades for 2009. The big question is, do you sell your doubles? All of the good trades are now overextended on the upside and begging for a pullback. What do you do here? It all boils down to your time frame, your risk tolerance, and your propensity to trade. Short term traders should get out (see 'Sell in May and Go Away'), but look to get back in on serious dips. Long term investors should sit back and hang on, even if the next few months grow violent, scary, or just plain tedious. The wind is at your back.
Call me what you want. You can even call me 'Mad'. Does anyone have a billion dollar hedge fund they want me to run? E-mail me.
The Mad Hedge Fund Trader