Global Market Comments
July 6, 2009
Featured Trades: (SPX), (GMGMQ), (T-M), (HMC), (IRAN)
1) OK, so I don't really open beer bottles with my teeth and do my own tattoos. But my call that the 'golden cross' in the S&P 500 on June 23 was a bogus one turned out to be a bulls eye, and the abuse I piled on the analysts who predicted an upside breakout was richly deserved. I have kept a laser like focus on the real technical picture that has been unfolding for the last two weeks, that of a bearish head and shoulders top. David Fry nicely does the scut work on technical matters for me though his excellent  ETF Digest blog. His chart and comments below are about to force us all to become historians, for it is setting up a perfect replay of 1937. That was when Roosevelt buckled under pressure from conservatives disgusted with four years of record government spending and groundbreaking social programs, and balanced the budget, igniting the second down leg of the Great Depression. It is no coincidence that both Chair of the Council of Economic Advisors, Christine Romer, and Fed Governor, Ben Bernanke, are authorities on this era. Thanks to Thursday's diabolical employment numbers, Mr. Market is now telling us that a 'W' recession and the second stimulus package it will demand are on the table. There is room for a short play here on US stocks. Look at the ProShares Ultra short S&P 500 (SDS), which is down 54% since March 9, and is overdue for a rebound. It will give you a nice 200% short position in a falling market. Please pass the church key.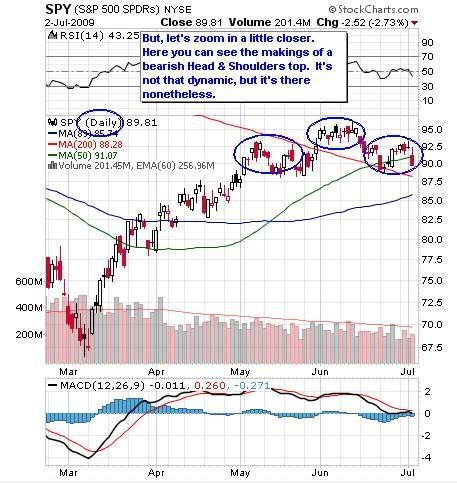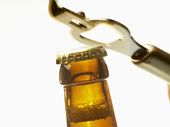 2) Perhaps it was deliberate that AMC Channel featured an Arnold Schwarzenegger film festival this weekend. Was the gratuitous violence of Terminators, Judgment Day, and the End of the World intended to drive us all to the negotiating table ('speak to the hand')? We now have a new currency in circulation, Golden State "script", which is thoughtfully being printed in green as I write this. Of course the banks haven't said they will accept this past July 10, so many spent the July 4th weekend at Big Five Sporting Goods stockpiling ammo and drinking water (everyone here already owns guns), possibly inspired by the Arnold movies. Many schools have already cancelled summer school, so of course, the malls are full of jobless kids lounging around and smoking cigarettes, with nothing to do. Towns are going without fireworks celebrations, and worried citizens are bracing themselves for a complete cessation of state services by the fall. Obama has wisely turned a blind eye to all of this, leaving we non taxing big spenders to stew in our own manure. With everyone of all parties thoroughly disgusted with their leaders, I'm surprised that the grass roots campaign for a state initiative to dump the two thirds majority required to pass a budget hasn't welled up yet. Does France still have that guillotine thing? Is it available for rent? Will they take California "script"?
3) It's not often that the investor's relations department of a company you follow sends you an e-mail telling you their stock is worthless. Neverless, that was the message I received from General Motors (GMGMQ) yesterday. Since the company filed for chapter 11, it has traded between $0.25 and $2.25, and has often been the best percentage gainer of the day ($0.50 to $0.75 is a 50% move up). No doubt, most of this is hedge fund buying of stock to close out short positions. Otherwise, the bean counters may force you to carry the positions for years, tying up capital and deferring your performance bonus. But then again, there are always some dummies out there who think the stock is cheap at $0.25, on its way back up to $150.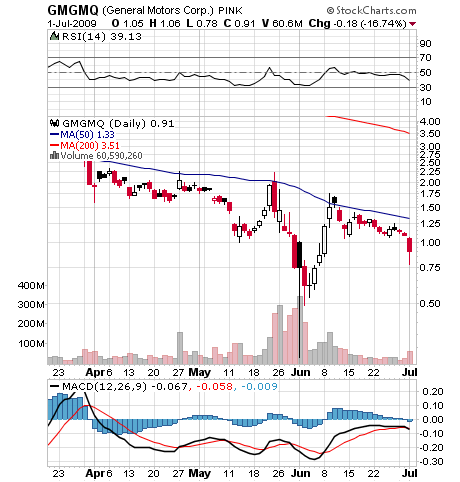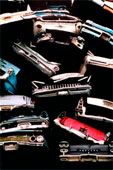 4) I had dinner with Neil MacFarquhar, UN Bureau Chief and former Cairo Bureau Chief for the New York Times, to get the latest view of what is happening on the Arab 'street.' MacFarquhar grew up in Libya around the time I tried to visit the country in the sixties (I was turned away at the Tunisian border), speaks and writes fluent Arabic, and has lived in Egypt, Kuwait, Israel, Cyprus, and Saudi Arabia, so he should know. Until now, the US has tried to turn everyone into Americans, which is why Bush's policies were doomed to failure. As a result, our form of government has a bad name, which Iraqis now equate with violence and bloodshed. The political process in the Middle East is dead, with most countries run by dictatorships backed by secret police. Many have used the war on terrorism simply to lock up their own pro democracy dissidents, and of course, our outsourcing of torture there is well known. However, the bombings in Riyadh and Casablanca have clearly moved sentiment against Al Qaida. Ironically, the Arab cable TV network, Al Jazeera, has become a tremendous force for change by giving air to debate and alternative views, even though it has been opposed by the US for years. With 25% inflation and 30% unemployment, the mullahs have to eventually lose control in Iran, with the demographics running strongly against them. Obama was right to launch new initiatives the first week of his administration in the region, where leaders have learned they can resist foreign peace efforts by waiting them out. For more on the Middle east, see my interview with ex Bush diplomat Richard Haas . I covered the Middle East myself as a journalist in the seventies and for Morgan Stanley during the eighties, and what Neil says makes a lot of sense.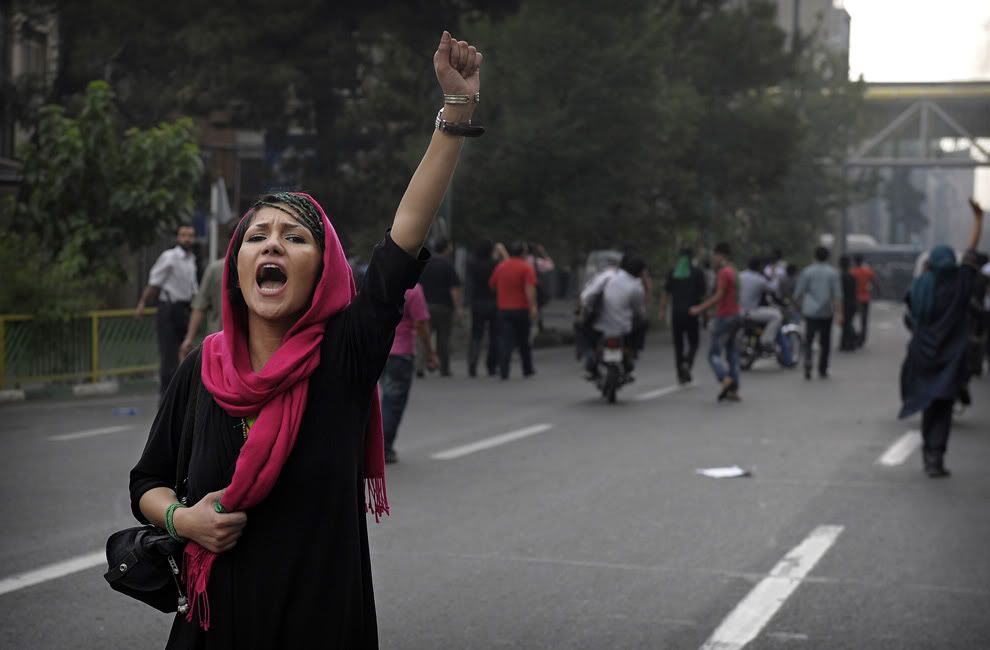 5) Ouch! The non-farm payroll came in at minus 467,000. What a spanking! The monthly figure is 100,000 worse than the expectations of most suicide prone economists, and took the unemployment rate up to 9.5%. There are now 14.5 million unemployed, an all time high, at least 20 million underemployed, and who knows how many more who have taken pay cuts, unpaid vacations, and furloughs. That leaves an ever diminishing pool of employed who are going to spend us into a recovery. Commodities got slammed across the board, stocks got trashed, and for a minute I thought they were going to run out of red arrows. Traders shorting the long bond got stopped out of their positions, yet again. Looking at the data, it is clear that this is the worst case scenario. Even construction and government jobs, the beneficiaries of so much Federal largess, are still falling. Only employment in education and health care is rising. This comes on top of yesterday's disastrous figures showing sales at Chrysler fell 42%, Toyota (TM) 34.6%, General Motors (GMGMQ) 33.6%, and Honda (HMC) 29.5%. At least this will put that annoying 'green shoots' crowd out to pasture. The Obama crowd has to be sweating bullets now, having fired their best shot at the enemy, with no apparent impact. Here comes the 'L'. Please see my 'Sell in May and Go Away' report.
QUOTE OF THE DAY
'CIA coups are underrated,' said Neil MacFarquhar, UN Bureau Chief and former Cairo Bureau Chief for the New York Times.