Global Market Comments
March 10, 2010
Featured Trades:
(WARREN BUFFET'S ANNUAL LETTER),
(BRK/A), (SPX), (GS), (GE), (BYDDF)
1)Sorry about the absent letter yesterday. A virus took out my computer, and it consumed eight hours to reformat the hard drive, find all of my user keys and passwords, and reload the software. Trolling the world wide web for those undiscovered investment pearls, I pick up more viruses than a drunken sailor on a three day pass. And this is with my antivirus software set to update every four minutes. Norton just can't keep up with this stuff. I spend a lot of time on sites in that great wellspring of disease, China. Last year, I got a virus that ate my BIOS. There was nothing I could do but take my desktop to the dump. The pictures which many of you find so entertaining are a particular problem. Don't even think about doing a search for 'girl wearing lowriders' or you'll be down at Best Buy shopping for a replacement within the hour.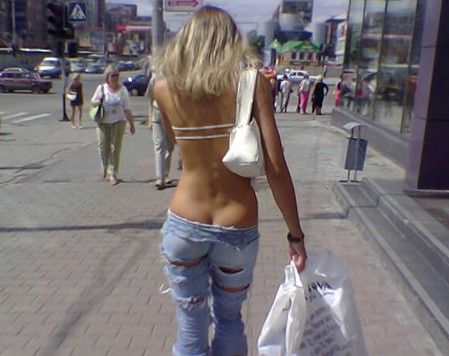 2) One of the many reasons that any stock market moves from here will be capped (SPX) is that the mutual funds that provided the steroids for last year's parabolic move are running out of money. Equity mutual funds are now down to 3.5% in cash holdings, barely enough to cover the normal flow of subscriptions and redemptions. It also explains why each subsequent rally in stocks is happening on increasingly diminishing volume. My friend Dennis Gartman of The Gartman Letter elucidated another reason. Now that we are at the one year anniversary of the bull market, those brave and clever enough to have bought early are seeing their paper profits qualify for long term capital gains. From here on, the number of such holdings increases, raising the level of potential selling. Such fortunate holders may want to sell because 1) The gains could evaporate at any time, so it's better to take the money and run. Remember, 'buy and hold' is dead.  2) Obama & Co. may raise capital gains tax rates 3) the longer they wait, the more the tax advantaged positions increase, generating more potential sellers. The bulk of the stock market rally happened in the first three months, from March to May, 2009. Remember, 'Sell in May and go away?' Still, zero interest rates incite a lot of perverse behavior, as I saw around every corner in Japan in the late eighties, hence the slow grind up in the market we are witnessing.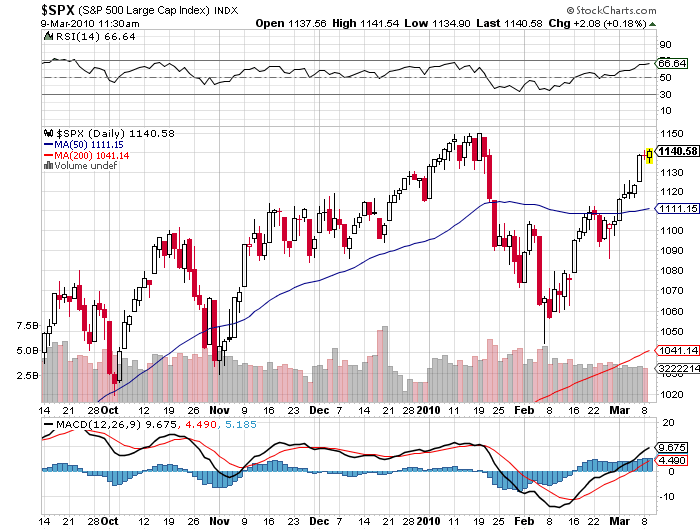 3) It is always a delight to peruse Warren Buffet's annual letter to the happy shareholders of Berkshire Hathaway (BRK/A), who I consider the greatest investment mind of our generation. To show you how well Warren has performed, look how the shares once owned by his son, Peter, have done. When Peter reached adulthood, dad gave him a small number of shares to do what he wanted with. Peter sold them immediately, and the proceeds were enough to buy some groovy sound equipment. Today, those shares are worth $72 million. Obviously, the apple does fall far from the tree. Plowing through the 20 page opus, I found it chock full of great management insights and homespun homilies. They also include observations of the harsh realities of our world, like the fact that the big Wall Street Banks are nothing more than a school of hungry sharks. I'll list the highlights below, and feed out the better quotes in my Quote of the Day section in future letters. For those interested in reading the full letter, as well as its predecessors going back to 1977, please click here for the link
* In 2009, Berkshire managed to bring in an impressive 20.3% increase in book value, versus a 9.3% gain for the S&P 500, an appreciation of $21.8 billion.
* Warren will only invest in simple businesses he can understand and evaluate. In an earlier day, that would have meant missing out on radio, aircraft, and TV, and today it means missing the Internet, cloud computing, and social networking.
* At the height of the financial crisis in September, 2008, Warren poured $15.8 billion into businesses. I'm guessing Goldman Sachs (GS), General Electric (GE), as well as his purchase of Wrigley.
* Warren has $20 billion in cash, one of the lowest levels in a long time, but he sleeps well at night.
* He makes no effort to woo Wall Street. He's looking for partners, not day traders.
* He offers a fascinating description of the insurance business where he uses a gigantic $62 billion free float to finance everything else.
* He talks a lot about GEICO, my insurance company as well as his, and not just because I drive home every day past a man in a cute gecko costume. He's been visiting the company since 1951. How many managers can make such a claim?
* His choice of industries is interesting: casualty insurance, regulated utilities, railroads, and an assortment of manufacturing, service, and retailing businesses (How can you not like See's Candies?). All boring, unsexy businesses that are huge cash flow generators. Pure Buffet.
* In a year, housing problems should be behind us, except in the high end (McMansions) and areas where the overbuilding was extreme (South Florida and Las Vegas).
* He still owns 10% of BYD (Build Your Dreams), the Chinese battery company run by CEO Wang Chuan-Fu, who Charlie Munger describes as a combination of General Electric's (GE) legendary manager, Jack Welch, and inventor Thomas Edison. I jumped on the bandwagon when he made his $232 million investment
the fall of 2007. He has since earned an 856% return. So have I.
* His $5 billion holding in POSCO mirrors my own interest in the Hermit Kingdom, South Korea, and has been another ten-bagger for him.
* Warren has $6.3 billion positions in derivatives, which in the past he has described as 'toxic waste'. I would love to see the terms on the deals he is getting. He, alone, makes the decisions on these.
* He ends the letter by asking readers to please come to the annual shareholders meeting by rail.
I could go on forever, so I'll leave it to you to read the rest.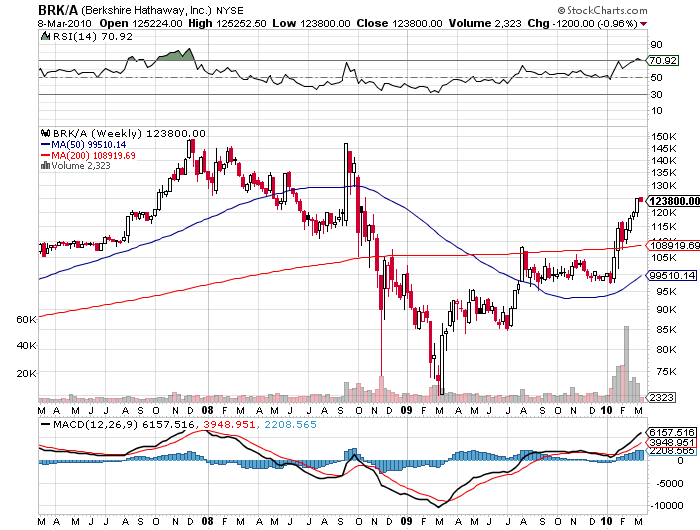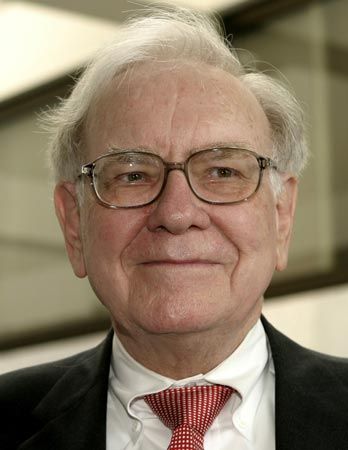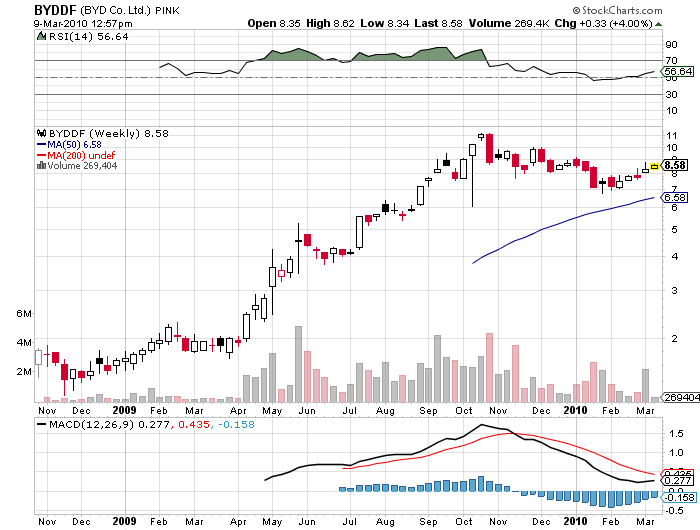 QUOTE OF THE DAY
'I've said over the years that I don't follow the ratings of the ratings agencies. I think people should make their own judgments about credit quality. We like it if we think something is misrated,' said Berkshire Hathaway's Warren Buffet.