Global Market Comments
September 17, 2009Featured Trades: (SPX), (BYDDF), (CGW), (PHO), (VE), (FIW), (TTEK), (PNR)

1) Ouch! So much for my 'Sell the Tenth Consecutive Up Day' model. I shorted the S&P 500 September 1050 calls, which expire in two days. The trade was looking good all the way until this morning, when I got stopped out with a 0.5% hickey. It's no excuse that this works 99% of the time. This is well and truly a liquidity driven market, the kind I used to feast on in Tokyo during 1987-89, when we took Japan's PE multiple up to 100. The S&P earnings multiple has now made a round trip from 18 times in 2007, to 10 times in March, and back up to 18 times today. Worse, the previous 18 peak was in an era of far rosier economic projections than we are currently grappling with. Don't fight the tape. Stand out of the way, and let the insanity play itself out before rebalancing your portfolio. At least I have my gold, silver, copper, crude, junk bond, emerging markets, FCX, BYD, water ETF, and short dollar profits to drown my sorrows in.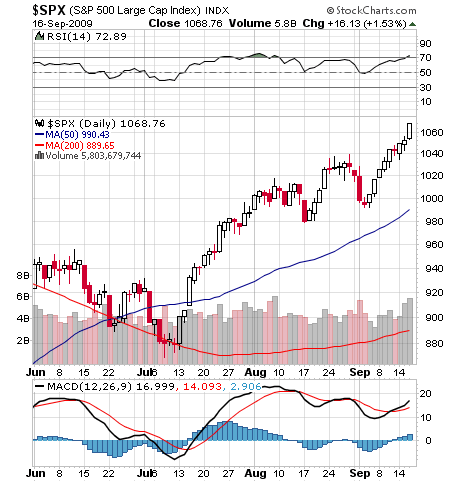 2) When readers ask me about my next ten bagger, I point them to to the Chinese electric car company 'Build Your Dreams' (BYDDF) (click here for their website . The stock is up 450% since I first mentioned it in March, and up 250% since my follow up in June. CEO Wang Chuan-Fu, who Charlie Munger describes as a combination of General Electric's (GE) legendary manager, Jack Welch, and inventor Thomas Edison, scraped up $300,000 from relatives to start a knock off cell phone battery company in Shenzen in 1995. He grew the company into a massive, vertically integrated conglomerate, employing 130,000 workaholics at 11 factories, including those in Hungary, Romania, and India (interesting choices). BYD bought a defunct car company in 2003, and re-engineered it to launch the $22,000 F3DM sedan last year, an old technology ferrous oxide based plug-in hybrid that gets 62 miles on a charge. General Motors (GMX) Volt and Toyota's (TM) plug in Prius, which won't come out until next year, will only get 40 miles per charge and cost more. All-electric models are coming out this year. Warren Buffet was so impressed, he made a rare foreign investment last October, asking for a 25% stake and settling for 10% for $230 million. In a year the Oracle of Omaha has earned a tidy $800 million on the postion. Wang, who has already earned himself a place on the Forbes 400 list, intends to build BYD into the world's largest automaker, and quickly.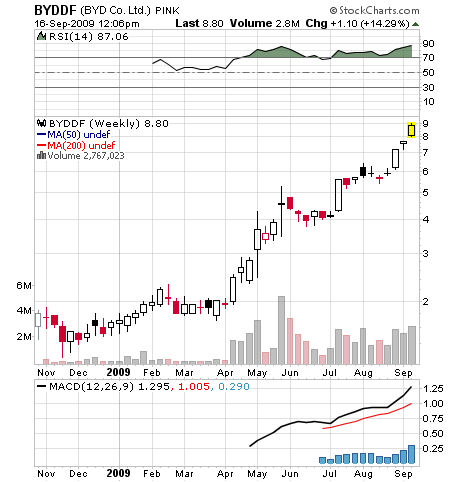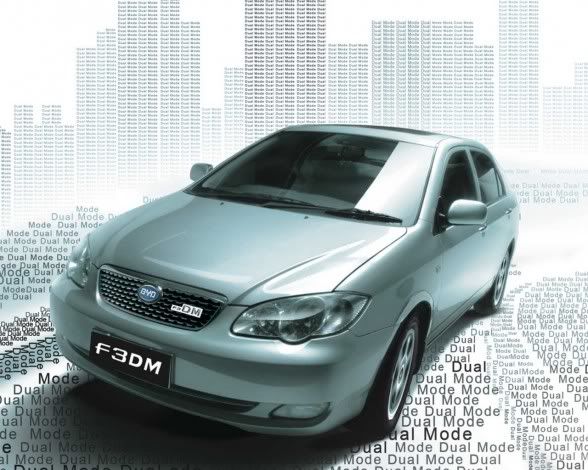 3) If you think that the upcoming energy shortage is going to be bad, it will pale in comparison to the next water crisis, so investment in fresh water infrastructure is going to be a recurring long term investment theme. (See my earlier efforts to get you into the water space by clicking here). One theory about the endless wars in the Middle East since 1918 is that they have really been over water rights. Although Earth is often referred to as the water planet, only 2.5% is fresh, and three quarters of that is locked up in ice at the North and South poles. In places like China, with a quarter of the world's population, up to 90% of the fresh water is already polluted, some irretrievably so. Some 18% of the world population lacks access to potable water, and demand is expected to rise by 40% in the next 20 years. Aquifers in the US, which took nature millennia to create, are approaching exhaustion. While membrane osmosis technologies exist to convert sea water into fresh, they use ten times more energy than current treatment processes, a real problem if you don't have any, and will easily double the end cost to consumers. While it may take 16 pounds of grain to produce a pound of beef, it takes a staggering 2,416 gallons of water to do the same. The UN says that $11 billion a year is needed for water infrastructure investment, and $15 billion of the US stimulus package will be similarly spent. It says a lot that when I went to the UC Berkeley School of Engineering to research this piece, most of the experts in the field had already been retained by major hedge funds! At the top of the shopping list to participate here should be the Claymore S&P Global Water Index ETF (CGW), which has appreciated by 50% since I first brought it up. You can also visit the PowerShares Water Resource Portfolio (PHO), the First Trust ISE Water Index Fund (FIW), or the individual stocks Veolia Environment (VE), Tetra-Tech (TTEK), and Pentair (PNR). Who has the world's greatest per capita water resources? Siberia, which could become a major exporter to China in the decades to come.
QUOTE OF THE DAY
'In order to stay on a sugar high, you need to have a continuous injection of sugar,' said Mohamed El-Erian, co-CEO of PIMCO, the world largest bond mutual fund.