I am literally running out the door now to get to AT&T Park for the second game of the World Series. However, the Apple (AAPL) Q3 earnings just came out, so I want to get you some quick numbers.
Apple's fiscal fourth-quarter profit climbed 24% and revenue topped Wall Street's forecasts, though profit on a per-share basis at $8.67 fell a few pennies short of analysts' estimates. Net income came to $8.2 billion, while revenue was $36 billion, $1 billion better than expectations. Apple, which launched the latest version of its iPhone last month, said it sold a staggering 26.9 million units in the quarter, up 58% from a year earlier. Apple also sold 14 million iPads, up 26%.
Given the widespread rumors of a big miss ahead of the release, this is a good, solid result. It appears that much of the recent selloff is not justified. Shares in the aftermarket traded down to $587, but then popped back up to $603, just $6 below the previous day's close.
There was some concern that the Q4 forecast was reduced from $15 to $11/share. This is a wildly conservative prediction. We may have to wait until Friday to see where the real market is. But I think this is as close to a bottom in the shares as you are going to get, although you may have to wait until after the election before we see some serious upside.
The company is still a truly massive cash flow generator, taking in $40 billion over the last 12 months. There is enormous pent-up demand for the iPhone 5. (AAPL) now trades at 7.5X cash flow, versus 30X for Amazon (AMZN). Our long position in the (AAPL) January, 2013 $525-$575 call spread is looking good.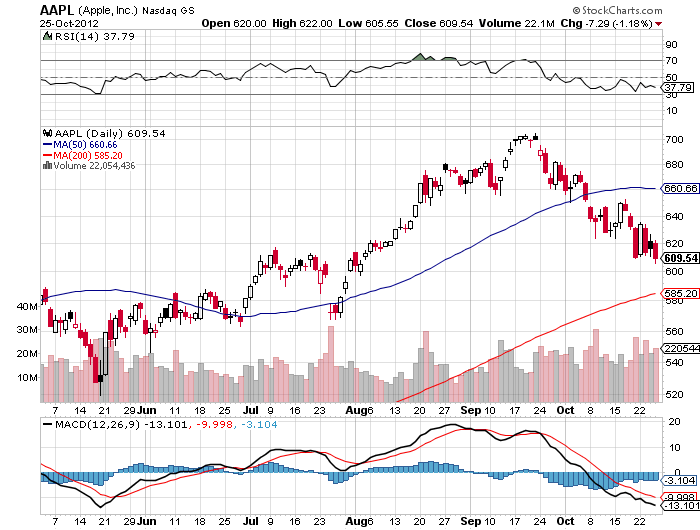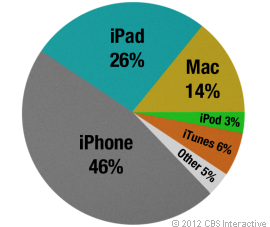 An Apple Pie