As a potentially profitable opportunity presents itself, John will send you an alert with specific trade information as to what should be bought, when to buy it, and at what price. This is your chance to ?look over? John Thomas? shoulder as he gives you unparalleled insight on major world financial trends BEFORE they happen.
Trade Alert – (FXY)-UPDATE
Buy the Currency Shares Japanese Yen Trust (FXY) September, 2015 $80-$82 in-the-money vertical bear put spread at $1.75 or best

Opening Trade
8-13-2015
expiration date: September 18, 2015
Portfolio weighting: 10%
Number of Contracts = 57 contracts
I?m sorry, but I just don?t believe that we will see a weak dollar potentially going into the first interest rate rise in nine years.
If my friend, Janet, pulls the trigger, then the greenback will become the only currency in the world that is raising rates. Currencies just don?t decline in those circumstances.
In that case, we want to go out and sell short the weakest link in the currency milieu, and that is the Japanese yen.
Even if Janet doesn?t move in September, the prospect will hang over then yen like a Damocles sword.
In addition, the yen is bumping up key chart resistance around Y125. A decisive breakout would clear the way towards Y130, my yearend target for the beleaguered Japanese currency.
A short in the yen is a safe, low risk trade right here in a world gone crazy.
You can buy this vertical bear put spread anywhere within a $1.70-$1.80 range and have a reasonable expectation of making money on this trade.
If you can?t do the options, then buy the YCS outright.
?Oh, how I despise the yen, let me count the ways.?
I?m sure Shakespeare would have come up with a line of iambic pentameter similar to this if he were a foreign exchange trader. I firmly believe that a short position in the yen should be at the core of any hedged portfolio for the next decade.
To remind you why you hate the currency of the land of the rising sun, I?ll refresh your memory with this short list:
* With the world?s structurally weakest major economy, Japan is certain to be the last country to raise interest rates. Interest rate differentials are the greatest driver of foreign exchange rates.
* This is inciting big hedge funds to borrow yen and sell it to finance longs in every other corner of the financial markets.
* Japan has the world?s worst demographic outlook that assures its problems will only get worse. They?re not making enough Japanese any more.
* The sovereign debt crisis in Europe is prompting investors to scan the horizon for the next troubled country. With gross debt well over a nosebleed 280% of GDP, or 140% when you net out inter agency crossholdings, Japan is at the top of the list.
* The Japanese long bond market, with a yield of only 0.36%, is a disaster waiting to happen.
* You have two willing co-conspirators in this trade, the Ministry of Finance and the Bank of Japan, who will move Mount Fuji if they must to get the yen down and bail out the country?s beleaguered exporters.
When the big turn inevitably comes, we?re going to ?130 then ?150, then ?180. That works out to a price of $200 for the (YCS), which last traded at $94.93. But it might take a few years to get there.
If you think this is extreme, let me remind you that when I first went to Japan in the early seventies, the yen was trading at ?305, and had just been revalued from the Peace Treaty Dodge line rate of ?360. To me the ?125 I see on my screen today is unbelievable. That would then give you a neat 17-year double top.
The best execution can be had by placing your bid for the entire spread in the middle market and waiting for the market to come to you. The difference between the bid and the offer on these deep in-the-money spread trades can be enormous.
Don?t execute the legs individually or you will end up losing much of your profit. Spread pricing can be very volatile on expiration months farther out.
If the price of this spread has moved more than 5% by the time you receive this Trade Alert, don?t chase it. Wait for the next one. There are plenty of fish in the sea.
Here are the specific trades you need to execute this position:
Buy 57 September, 2015 (FXY) $82 puts at?????$3.85
Sell short 57 September, 2015 (FXY) $80 puts at..?.$2.10
Net Cost:??????????????????…..$1.75
Profit at expiration: $2.00 – $1.75 = $0.25
(57 X 100 X $0.25 ) = $1,425 or 1.43% profit for the notional $100,000 portfolio.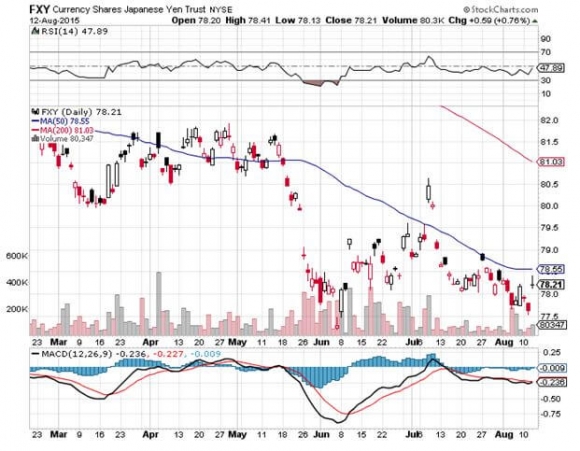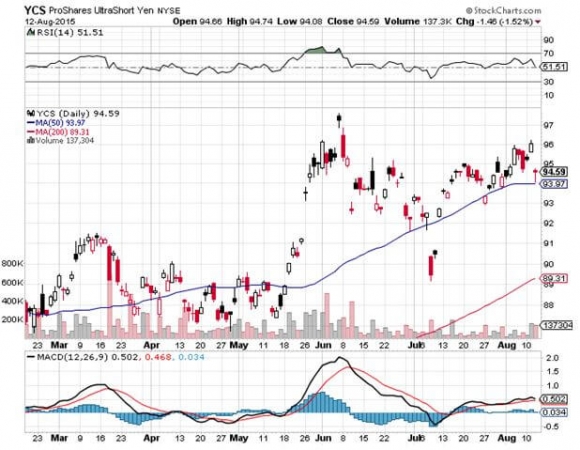 It?s All Over for the Yen
https://www.madhedgefundtrader.com/wp-content/uploads/2014/04/Japanese-Lady-Sad-e1400531413320.jpg
324
319
Mad Hedge Fund Trader
https://www.madhedgefundtrader.com/wp-content/uploads/2019/05/cropped-mad-hedge-logo-transparent-192x192_f9578834168ba24df3eb53916a12c882.png
Mad Hedge Fund Trader
2015-08-13 12:54:30
2015-08-13 12:54:30
Follow Up to Trade Alert - (FXY) August 13, 2015