As a potentially profitable opportunity presents itself, John will send you an alert with specific trade information as to what should be bought, when to buy it, and at what price.
Further Update to: Trade Alert – (TLT)
Buy the iShares Barclays 20+ Year Treasury Bond Fund November $110-$113 bear put spread at $2.72 or best
Opening Trade

10-28-2013
expiration date: 11-15-2013
Portfolio weighting: 10%
Number of Contracts = 37 contracts.
This is a bet that the ten-year Treasury bonds, now trading at a 2.50% yield, don't fall below 2.40% over the next 14 trading days. It has to make this move on top of an unbelievable decline in yields from 3.0% to 2.50% since September. And it has to do it quickly.
The Federal Reserve on Wednesday will consider whether they should raise rates, lower them, or leave them unchanged. Some traders are looking for hints of a taper that may arrive earlier than expected. I think there is zero chance of this. The futures markets for overnight money are trading at prices suggesting that this won't occur until April or May of 2015! (No typo here). We could be setting up for a classic "buy the rumor, sell the news" move here.
We are also blessed with a short calendar for the November 15 expiration, as November 1 falls on a Friday. This also takes us into the usual volatility sapping Thanksgiving holidays.
My standing view on bonds is that we will trade in a 2.40%-3.0% range for some time. Given that the "Great Reallocation" trade may begin in earnest in 2014. We should take a run at the higher end of that range as we go into yearend.
Loss of 1.5% in fiscal drag from Washington next year could take US GDP growth up from a sluggish 2.0% to a more sporty 3.5%. This is not an environment where you want to own any kind of fixed income security.
While examining your own fixed income exposure, you might want to use the current strength in bonds to lighten up in other areas. Municipal bond prices (MUB) are now so high that the capital risk no longer justifies the tax savings. Get rid of them! The only successful muni bond strategy here is to die, and let your heirs sort out the wreckage. That way, your widow gets the step up in the cost basis.
Ditto for junk bonds (JNK), (HYG), which after the latest humongous rally, also see low yields no longer justifying the principal risk. The only bonds I like here are master limited partnerships (LINE), where double digit yields adequately pay you for your risk. I also like sovereign bonds (ELD), which will be supported by emerging market currencies appreciating against the US dollar.
The best execution can be had by placing your bid for the entire spread in the middle market and waiting for the market to come to you. The difference between the bid and the offer on these deep in-the-money spread trades can be enormous. Don't execute the legs individually or you will end up losing much of your profit.
Keep in mind that these are ballpark prices only. Spread pricing can be very volatile on expiration months further out.
Here are the specific trades you need to execute this position:

Buy 37 November, 2013 (TLT) $113 puts at……………..…$5.05
Sell short 37 November, 2013 (TLT) $110 puts at……….…$2.33

Net Cost:………………………………….……..………….$2.72
Potential Profit: $3.00 – $2.72 = $0.28
($0.28 X 100 X 37) = $1,036, or 1.04% for the notional $100,000 model portfolio.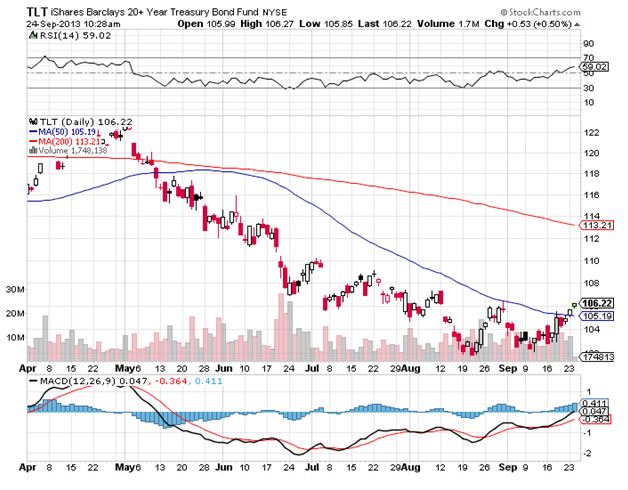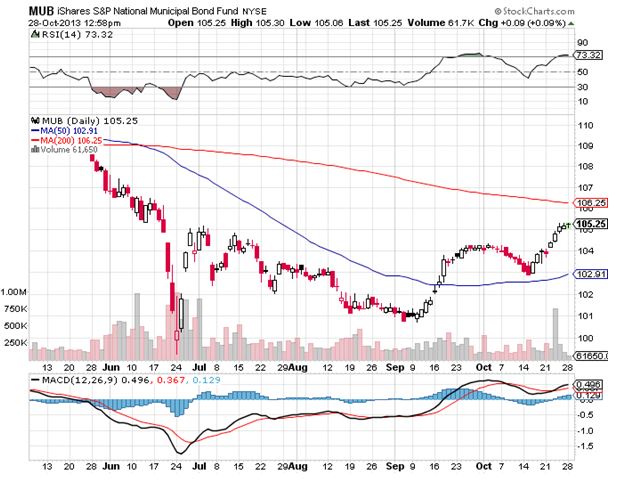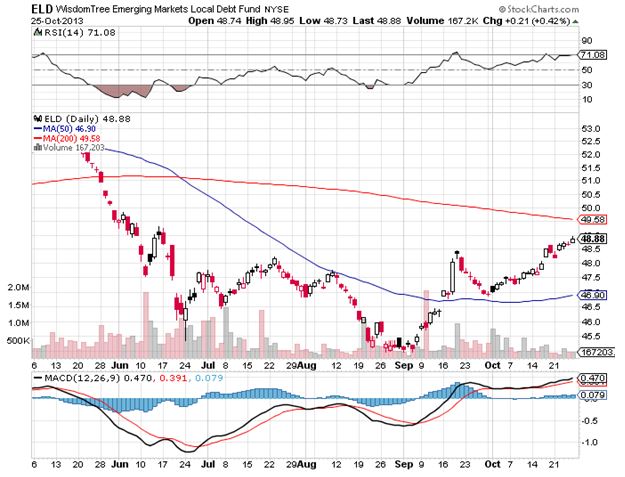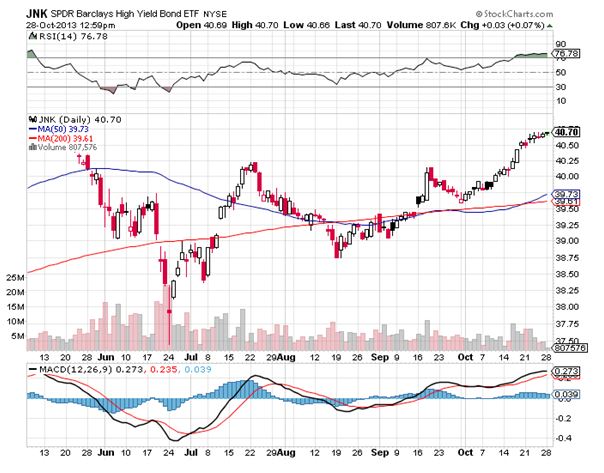 The Run in Bonds is Over