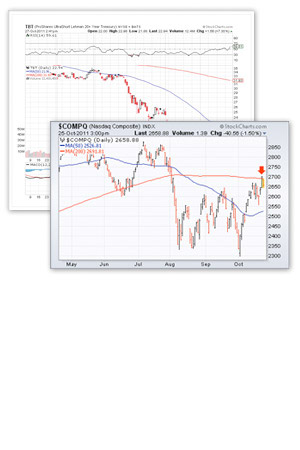 45 years of experience and a rolodex to die for, that is what John Thomas brings to the table. Readers of the free "Diary", the daily morsel of information that John posts on the web, get a small sample of John's insights. Subscribers to the Mad Hedge Fund Trader Newsletter get the complete analysis, immediately after it is written.
The world is full of information. Understanding what is occurring around the world, making sense of the trends and opportunities, is what makes having the information profitable.
When you subscribe to the Mad Hedge Fund Trader Newsletter, you will receive not only John's analysis and insights, but also investment selections, charts and tables that make sense of the financial and economic world.
The cost of compiling international research is extremely expensive, not to mention excruciatingly time consuming. This newsletter will save you money and time, plus you get the benefit of John's 45 years of experience trading the global markets.
This extra edge can have a massive impact on your portfolio. Subscribe today & get instant access to:
Today's Newsletter
All Newsletter Archives
Inbox Delivery Every Weekday
Bi-Weekly Webinar & Archive
"Since subscribing I've actually started to make money instead of losing money in the markets … the stocks he picks are 99% of the time winners. I've only had one losing trade in more than three years as a subscriber. "
-Elias Halverson"
You'd be amazed at how many great ideas you can pick up this way, especially when I speak to industry specialists, or other hedge fund managers.
So when I talked with a gentleman from Tennessee this morning, I heard a common complaint. Naturally, I was reminded of my former girlfriend, Cybil, who owns a mansion on top of the levee in nearly Memphis.
As much as he loved the service, he didn't have the time or the inclination to execute my market beating Trade Alerts.
I said "Don't worry. There is an easier way to do this."
Only about a quarter of my followers actually execute my Trade Alerts. The rest rely on my research to correctly guide them in the management of the IRA's 401k's, pension funds, or other retirement assets.
There is also another, easier way to use the Trade Alert service. Think of it as "Trade Alert light." Do the following.
1) Only focus on the four best of the S&P 500's 101 sectors. I have listed the ticker symbols below.
2) Wait for the chart technicals to line up. Bullish long term "Golden crosses" are setting up for several sectors.
3) Use a macroeconomic tailwind, like the ramp up from a 1.5% GDP growth rate to 3% we are currently seeing.
4) Shoot for a microeconomic sweet spot, companies and sectors that enjoy special attention.
5) Increase risk when the calendar is in your favor, such as during November to May.
6) Use a modest amount of leverage in the lowest risk bets, but not much. 2:1 will do.
7) Scale in, buying a few shares every day on down days. Don't hold out for an absolute bottom. You will never get it.
The goal of this exercise is to focus you exposure on a small part of the market with the greatest probability of earning a profit at the best time of the year. This is what grown up hedge funds do all day long.