When a potentially profitable opportunity presents itself, John will send you an alert with specific trade information as to what security to buy, when to buy it, and at what price. This is your chance to "look over" John Thomas' shoulder as he gives you unparalleled insight on major world financial trends BEFORE they happen.
Trade Alert - (NVDA) - Update # 2
Buy the NVIDIA (NVDA) April, 2017 $80-$85 deep in-the-money vertical call spread at $4.20 or best
Opening Trade
3-10-2017
Expiration Date: April 21, 2017
Portfolio Weighting: 10%,
Number of Contracts: 24
The harder I work, the luckier I get.
Intel's (INTC) takeover of Mobileye (MBLY) for $15.3 billion puts a great shining spotlight on the entire artificial intelligence area.
Unfortunately, it removes from consideration a company that I have been recommending for years as one of a handful of companies focused on self driving cars.
In my January 6, 2017 letter, is said "What is the next hot stock in the artificial intelligence area -  Mobileye (MBLY)".
Hang on to your NVIDIA (NVDA) long position. It could be next!
There are very few targets left in this hyper growth industry.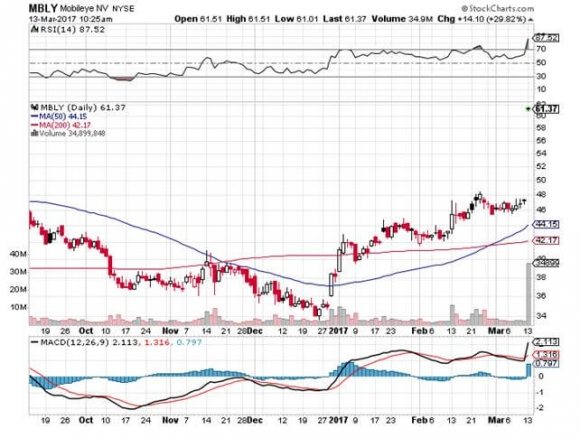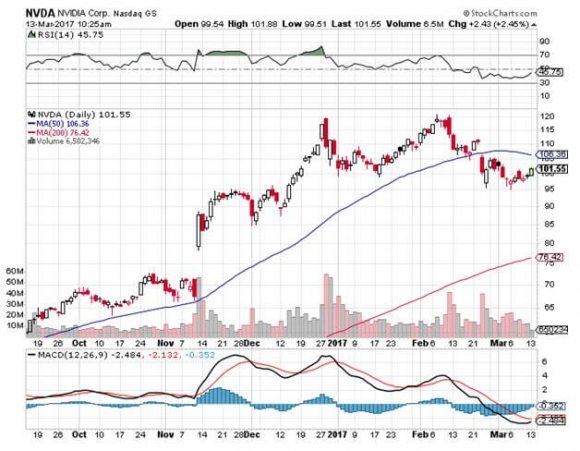 Here are the specific trades I recommended on Friday:
Buy 24 April, 2017 NVDA $80 calls at……………$19.50
Sell short 24 April, 2017 NVDA $85 calls at..…….$15.30
Net Cost:……………………………………………….....$4.20
Potential Profit: $5.00 - $4.20 = $0.80
(24 X 100 X $0.80) = $1,920 or 19.04% profit