There is a new boom going on in Northern California.
It is not another gold rush, even though this winter's heavy rains have flushed out a new supply of the yellow metal in High Sierra rivers and streams.
And I am not referring to the marijuana boom triggered by the recent legalization of the evil weed in the November election.
No, I am talking about the coder boom, the stampede by young job seekers to cash in on the overwhelming demand for computer programmers.
I'm hearing about this everywhere.
Kids are quitting their jobs driving trucks, running farms, or working as baristas at Starbucks.
They blow their entire life savings on a three-month crash course at a coding school. The schools then promise them dream jobs on graduation.
Schools like this are popping up like mushrooms on the green California hills in winter, charging up to $20,000 per course.
Don't think you'll just walk into these places either. All of these schools have waiting lists and only the most qualified and ambitious get in.
They're almost as hard to get into as my….tennis club.
It's worth it because it sets you up to move into a six-figure job almost immediately. At least, it's supposed to.
There is no doubt that there is an absolutely mammoth demand for computer programmers right now. There is NO part of the US economy that isn't attempting to grow its online presence as rapidly as possible.
Salaries are through the roof as can be seen by the interactive map of current programming jobs around the country published by Cyber Coders, please click here. 
Headhunter Robert Half (click here) wants to charge you 30% of a first year's salary for their service in finding developers.
Ouch!!
Click here for a map from the Bureau of Labor Statistics on where all the developer jobs are going at.
The problem is that as soon as a coder gets good, they go freelance, charging up to $200 an hour. Who can blame them? Raking the money in while working anywhere, anytime sounds like a great gig to me.
Hiring a developer can be the most challenging task for a small rapidly growing business. Stories are rife of dummy developers wiping out business overnight because of incompetent coding. And heaven help you if you thought you could save money and outsource this job to India.
Marquee names like Google and Apple soak up the few out there with actual college degrees in computer science, leaving the rest of use to hire hobbyists who went full time. Sounds familiar.
Coder Camp (www.codercamp.com) invites you to "Reprogram your Career" with a series of immersive camps on Java, JavaScript, and Ruby on Rails for $14,200 each.
Udemy (www.udemy.com) offers dozens of courses ranging from $49 on up for online tutorials on every programming topic under the sun. They boast 20,000 online instructors and 10 million hungry students in 190 countries.
Learning Tree International (https://www.learningtree.com), the veteran in the space has a four-course training passport for $6,790.
Dev Bootcamp (http://devbootcamp.com/) pioneered the short-term immersive "web development boot camp," a model that transforms beginners into full-stack web developers. Their 19-week $13,900 program offers three-year low-interest financing.
Hack Reactor (http://www.hackreactor.com) is the high-end Cadillac operation and promises a 99% job placement rate with a $105,000 initial salary.
I hear that production-grade iPhone apps are the hot skill to learn. And if you are able to learn anything about cybersecurity you can write your own ticket.
As is so often the case with these Internet schemes, the hype may exceed actual results (mine excluded). Developer friends tell me that it takes a year of full-time study before you can land an actual regular job. It really takes as much time to learn coding as it does to speak a new foreign language fluently.
Many new coders start with limited part-time assignments and work their way up from there as their skills build.
If you are good at math, you have a definite advantage as much of good coding involves problem-solving of a mathematical nature.
Still, you can't argue with people abandoning old economy jobs and training for new economy ones, whatever the cost. I'm told there has been a recent influx of new students freshly laid off in the oil patch.
If you still have a Millennial living in the basement awaiting their calling, this is a big chance to turf them out. All you need is a cheap computer, broadband, and motivation.
Oh, and by the way, the Mad Hedge Fund Trader is looking to hire a developer with a specialty in API and Infusionsoft, click here for their link.
Thanks to last year's blowout double-digit performance numbers, my firm has entered hyper-growth mode, and everyone is working pedal to the metal.
Please send your resume to support@madhedgefundtrader.com and specify "DEVELOPER" in the subject line.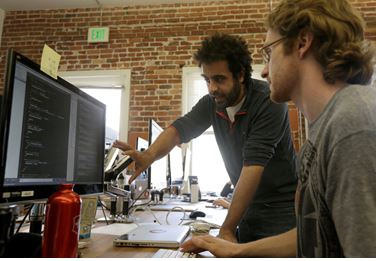 So What is This "DEL" Key For Anyway?
https://www.madhedgefundtrader.com/wp-content/uploads/2018/03/coder.jpg
261
376
Arthur Henry
https://madhedgefundtrader.com/wp-content/uploads/2019/05/cropped-mad-hedge-logo-transparent-192x192_f9578834168ba24df3eb53916a12c882.png
Arthur Henry
2021-03-09 11:04:15
2021-03-09 11:01:25
The Coder Boom