As a potentially profitable opportunity presents itself, John will send you an alert with specific trade information as to what should be bought, when to buy it, and at what price.
Trade Alert – (FXY)
Buy the Currency Shares Japanese Yen Trust (FXY) January, 2014 ?$98-$101 in-the-money bear put spread at $2.60 or best
Opening Trade
11-29-2013
expiration date: January 17, 2014
Portfolio weighting: 10%
Number of Contracts = 38 contracts
The Bank of Japan just announced that inflation in Japan is starting to pick up, breaking the yen to new lows. Cash 105 here we come! Time to double up the shorts.
I have been consistently negative on the yen for all of 2013. After a seven month hiatus, it now appears that the next big leg down has begun. For readers to refamiliarize themselves with the fundamental case against the Land of the Rising Sun and the trigger for the latest collapse, please click here for "Selling the Yen, Again" at
http://madhedgefundradio.com/selling-the-yen-again/ ,
"Doubling Up On My Yen Shorts" at http://madhedgefundradio.com/doubling-up-on-my-yen-shorts/ , and "The Party is Just Getting Started With the Japanese Yen" at http://madhedgefundradio.com/the-party-is-just-getting-started-with-the-japanese-yen/? .
Now, for some leftover turkey for breakfast.
The best execution can be had by placing your bid for the entire spread in the middle market and waiting for the market to come to you. The difference between the bid and the offer on these deep in-the-money spread trades can be enormous. Don't execute the legs individually or you will end up losing much of your profit.
Keep in mind that these are ballpark prices only. Spread pricing can be very volatile on expiration months farther out.
If you can't do the options then buy the leveraged short yen ETF (YCS) outright. We could be in for some mileage here.
Here are the specific trades you need to execute this position:
Buy 38 January, 2014 (FXY) $101 puts at……………$5.60
Sell short 38 January, 2014 (FXY) $98 puts at………$3.00
Net Cost:…………………………………………………..$2.60
Profit at expiration: $3.00 – $2.60 = $0.40
(38 X 100 X $0.40 ) = $1,520 or 1.52% profit for the notional $100,000 portfolio.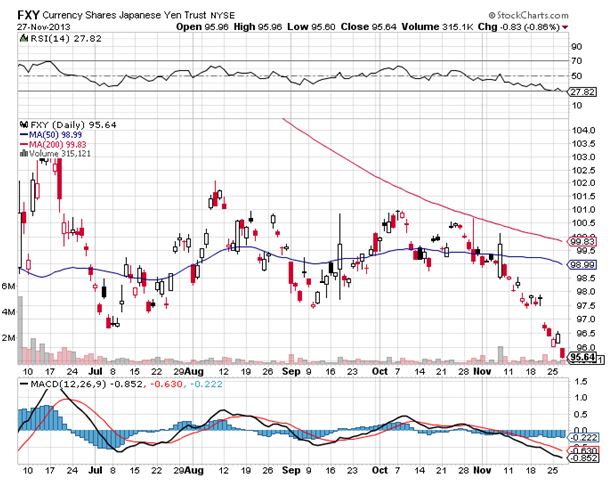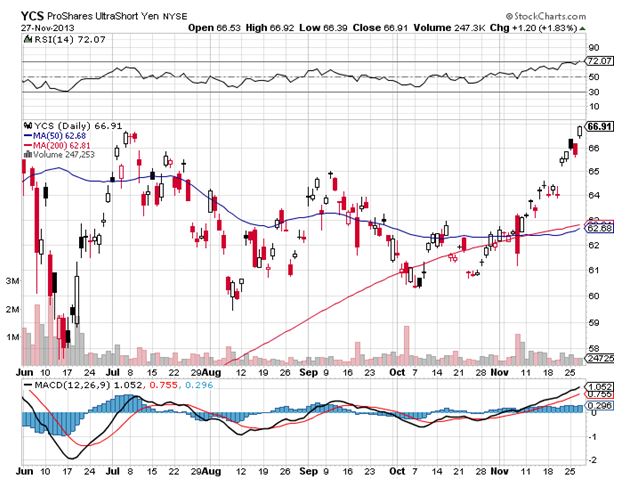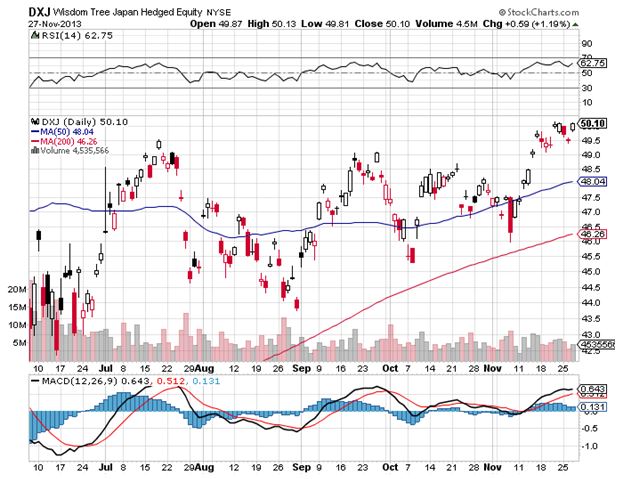 Mad Hedge Fund Trader
https://madhedgefundtrader.com/wp-content/uploads/2019/05/cropped-mad-hedge-logo-transparent-192x192_f9578834168ba24df3eb53916a12c882.png
Mad Hedge Fund Trader
2013-11-29 09:36:10
2013-11-29 09:36:10
Trade Alert - (FXY) November 29, 2013