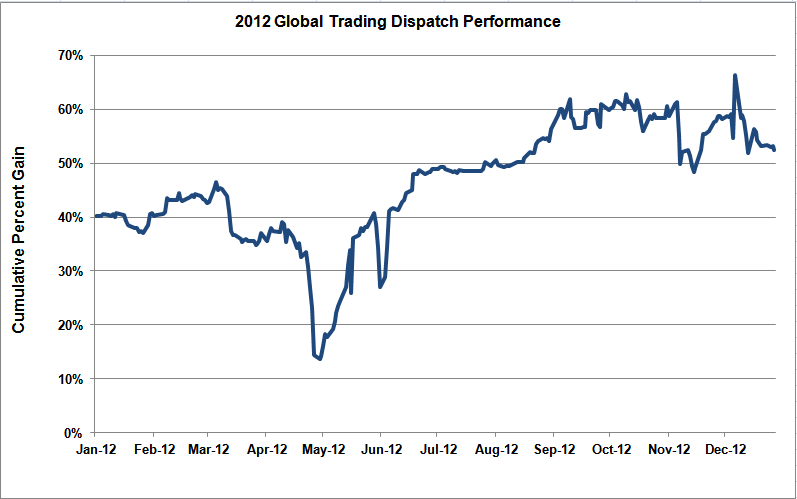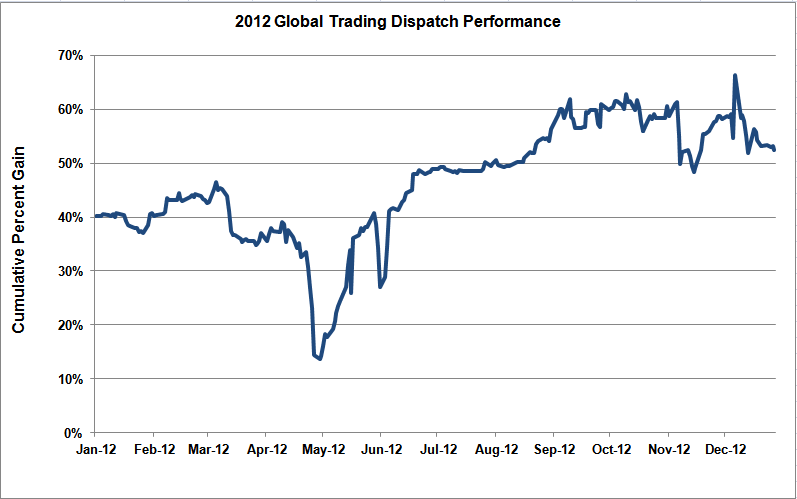 Global Trading Dispatch Performance
for the Year Ending 12/31/2012
| | |
| --- | --- |
| Since Inception*:? | 55.05% |
| Average Annualized Return:? | 26.42% |
| Trailing One Year Return: | 14.87% |
| Year End:? | 14.87% |
?
*Inception = 11/29/2010
More Global Trading Dispatch Results Below:
Click here for 2011 Global Trading Dispatch Results

The performance percentage is based on returns on capital using strict risk and money management rules given on each trade alert you receive.
Results are NON-Compounded. The quality of the Trades selected by John Thomas are responsible for the success of the service.
As an example, if you have US $100,000 portfolio allocated for Global Trading Dispatch Alerts and you use the money management (how much of your US $100,000 should be allocated to the trade alert) parameters given in the trade alert then:
If you executed a trade alert that produced a 2.75% profit (as per the table below) then your absolute dollar gain based on your portfolio of US $100,000 would be:
100,000 x (2.75/100) = $2,750
Create a Free Account with The Mad Hedge Fund Trader to receive Free Trade Alerts and Full Training to get you ready to create a steady income from your trading.
Know how many contracts or shares you need to buy or sell based on your portfolio.
Training on Risk and Money Management to avoid catastrophic losses.
How to Execute the Trade Alerts.
Trade Alert sent via Email.
Updates on Each Open Trade Alert
| | | | | | | |
| --- | --- | --- | --- | --- | --- | --- |
| ? | ? | ? | ? | Portfolio | ? | ? |
| ? | Date | Asset | ? | Net | ? | In Days |
| Symbol | Closed | Class | Long/Short | Exposure | Profit | Duration |
| December 2012 | ? | ? | ? | ? | ? | ? |
| (AAPL) 1/$450-$500 call spread | 12/4/2012 | equity | long | 10.0% | 2.27% | 27 |
| (SPY) 12/$137 put hedge | 12/5/2012 | equity | long | 20.0% | -5.79% | 11 |
| (USO) 1/$29-$32 puts spread | 12/7/2012 | oil | long | 5.0% | -0.49% | 28 |
| (IWM) 12/$78 put hedge | 12/12/2012 | equity | long | 20.0% | -4.15% | 13 |
| (TLT) 12/$127-$132 puts spread | 12/12/2012 | fixed income | long | 10.0% | 1.20% | 15 |
| (TLT) 12/$117-$122 calls spread | 12/14/2012 | fixed income | long | 5.0% | -0.53% | 25 |
| (FXY) 1/$119-124 puts spread | 12/18/2012 | foreign exchange | long | 5.0% | 4.31% | 12 |
| (FXE) 1/$126- $131 put spreads | 12/18/2012 | foreign exchange | long | 5.0% | -3.32% | 14 |
| (SPY) 1/$131-$136 Call spread | 12/18/2012 | equity | long | 20.0% | 4.75% | 14 |
| (IWM) 1/$76-$80 call spread | 12/18/2012 | equity | long | 10.0% | 3.17% | 12 |
| (GOOG) 1/$600-$650 call spread | 12/19/2012 | equity | long | 10.0% | 1.81% | 28 |
| ? | ? | ? | ? | ? | ? | ? |
| ? | ? | Total for the Month | ? | ? | 3.23% | ? |
| ? | ? | ? | ? | ? | ? | ? |
| November 2012 | ? | ? | ? | ? | ? | ? |
| (GLD) 12/$160-$165 calls spread | 11/1/2012 | precious metals | long | 10.0% | -2.36% | 14 |
| (CORN) 11/$50-$55 put spread | 11/16/2012 | ags | long | 10.0% | 0.53% | 14 |
| (FXY) 11/$124-$127 put spread | 11/28/2012 | foreign exchange | long | 10.0% | 1.80% | 14 |
| ? | ? | ? | ? | ? | ? | ? |
| ? | ? | Total for the Month | ? | ? | -0.03% | ? |
| ? | ? | ? | ? | ? | ? | ? |
| October 2012 | ? | ? | ? | ? | ? | ? |
| (USO) 12/$32.50-$35 put spread | 10/1/2012 | oil | long | 5.0% | 1.74% | 46 |
| (AAPL) 12/$620-$650 Calls | 10/9/2012 | equity | long | 30.0% | -2.80% | 48 |
| (GLD) 12/$157-$ call spread | 10/22/2012 | precious metals | long | 20.0% | 2.39% | 37 |
| (GOOG) 12/$650-$680 call spread | 10/22/2012 | equity | long | 10.0% | -2.80% | 13 |
| (SLV) 12/$28_$31 call spread | 10/23/2012 | precious metals | long | 10.0% | -0.80% | 22 |
| (SPY) 11/$150-$155 put spread | 10/23/2012 | equity | long | 10.0% | 1.33% | 22 |
| (SPY) 11/$155 put | 10/23/2012 | equity | long | 10.0% | 0.97% | 20 |
| (USO) 12/$32.50-35 put spread | 10/24/2012 | oil | long | 5.0% | 3.32% | 21 |
| ? | ? | ? | ? | ? | ? | ? |
| ? | ? | Total for the Month | ? | ? | 3.35% | ? |
| ? | ? | ? | ? | ? | ? | ? |
| September 2012 | ? | ? | ? | ? | ? | ? |
| (TLT) 9/$111-116 put spread | 9/4/2012 | bonds | short | 5.0% | 0.75% | 28 |
| (SPY) 9/$147-$153 Call Spread | 9/5/2012 | equity | short | 5.0% | 0.81% | 9 |
| (GLD) 9/$150-$154 call spread | 9/6/2012 | precious metals | long | 10.0% | 1.50% | 10 |
| (AAPL) 9/$550-$600 Call Spread | 9/6/2012 | equity | long | 25.0% | 1.48% | 22 |
| (GLD) 9/$153-$157 call spread | 9/10/2012 | precious metals | long | 5.0% | 1.20% | 31 |
| (MS) 9/$12-$14 put spread | 9/10/2012 | equity | short | 5.0% | 1.02% | 23 |
| (TLT) 10/$132-$137 call spread | 9/10/2012 | bonds | short | 10.0% | 2.00% | 5 |
| (MS) 10/$13 puts | 9/10/2012 | equity | short | 5.0% | 1.56% | 15 |
| (SPY) 9/$137 Puts | 9/10/2012 | equity | short | 5.0% | 0.88% | 6 |
| (GLD) 9/$155-$158 call spread | 9/10/2012 | precious metals | long | 10.0% | 2.48% | 19 |
| (AAPL) 9/$580-$630 Call Spread | 9/10/2012 | equity | long | 10.0% | 0.41% | 13 |
| (GLD) 11/$153-$158 call spread | 9/11/2012 | precious metals | long | 10.0% | 2.28% | 19 |
| (SPY) 9/$145-$150 Call spread | 9/11/2012 | equity | short | 5.0% | -1.88% | 12 |
| (FXY) 9/$126-$130 call spread | 9/13/2012 | foreign exchange | short | 15.0% | -1.56% | 26 |
| (FXA) 10/$105-$108 call call spread | 9/17/2012 | foreign exchange | short | 10.0% | -3.15% | 35 |
| (MS) 10/$15 puts | 9/17/2012 | equity | long | 5.0% | -2.32% | 87 |
| (SPY) 10/$138 Puts | 9/17/2012 | equity | long | 5.0% | -4.43% | 9 |
| (YCS) ETF | 9/26/2012 | foreign exchange | long | 20.0% | 0.04% | 23 |
| ? | ? | ? | ? | ? | ? | ? |
| ? | ? | Total for the Month | ? | ? | 3.07% | ? |
| ? | ? | ? | ? | ? | ? | ? |
| August 2012 | ? | ? | ? | ? | ? | ? |
| (TLT) 8/136-141 call spread | 8/13/2012 | bonds | short | 15.0% | 0.87% | 21 |
| (SPY) 8/$143-$147 Call spread | 8/16/2012 | equity | short | 15.0% | 0.66% | 17 |
| (SPY) 10/$132 Puts | 8/20/2012 | equity | short | 15.0% | 0.00% | 28 |
| (FXY) 8/$127-$130 call spread | 8/23/2012 | foreign exchange | short | 5.0% | 1.58% | 4 |
| (GLD) 9/$148-$151call spread | 8/28/2012 | precious metals | long | 5.0% | 1.92% | 29 |
| ? | ? | ? | ? | ? | ? | ? |
| ? | ? | Total for the Month | ? | ? | 5.03% | ? |
| ? | ? | ? | ? | ? | ? | ? |
| July 2012 | ? | ? | ? | ? | ? | ? |
| (DIS) 10/$38-$41 Calls | 7/16/2012 | equity | long | 25.0% | 1.50% | 32 |
| (TLT) 7/130-135 calls | 7/23/2012 | bonds | short | 10.0% | 0.10% | 13 |
| (FXY) 7/127-131 call spread | 7/31/2012 | foreign exchange | short | 10.0% | 1.26% | 8 |
| ? | ? | ? | ? | ? | ? | ? |
| ? | ? | Total for the Month | ? | ? | 2.86% | ? |
| ? | ? | ? | ? | ? | ? | ? |
| June 2012 | ? | ? | ? | ? | ? | ? |
| BA 8/2012 $70 puts | 6/4/2012 | equity | long | 5.0% | -0.72% | 35 |
| SPY 8/$131 Puts | 6/6/2012 | equity | long | 5.0% | 2.36% | 49 |
| FXY 9/2012 $121 puts | 6/7/2012 | foreign exchange | long | 10.0% | -5.10% | 44 |
| TBT | 6/14/2012 | bond | long | 20.0% | -2.46% | 33 |
| (SPY) 8/$130 Puts | 6/15/2012 | equity | long | 5.0% | -1.15% | 40 |
| (TLT) 6/$128-$133 call spread | 6/15/2012 | bonds | short | 10.0% | 1.55% | 36 |
| (FXY) 6/$125-$129 call spread | 6/19/2012 | foreign exchange | short | 10.0% | 1.26% | 40 |
| (HPQ) 8/$14-$18 Call Spread | 6/21/2012 | equity | long | 25.0% | 1.40% | 35 |
| (AAPL) 8/$400-$450 call Spread | 6/21/2012 | equity | long | 25.0% | 3.09% | 28 |
| (JPM) 8/$25-$28 Call Spread | 6/21/2012 | equity | long | 25.0% | 3.00% | 59 |
| ? | ? | ? | ? | ? | ? | ? |
| ? | ? | Total for the Month | ? | ? | 3.22% | ? |
| ? | ? | ? | ? | ? | ? | ? |
| May 2012 | ? | ? | ? | ? | ? | ? |
| AAPL 4/2012 $450-$480 Call spread | 5/3/2012 | equity | long | 20.0% | 1.88% | 107 |
| GLD 6/2012 $160 puts | 5/18/2012 | precious metals | long | 10.0% | -2.32% | 6 |
| FXY 5/2012 $121 puts | 5/18/2012 | foreign currency | short | 20.0% | 1.50% | 5 |
| FXE 5/2012 $132 calls | 5/18/2012 | foreign currency | short | 20.0% | 0.95% | 83 |
| PHM 5/2012 $8 puts | 5/18/2012 | equity | short | 10.0% | 0.98% | 31 |
| IWM 5/2012 $77 puts | 5/18/2012 | equity | short | 20.0% | -5.54% | 18 |
| FXE 5/2012 $127 puts | 5/18/2012 | foreign currency | short | 20.0% | 0.95% | 22 |
| BA 5/2012 $72.50 puts | 5/21/2012 | equity | short | 10.0% | -8.70% | 22 |
| IWM 6/2012 $80 puts | 5/21/2012 | equity | long | 5.0% | 3.00% | 22 |
| IWM 6/2012 $80 puts | 5/21/2012 | equity | long | 5.0% | 2.79% | 67 |
| IWM 6/2012 $80 puts | 5/21/2012 | equity | long | 5.0% | 4.55% | 65 |
| FXE 6/2012 $130 puts | 5/21/2012 | foreign currency | long | 5.0% | 2.76% | 2 |
| FXE 6/2012 $130 puts | 5/21/2012 | foreign currency | long | 5.0% | 4.60% | 28 |
| PHM 7/2012 $7 puts | 5/21/2012 | equity | long | 5.0% | -0.98% | 17 |
| ? | ? | ? | ? | ? | ? | ? |
| ? | ? | Total for the Month | ? | ? | 6.41% | ? |
| ? | ? | ? | ? | ? | ? | ? |
| April 2012 | ? | ? | ? | ? | ? | ? |
| (SDS) | 4/3/2012 | equity | long | 20.0% | -1.01% | 6 |
| FXY 6/$120 puts | 4/4/2012 | foreign exchange | long | 5.0% | 0.96% | 12 |
| IWM 6/$83 puts | 4/23/2012 | equity | long | 5.0% | 1.29% | 10 |
| ? | ? | ? | ? | ? | ? | ? |
| ? | ? | Total for the Month | ? | ? | 1.24% | ? |
| ? | ? | ? | ? | ? | ? | ? |
| March 2012 | ? | ? | ? | ? | ? | ? |
| MSFT 3/2012 $28-$30 call spread | 3/5/2012 | equity | short | 20.0% | 0.59% | 3 |
| BAC 5/2012 $7 puts | 3/14/2012 | equity | long | 5.0% | -2.00% | 4 |
| (AAPL) 4/$600 calls | 3/14/2012 | equity | short | 5.0% | -2.32% | 9 |
| (AAPL) 4/$630 calls | 3/20/2012 | equity | short | 5.0% | -2.55% | 9 |
| (VXX) | 3/20/2012 | equity | long | 10.0% | -1.58% | 99 |
| (VXX) | 3/26/2012 | equity | long | 10.0% | -1.84% | 33 |
| (SDS) | 3/26/2012 | equity | long | 20.0% | -1.75% | 32 |
| ? | ? | ? | ? | ? | ? | ? |
| ? | ? | Total for the Month | ? | ? | -11.45% | ? |
| ? | ? | ? | ? | ? | ? | ? |
| February 2012 | ? | ? | ? | ? | ? | ? |
| TBT | 2/2/2012 | bonds | long | 40.0% | -7.02% | 3 |
| (UNG) 4/$6 puts | 2/2/2012 | natgas | long | 5.0% | 3.77% | 28 |
| (EUO) | 2/2/2012 | foreign currency | long | 50.0% | -1.56% | 29 |
| SPY 3/12 $126 Puts | 2/10/2012 | equity | long | 2.5% | -1.55% | 11 |
| (FXY) 3/$129 puts | 2/10/2012 | currency | long | 5.0% | 3.18% | 4 |
| (SPY) 3/$139 Calls | 2/10/2012 | equity | short | 0.00% | 0.00% | 22 |
| (SPY) 3/$145 Calls | 2/28/2012 | equity | long | 0.00% | 0.00% | 13 |
| AAPL 3/2012 $430-$460 Calls Spread | 2/29/2012 | equity | long | 20.0% | 2.22% | 13 |
| ? | ? | ? | ? | ? | ? | ? |
| ? | ? | Total for the Month | ? | ? | -0.96% | ? |
| ? | ? | ? | ? | ? | ? | ? |
| January 2012 | ? | ? | ? | ? | ? | ? |
| No Trades | ? | ? | ? | ? | ? | ? |
?More Results Below:
2014 Global Trading Dispatch Results
2013 Global Trading Dispatch Results