If you're ready to get 'behind the scenes' access to a 40-year-trading veteran (and hedge fund manager's) trading portfolio
...while being 'hand-fed' trade alerts with the absolute highest profit-potential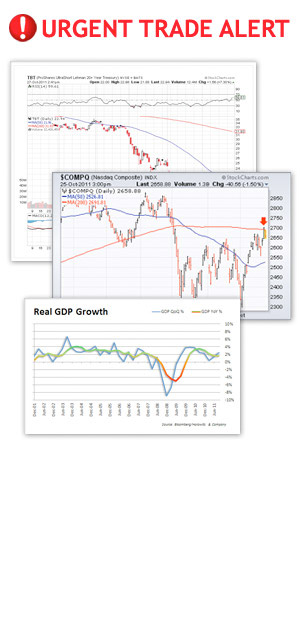 ...then Mad Hedge Fund Trader PRO has been created just for you.
This is your chance to 'look over' John Thomas' & Bill Davis' shoulders as they give you unparalleled insight on major world financial trends BEFORE they happen.
This equals a profit potential you'll have to see to believe.
Even in challenging economic times, hundreds if not thousands of retail traders have made fortunes in the markets, thanks to following John Thomas, author of the Mad Hedge Fund Trader Blog and newsletter along with the expertise of Bill Davis, a 40-year veteran of the wild and wooly financial markets in Chicago.
Because of his deep-rooted background trading the global markets, John & Bill are able to give traders crucial, timely, and accurate trade ideas that, much more often than not, result in a hefty profit for those who follow their every move.
With Mad Hedge Fund Trader PRO you'll get:
Email trade alerts from both Global Trading Dispatch & Mad Day Trader, as well as alerts via text whenever they see an opportunity in the markets. Now, you'll never miss an opportunity to capitalize on global trends.
---
LIVE coaching via bi-weekly outlook webinars, where John & Bill review market activity over the past two weeks, gives you a detailed outlook at the upcoming two weeks ahead, and most importantly, explains how you can turn this information into huge profits. Question and answer sessions will assure that you don't leave the group coaching sessions without knowing WHY you're about to make the moves that they recommend.
---
Daily market commentary with concise explanations of the trades John has suggested each day and why.
---
Extra recommendations, charts, graphs, and invitations to special events not available to the public.
---
AND, 2 Special Bonus Reports: Bonus 1. 2014 Stock Outlook – Bonus 2. My Report Card for 2013
---
The Mad Hedge Fund Trader PRO is a mere fraction of what you would pay for a personal coaching session with John or Bill…
Subscribe to the Mad Hedge Fund Trader PRO
(12-months) $4,500