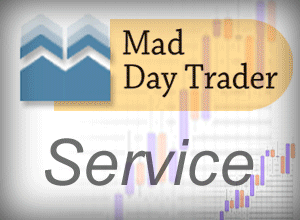 Mad Day Trader will exploit money-making opportunities over a brief ten minute to three day window. It is ideally suited for day traders, but can also be used by long-term investors to improve market timing for position entry and exit points.
The service uses a dozen proprietary short-term technical and momentum indicators to generate buy and sell signals. These will be sent to you by email for immediate execution. During normal trading conditions, you should receive three to five email updates a day, and one to ten trade alerts a month.
As with our existing service, you will receive ticker symbols, entry and exit points, targets, stop losses, and regular real time updates. At the end of each day, a separate short-term model portfolio will be posted on the website. The Opening Bell with Jim Parker is a daily video which we post just after the markets open, outlines the days instruments to watch and offers Jim's unique view of market trends and pitfalls. It's more than informative - It's your day planner on day trading!
The Mad Day Trader service is provided by Jim Parker, a 40-year veteran of the wild and wooly financial markets in Chicago. Jim acts as an independent advisor to some of the largest and most successful hedge funds in the industry. We are lucky to have him on our team, and to gain access to his experience, knowledge, and expertise.
You will never find a better man on the ground looking out for your positions on a real time basis.
---
Sign up for Mad Day Trader Quarterly Subscription
$849 for 3-Month Subscription
OR
Sign up for Mad Day Trader Yearly Subscription
$2500 for 12-Month Subscription