As a potentially profitable opportunity presents itself, John will send you an alert with specific trade information as to what should be bought, when to buy it, and at what price. This is your chance to 'look over' John Thomas' shoulder as he gives you unparalleled insight on major world financial trends BEFORE they happen.
Trade Alert – (GLD)
Sell the (GLD) November, 2012 $153-$158 Call Spread at $4.25 or best
Closing Trade
9-10-2012
expiration date: 11-16-2012
Portfolio weighting: 25%
($25,000/100/$4.25) = 65 Contracts
I am dramatically reducing the size of my book going into the Fed decision on Thursday. If I am correct in my assessment and there will no QE3, there could be a sharp selloff in the entire "RISK ON" space. Since (GLD) has been one of the best performers, it will likely take the biggest hit.
In addition, I have extracted a hefty 32% of the potential profit in the (GLD) November, 2012 $153-$158 Call Spread in a mere two trading days. That means I don't have to wait two more months to take in the rest of the profit. If you win the lottery once, don't count on it happing twice in a row. This also give me plenty of dry powder to add new positions in the post Fed world.
If I am right, we should get at least a $50 dump in gold, and $5 in the (GLD), and I will jump back in on the long side. If I am wrong, I will chase it with the further out of the money, less profitable call spread. Longer term, I think the barbarous relic is in the process of taking a run at its previous high of $1,922.
Please note that this is the 25th consecutive closing profitable position for the Trade Alert Service, and a new all time career record for consecutive wins.
These are the trades you should execute to get out:
Sell 65 November, 2012 (GLD) $153 calls at……………..…$15.60
Buy to cover short 65 November, 2012 (GLD) $158 calls.….$11.35
Net Cost:………………………….………………….……..……$4.25
Profit: $4.25 – $3.90 = $0.35
(65 X 100 X $0.35) = $2,275, or 2.28% profit for the notional $100,000 portfolio.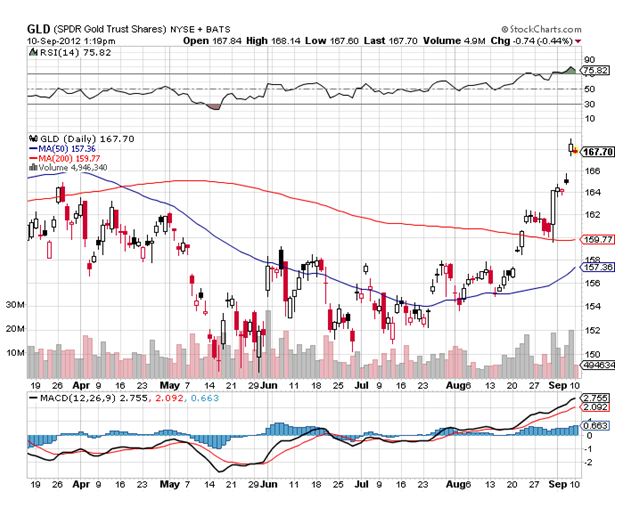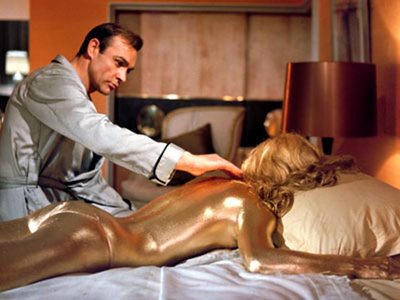 See You Next Time!