Exhausted, and running on fumes, I returned to Zermatt from my assault on Monte Rose, at 15,203 feet, the highest mountain in Switzerland.
You know, the one where I hung by a rope on a cliff face with one hand, while sending out a Trade Alert on my iPhone 5s to short the S&P 500 with the other?
The desk clerk looked particularly grim. He said the city government had been looking for me, and that I better get down to their offices right away.
I thought, what could they possibly want?
It has been 25 years since I had been a director of the Swiss Bank Corporation, and certainly the statute of limitations had long since run out on anything that transpired there. Yes, they later got taken over by the Union Bank of Switzerland, which then fell on hard times (poor Marcel!).
As for all those Nazi gold bars, I had nothing to do with it! That was another department; although I did think the Third Reich?s stamped gold eagles did look kind of cool. Besides, that too, was resolved in a court settlement a decade ago.
There was that relationship with the teenaged girl at the Youth Hostel. But that was in 1968, and she was older than me.
So what could the authorities in Zermatt possibly want?
Then my mind set to racing. If I caught the 8:00 AM cable car at the Kleine Matterhorn, I could be over the Italian border by 10:00 AM. I would thus be treading the path of refugees for time immemorial, although going in the opposite direction.
Ten minutes later, I was at their offices on Bahnhoffstrasse, still wearing my backpack, mud splattered, and my hair standing straight up. ?My goodness, where have you been? We?ve been looking all over for you!? cried the official.
I answered that I had been climbing the Monte Rose, and then asked ?Why??
?The mayor wants to give you the keys to the city. It seems you have been visiting Zermatt longer than almost anyone. But you have to get over to the Zermatterhoff Hotel. The ceremony starts in five minutes!
Five minutes! I stumbled, out of breath, into the elegant reception room at Zermatt?s premier five star hotel. Not only was the mayor there dressed in all of his finery, so were the entire city council and a number of guests.
Gold leaf rimmed the cornices and angels adorned the ceiling. I was handed a glass of Switzerland?s finest white wine (where do they hide this stuff?).
Then began the festivities...in the local Swiss German dialect. I agreed with everything and laughed at all the jokes. Then came the moment of truth.
The mayor had heard that I was visiting Zermatt for my 46th year. Since the tourist records for the city did not go back that far, he was going to give me a test to see if I had really been coming there for that long.
I said, ?Fire away.?
Question number one: ?Where is the Matterhorn from?? That was easy. During my fracking days in West Texas I had undergone a crash course in Geology.
I had long been a student of the local Swiss rocks, taking several beautiful specimens home every year (mica embedded shiest, black basalt, and low grade jade!), and correctly answered that the Matterhorn came from Africa. (The European Continental Plate is subducting under the African plate, forcing the Matterhorn to grow an inch a year).
?Right!? he responded.
Question number two: ?Who was the first man to climb the Matterhorn?? ?The Englishman, Sir Edward Whymper, in 1865,? I replied. (It?s also the name of a downtown bar). Correct again, cheered the mayor.
Question number three: ?Who was the most famous American to climb the Matterhorn?? Piece of cake: President Theodore Roosevelt, in 1888.
With that, the entire room burst into applause and bravos.
Then, a young woman wearing traditional folk dress approached with a red satin pillow bearing a gold pin. The mayor pinned it on my sweaty shirt. On it was inscribed the words ?40 Danks?, which translates into ?40 Thanks.? He went on to say that if I came back in four years, they would give me my 50-year pin.
I asked if they had a 60-year pin. He replied that no one had been awarded one yet, but if I came back in 14 years, they would have one specially made for me.
This is an invitation I am willing to accept. With that came a refill of that fabulous wine.
No one mentioned my ramshackle appearance. Climbers are afforded a special status here. Maybe, they think we are all insane, and give a wide breadth, for safety?s sake. Everyone else there was wearing a suit and tie.
After that, I went back to my hotel and collapsed. It?s all again proof that if you live long enough, you get to see everything.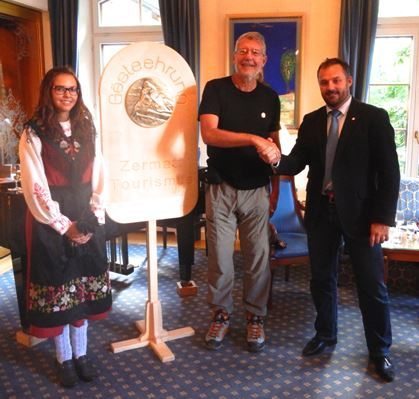 Matterhorn Summit