One of the seismic outcomes from the upcoming rollout of 5G is the plethora of generated data and data storage that will be needed from it.
If you are a cloud purist and want to bet the ranch on data being the new oil, then look no further than Equinix (EQIX) who connects the world's leading businesses to their customers, employees, and partners inside the most-interconnected data centers.
On this global platform for digital business, companies come together worldwide on five continents to reach everywhere, interconnect everyone and integrate everything they need to reap a digital windfall.
And whether we like it or not, the future will be more interconnected than ever because of the explosion of data and the 5G that harnesses the data will allow business to reach across the globe and expand their addressable audience.
The stock has reacted like you would have thought with a victorious swing up after a tumultuous last winter.
The cherry on top was the positive earnings report earlier this month.
The highlights were impressive and plentiful with revenues for Q1 coming in at $1.36 billion, up 11% year-over-year meaningfully ahead of management expectations.
Equinix's market-leading interconnection franchise is performing well, with revenues continuing to outpace colocation, growing 12% year-over-year, as the cloud ecosystem continues to scale.
Penetration in "lighthouse accounts" or early adopters increased nearly 50% from the Fortune 500 and 35% from the Global 2,000 demonstrating the expanding opportunity as Equinix unearths more value from the enterprise industry.
Equinix is now the market leader in 16 out of the 24 countries in which they operate, and they're expanding its platform with 32 projects announced across 27 markets, with Q1 openings in Frankfurt, Hong Kong, London, Paris, and Shanghai.
Equinix's network vertical experienced solid bookings led by strength in Access Point (AP), which is a hardware device or a computer's software that acts as a communication hub for users of a wireless device to connect to a wired LAN.
APs are important for providing heightened wireless security and for extending the physical range of service a wireless user has access to and driven by major telecommunication companies, mobile operators, and NSP resale.
Expansions this quarter include Hutchison, a leading British mobile network operator upgrading their infrastructure to support 5G and cloud services, as well as a leading Asian communication provider, migrating subsea cable notes and connecting to ECX Fabric for low latency.
Equinix's financial services vertical experienced record bookings led by Europe, the Middle East and Africa (EMEA) and rapid growth in insurance and banking.
New contracts include a fortune 500 Global insurer transforming IT delivery with a cloud-first strategy, a top three auto insurer transforming network topology while securely connecting to multiple clouds, and one of the largest global payment and technology companies optimizing their corporate and commercial networks.
Demand in the social media sub-segment as providers are hellbent on improving user experience and expanding the scope of their business models.
Equinix's gaming and e-commerce sub-segment grew the fastest year-over-year led by customers, including Tencent, neighbor, and roadblocks.
Cloud and IT verticals also captured strong bookings led by SaaS as the cloud diversifies towards a hybrid multi-cloud architecture.
A robust pipeline can be rejoiced around as cloud service providers continue to push to new frontiers and roll out additional services.
Developments include a leading SaaS provider expanding to support growth in new markets and with the Federal Government as well as an AI-powered commerce platform upgrading to enhance user experience support a rapidly growing customer base.
As digital transformation accelerates, the enterprise vertical continues to be Equinix's sweet spot led by healthcare, legal and travel sub-segments this quarter and main catalysts to why I keep recommending reader into enterprise software companies.
The chips are being counted with new contracts from Air Canada, a top five North American airline deploying a hybrid multi-cloud strategy, Space X deploying infrastructure to interconnect dense network and partner ecosystems and one of the big four audit firms regenerating networks and interconnecting to multi-cloud to improve the user experience for both employees and clients.
Channel bookings also registered continued strength delivering over 20% of bookings with accelerated growth rates selling to Equinix's key cloud players and technology alliance partners, including Cisco (CSCO), Google (GOOGL), Microsoft (MSFT), and Oracle (ORCL).
New channel wins this quarter includes a win with Anixter for a leading French transportation and freight logistics company deploying mobility platform, as well as a win with AT&T for a top-five U.S. Bank accessing our network and cloud provider.
Management signaled to investors they are expecting a great year with full-year revenue guidance of $5.6B, a 9-10% year-over-year boost and a $25M revision from the previous guidance.
Equinix can boast 65 consecutive quarters of increasing revenues, which eclipses every other company in the S&P 500, and it anticipates 8%-10% in annual revenue growth through 2022.
This is an incredibly stable yet growing business and the 2.17% dividend yield, although not the highest, is another sign of a healthy balance sheet for a profitable company.
If you had any concerns about this stock, then just take a look at its 3-year EPS growth rate of 73% which should tell you that the massive operational scale of Equinix is starting to allow efficiencies to take hold dropping revenue straight down to the bottom line.
If you are searching for a company that cuts across every nook and cranny of the tech sector by taking advantage of the unifying demand and storage requirements of big data, then this is the perfect company for you.
This company will only become more vital once 5G goes online and being the global wizards of the data center will mean the stock goes higher in the long-term.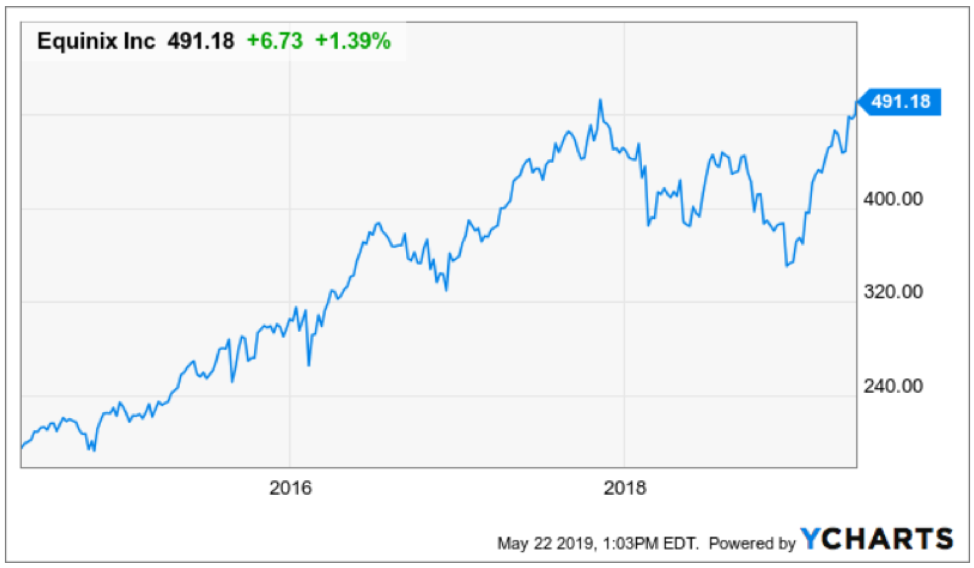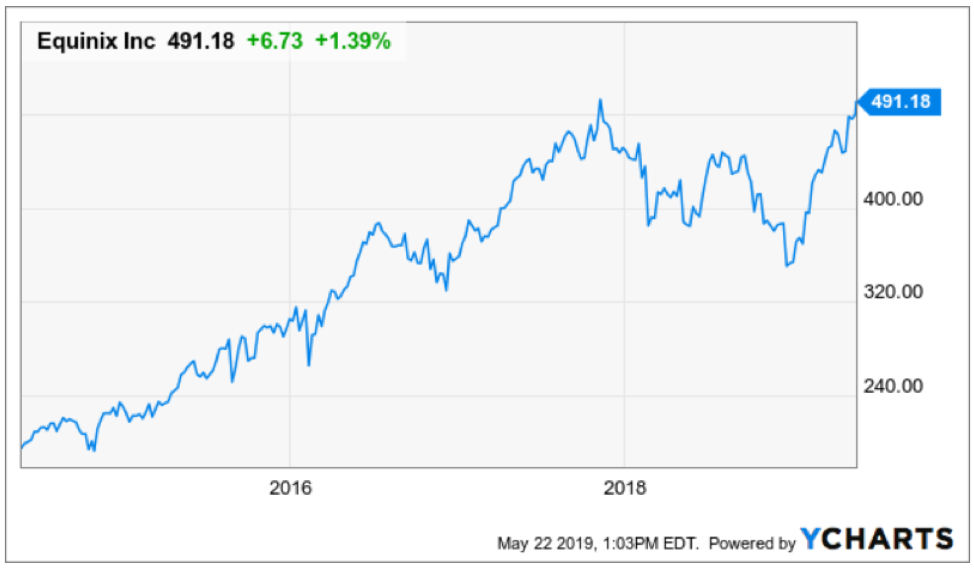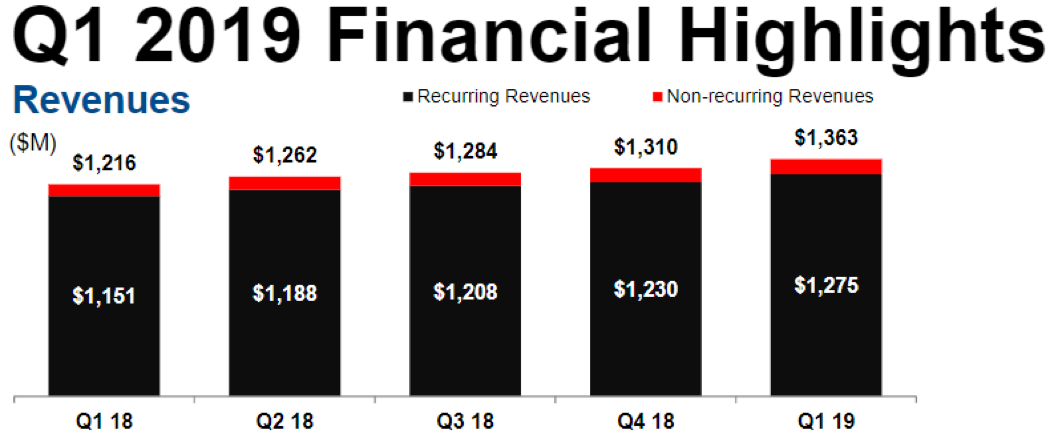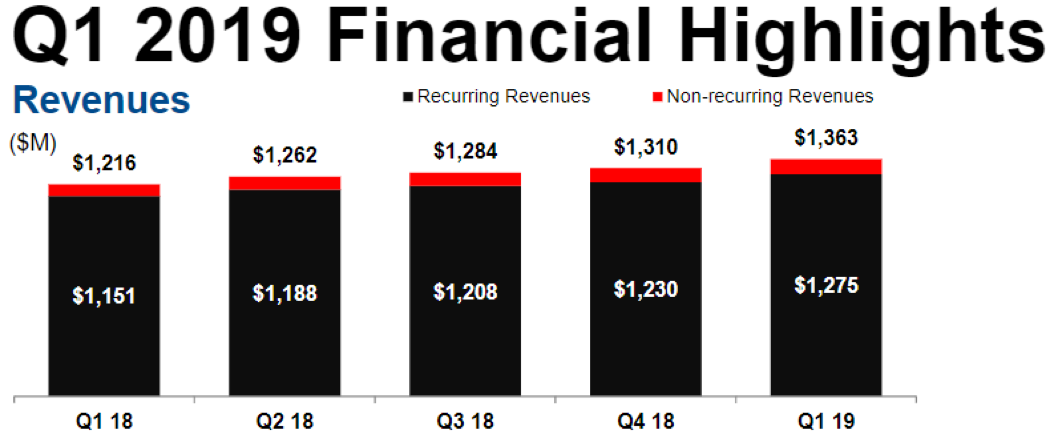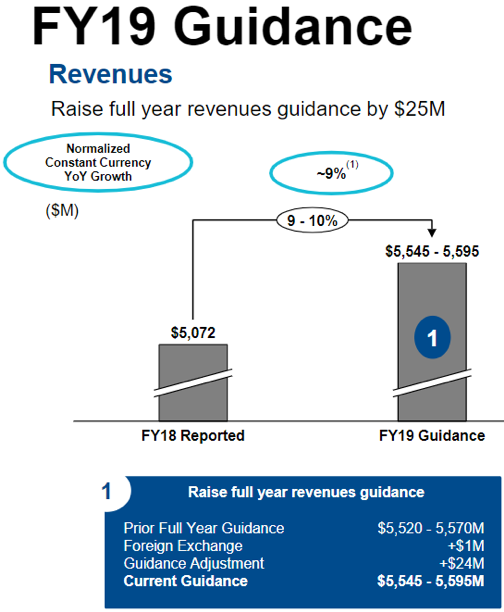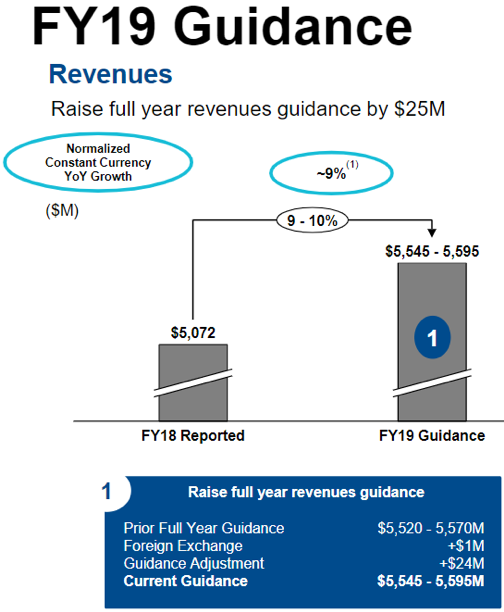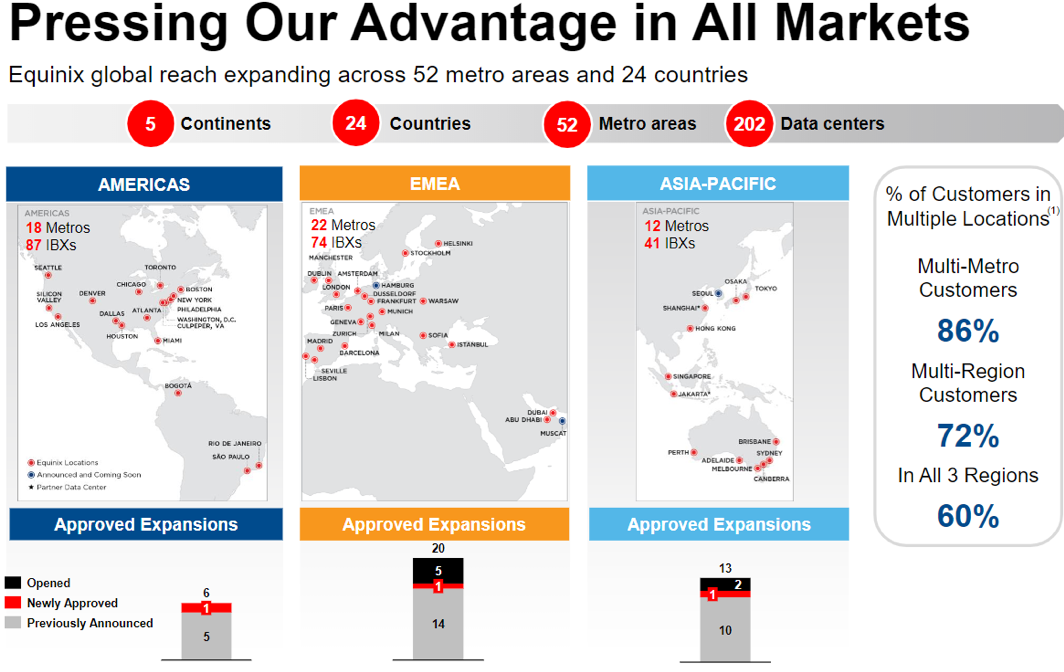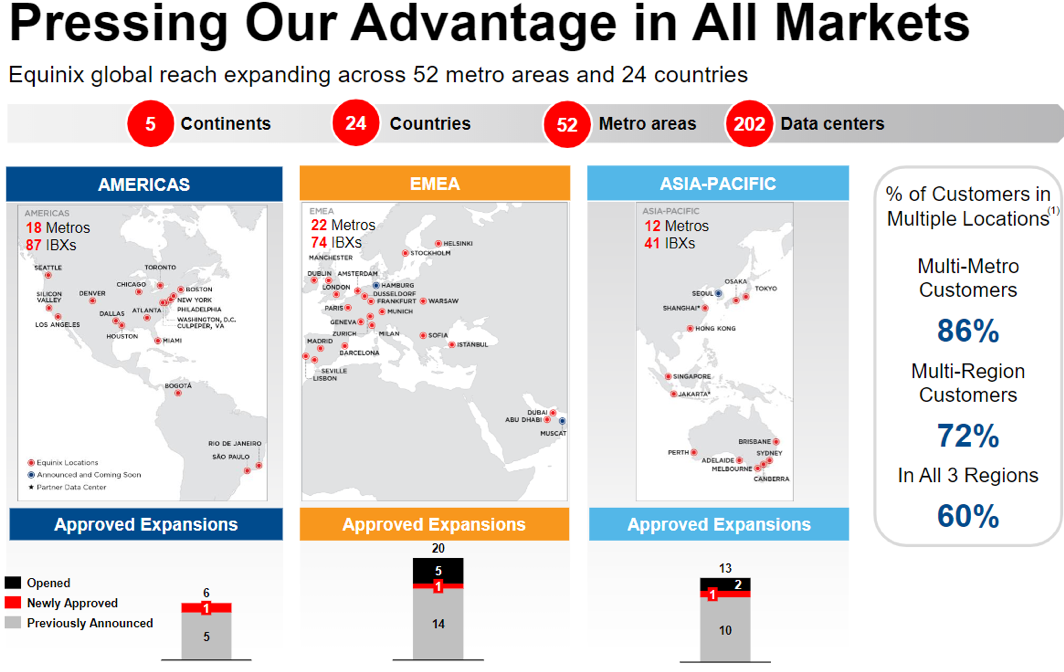 https://www.madhedgefundtrader.com/wp-content/uploads/2019/05/equinix-advantage.png
672
1064
Mad Hedge Fund Trader
https://madhedgefundtrader.com/wp-content/uploads/2019/05/cropped-mad-hedge-logo-transparent-192x192_f9578834168ba24df3eb53916a12c882.png
Mad Hedge Fund Trader
2019-05-23 04:02:05
2019-07-11 13:03:16
Another 5G Play to Look At