MongoDB's latest earnings' results validate the concept open source software as a rival to the opposed closed-source software grid.
A keen rival of MongoDB's RedHat was also acquired by IBM (IBM) a few years ago showing the vitality of the sub-sector.
Don't sleep on these companies as another one Cloudera (CLDR) were taken private by private equity firms KKR and Clayton, Dubilier & Rice.
These are highly valuable assets and I'm not the only one shouting from the rooftops.  
How did this all first start?
The first open-source projects were not really businesses, they were counter attacks against the unfair profits that closed-source software companies were reaping.
Microsoft (MSFT), Oracle (ORCL), SAP (SAP), to name a few, were enforcing monopoly-like "rents" for software that were substandard in quality.
The latest evolution of open source came when developers evolved the projects with two important elements.
The first is that the open-source software is now developed largely within the confines of businesses.
Often, more than 90% of the lines of code in these projects are written by the employees of the company that commercialized the software.
Second, these businesses offer their own software as a cloud service from inception.
In a sense, these are Open Core / Cloud service hybrid businesses that can obtain multiple pathways to monetize their product and that is exactly what MongoDB did.
By offering the products as SaaS, these businesses can interweave open-source software with commercial software so customers no longer have to worry about which license they should be taking.
MongoDB Atlas is a great example of this evolution and can become the dominant business model for software infrastructure.
This is their hottest product which is a fully-managed cloud database and Atlas handles all the complexity of deploying, managing, and healing deployments on the cloud service provider of your choice like Amazon or Google.
MongoDB changed how open-source software is licensed, and they introduced the new cloud service that required them and partners to compete with the largest cloud providers.
Looking quickly at second-quarter financial results, they generated revenue of $199 million, a 44% year-over-year increase and above the high-end of guidance. They grew subscription revenue 44% year over year.
Mongo Atlas revenue grew 83% year over year and now represents 56% of revenue, and they had another strong quarter of customer growth, ending the quarter with over 29,000 customers.
Businesses that can develop software faster are able to ultimately outgrow their competition.
MongoDB's results are a clear indication that customers view MongoDB as a critical platform to accelerate their digital innovation agenda.
Customers of all types are choosing MongoDB because they can develop so much faster using this platform to build new applications and replatform legacy applications across a broad range of use cases to drive business forward.
Even though MongoDB open-source software is lower cost per unit, it makes up the total market size by leveraging the elasticity in the market. When something is cheaper, more people buy it. That's why open-source companies have such massive and rapid adoption when they achieve product-market fit.
The model now is that companies are venturing as far as actually open sourcing all their software but applying a commercial license to parts of the software base. The premise being that real enterprise customers would pay whether the software is open or closed, and they are more incentivized to use commercial software if they can actually read the code.
Observing how airline JetBlue deployed MongoDB is how these new approaches and improved products manifest themselves in the topline revenue.
JetBlue came to the decision to overhaul their core e-commerce app, and JetBlue chose the MongoDB application data platform.
MongoDB's flexible data model allowed JetBlue to build a dynamic customer experience with modern ticketing applications, as well as predictive analytics in real-time.
An avalanche of firms is leveraging the tools of MongoDB tools to up their digital game.
Management has steered the narrative to include the ease of use and expanding the capabilities of the MongoDB platform to make it more compelling for customers to standardize on MongoDB.
For example, a serverless, customer can get started with MongoDB without having to pick a specific machine type or size. The application connects to Atlas, and they handle the elastic scaling of compute and storage seamlessly, whether an application scales fast or becomes popular. Customers no longer must do capacity planning or manual intervention to adjust the size of the deployment.
The verdict is in and deploying MongoDB to harness in-house developers to build unique commercial applications has been a winning formula.
Not only are they sheltered from rigid closed-source software, but customers can even integrate the code first, then pay later when it is deployed, and this licensing model has been extremely beneficial for developers who need to test out whether certain code is valuable or not.
Atlas is now the cash cow for MongoDB and forecasts predict acceleration in top-line growth.
Yes, this company is still small procuring revenue of just $166 million in 2018, but 2023 will see annual revenue surpass $1 billion which is why everyone wants to hop on MondoDB's train.
I would consider any dips to deploy capital in MongoDB, I would call it a rising star of the software world, and a gem in the developers' world.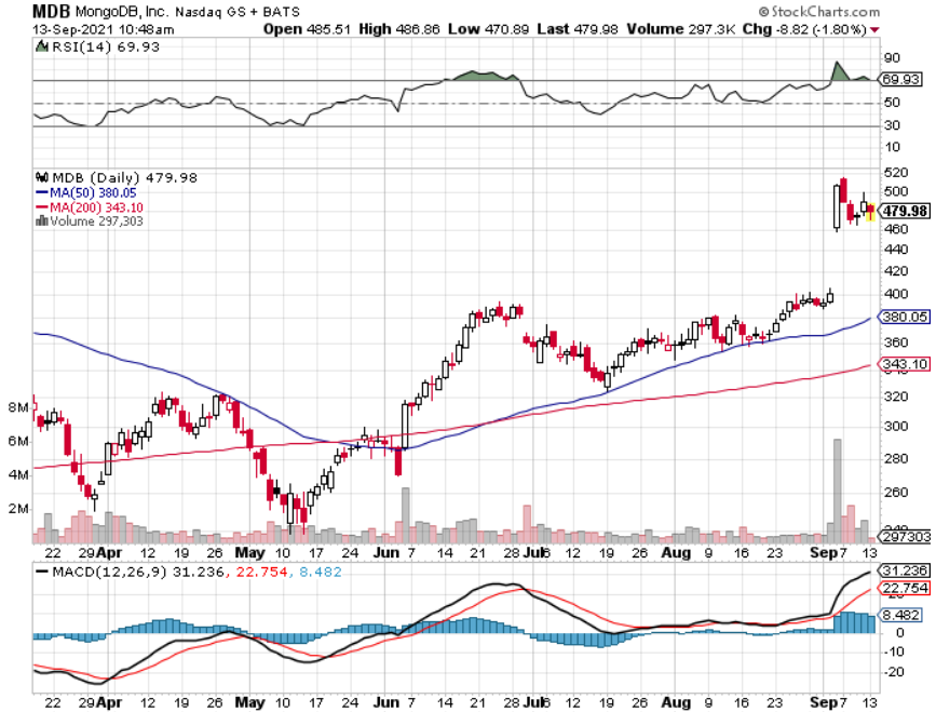 https://www.madhedgefundtrader.com/wp-content/uploads/2021/09/metaverse.png
342
862
Mad Hedge Fund Trader
https://madhedgefundtrader.com/wp-content/uploads/2019/05/cropped-mad-hedge-logo-transparent-192x192_f9578834168ba24df3eb53916a12c882.png
Mad Hedge Fund Trader
2021-09-13 15:02:56
2021-09-16 00:54:26
The Database Most Wanted by Developers 4 Years Running