It's not unheard of in the biotechnology industry to watch the stock prices of small or even mid-cap drug developers rise and fall by 30% following trial results or new drug approval.
However, when the company is Eli Lilly (LLY), which holds a $179 billion market capitalization, then biotech investors need to pay attention.
After all, the only plausible conclusion to draw from this is that there have been some seismic advancements done by the company.
Two potentially breakthrough treatments are the culprit behind the volatility in Eli Lilly stock these days.
The first is Eli Lilly's COVID-19 program, in which the company is looking into using Bamlanivimab (LY-CoV555) solo or combining it with Etesevimab (LY-CoV016).
What we know so far is that the combo drug can lower the risk of death and hospitalization among high-risk COVID-19 patients by as high as 87%.
In November 2020, the FDA granted Eli Lilly's Bamlanivimab Emergency Use Authorization.
The solo treatment was also authorized for the same usage in Morocco, Europe, Canada, Rwanda, and some regions of the Middle East, where Eli Lilly is collaborating with the Bill and Melinda Gates Foundation for distribution.
Last February 2021, its combo treatment received the same approval.
To date, Eli Lilly has shipped roughly 1 million doses of Bamlanivimab and is committed to supplying an additional 1 million this quarter.
To meet the demand for the Bamlanivimab-Etesevimab combo, Eli Lilly will be working with pharmaceutical titan Amgen (AMGN).
In the company's 2020 earnings report, Eli Lilly disclosed that Bamlanivimab accounted for $871 million of their sales.
For 2021, the market for COVID-19 treatments is valued at $27.25 billion.
Taking into consideration the competitors coming up with similar medications, such as Gilead Sciences (GILD), Regeneron (REGN), and Sanofi (SNY), the conservative estimate for the sales for Bamlanivimab alone is estimated to reach roughly $1 billion to $2 billion this year.
The second potential breakthrough that's affecting Eli Lilly's prices is its Alzheimer's disease treatment, Donanemab.
Eli Lilly recently released positive data from the Phase 2 trial of Donanemab, with the treatment slowing down cognitive decline by 32% after 76 weeks.
In fact, a notable decline was already observed among the patients as early as 36 weeks.
This is an impressive result, and there's talk that Eli Lilly's plan of possible commercialization of Donanemab by 2024 could be fast-tracked to as early as the first half of 2023.
Interestingly, the positive news was met with negative reactions by the investors.
Eli Lilly fell by 9% following the Donanemab update, sending shares tumbling from $208.18 to $189.16.
This reaction effectively erased almost $20 billion in the company's market value.
The negative reaction to Eli Lilly's news may be stemming from the pending application of Biogen's (BIIB) own Alzheimer's drug, Aducanumab, which is expected to receive word from the FDA by June.
Investors anticipate that Aducanumab's performance would be indicative of Donanemab's future.
Looking at the trial results though, I can say that this shouldn't be the case. Since the beginning, Donanemab has outperformed Aducanumab in practically every aspect.
Either way, what cannot be denied here is the market opportunity.
When the market thought that Aducanumab would get FDA approval in November 2020, the share price of Biogen saw a whopping 44% jump from $246 to $354 overnight.
Meanwhile, Donanemab's potential sales volumes have been estimated to reach over $10 billion annually. 
Other than Donanemab, Eli Lilly has been developing more contenders to boost its neuroscience division. Right now, this segment generates 6.3% of the company's total revenues.
One of the promising drugs in the portfolio is migraine treatment Emgality, which recorded a 123% increase in sales last year to hit $362 million.
Thus far, Emgality holds at least 31% of the migraine market and still has room for growth and expansion.
This is a remarkable performance considering that its competitors include Amgen's Aimovig and Teva's (TEVA) Ajovy.
Another solid earner is antidepressant treatment Cymbalta, which generated over $768 million in sales last year, up by 5% year-on-year.
Outside its neuroscience efforts, one of Eli Lilly's strongest growth drivers is its diabetes franchise.
This segment accounts for roughly 47% of its revenues and is led by Trulicity with $5 billion in sales last year, up 23% year-over-year.
Eli Lilly's diabetes program has grown so much in the past years that it now aggressively competes against Novo Nordisk (NVO), a monopoly-like presence in this space.
In fact, Trulicity has been able to successfully protect its own market share against Novo's heavily marketed Rybelsus, with data showing that users of Eli Lilly's diabetes injectable recorded 60% adherence levels compared to Novo's 43%.
In terms of expansion, Eli Lilly also won a new approval for Trulicity to be used to treat cardiovascular conditions as well.
This additional indication puts Trulicity's peak sales at roughly $7.43 billion.
In an effort to corner the diabetes market, Eli Lilly also developed Tirzepatide.
Basically, this treatment is a long-term hedge against the pending loss of Trulicity's patent exclusivity by 2027.
However, Tirzepatide is projected to surpass its predecessor in sales and reach double-digit billions.
Overall, Eli Lilly has positioned itself well in the diabetes market.
While it's engaged in an aggressive battle for dominance against Novo Nordisk, there's a lot of room for both.
The diabetes treatment segment is a continuously expanding market, with its value doubling in size from 2015 to 2015. Within this period, this market is projected to grow from $31 billion to $59 billion.
Aside from its diabetes and neuroscience programs, Eli Lilly has also been active in developing its immunology and oncology segments.
This is an ambitious plan, considering that practically all pharmaceutical companies are working on treatments in this space.
After all, the auto-immune market is massive as it's worth well over $50 billion.
One of the bestsellers in Eli Lilly's portfolio is plaque psoriasis treatment Taltz, which grew its sales by 31% year-over-year to reach $1.8 billion last year.
Some of the major competitors in this space are Bristol Myers Squibb (BMY) with Zeposia, Sanofi's Dupixent, and AbbVie's (ABBV) Skyrizi.
What could be promising news for Eli Lilly is the fact that AbbVie's ultra-bestseller Humira is going off-patent by 2023.
This means that it could open up the market to allow both Taltz and Olumiant, another top-selling Eli Lilly treatment, to grab part of the lucrative market share.
Ultimately, Eli Lilly is a business that offers a promising commercialized portfolio and a remarkable near-term pipeline, which can reasonably support an annual revenue growth rate of roughly 10% even if we don't factor in the effects of Donanemab.
Apart from the potential aftermath of the pending Biogen news, the fall in Eli Lilly's shares could also be attributed to the extremely high expectation of investors.
Alzheimer's has no approved cure, and there are only a handful of treatments developed from this neurological disease—none of which are even marginally effective.
It's normal for investors to be wary of positive data results since they've been down this road before and are merely attempting to temper their excitement.
Amid the selloff, I believe that Donanemab is far from a lost cause. More importantly, I think the drop in Eli Lilly's share price presents a rare buying opportunity for investors.
Therefore, I advise buying the dip.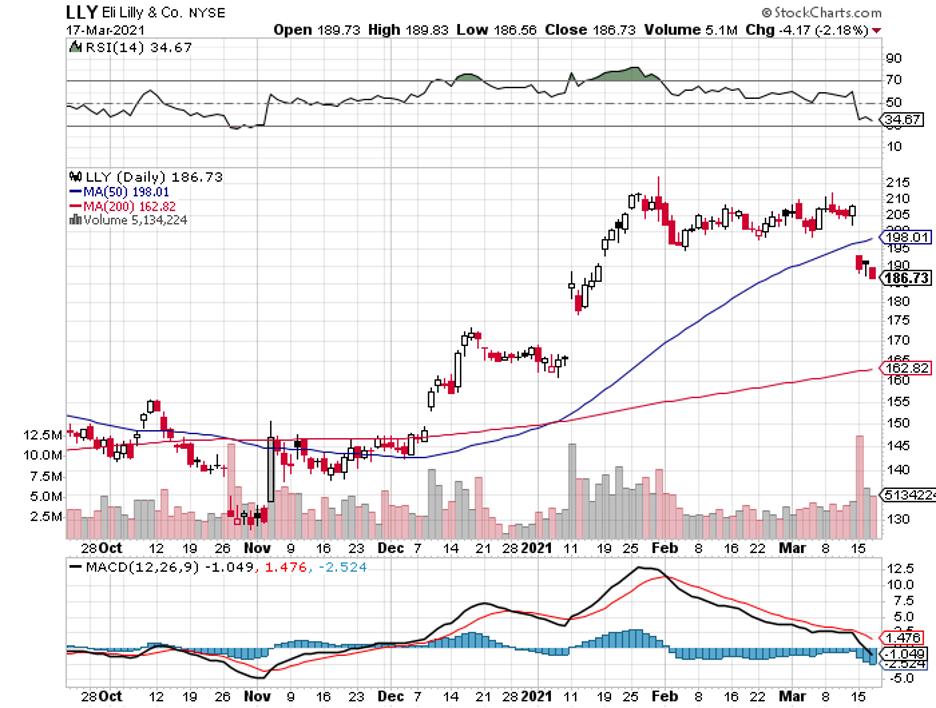 https://madhedgefundtrader.com/wp-content/uploads/2019/05/cropped-mad-hedge-logo-transparent-192x192_f9578834168ba24df3eb53916a12c882.png
0
0
Mad Hedge Fund Trader
https://madhedgefundtrader.com/wp-content/uploads/2019/05/cropped-mad-hedge-logo-transparent-192x192_f9578834168ba24df3eb53916a12c882.png
Mad Hedge Fund Trader
2021-03-18 14:00:45
2021-03-23 18:32:20
A Blue Chip Stock Selling at a Discount