As a potentially profitable opportunity presents itself, John will send you an alert with specific trade information as to what should be bought, when to buy it, and at what price.
Further Explanation to: Trade Alert – (FXY)
Buy the Currency Shares Japanese Yen Trust (FXY) June, 2013 $100-$103 in-the-money bear put spread at $2.55 or best
Opening Trade
5-10-2013
Expiration date: June 21, 2013
Portfolio weighting: 10%
Number of Contracts = 39 contracts
Looks like the breakdown through ?100 is going to hold and we are going into free fall again. Sell the breakdown.
It is not often when I am in the room that originates a major market-moving event. That is what happened at the SkyBridge Alternatives Asset Conference (SALT) in Las Vegas on Thursday.
I was listening to one of the legendary titans of the hedge fund industry make the case for Japan. According to the rules of engagement, I can?t tell you who he was, or I would have to kill you. I don?t want to do that because then you might not renew your subscription.
He said Japanese companies have tremendous leverage to a falling yen. The Bank of Japan was doing what was necessary to move the yen down from ?100 to ?110 to the dollar. The game changer will come when the government announces its restructuring plan in a few months.
Therefore, Japan?s TOPIX Index at a 13-14X earnings multiple looks cheap. That?s why his fund has been running a major long Japanese stock/short yen position since last year. If he is right, a Nikkei average of 20,000 is in the cards, up another 36% from last night?s close.
I was watching the Currency Shares Japanese Yen Trust (FXY) tick on my iPhone 5s as he spoke. It immediately gapped down 100 basis points as fast-fingered traders alerted their trading desks or entered their own ?SELL? orders. That smashed the cash market through major resistance at the ?100 barrier, a new four year low. By the Friday opening, (FXY) had given up an additional 100 basis points.
This lines up nicely with my own long term downside target for the yen of ?150. This may sound like one of those outrageous predictions one finds so often on the Internet. For me it is not such a stretch. When I first arrived in Tokyo in 1974, the yen had just devalued from the old Dodge Line of ?360 to ?305. The move I am predicting represents a give back of only a quarter of the gains since then.
If I am right, it would make my hedge fund friend?s upside predictions for the Nikkei look downright conservative. It would take the ProShares Ultra Short Yen ETF (YCS) from $68 to over $110. It would also boost the Wisdom Tree Japan Hedge Equity ETF (DXJ) from $49.67 to as high as $100.
The best execution can be had by placing your bid for the entire spread in the middle market and waiting for the market to come to you. The difference between the bid and the offer on these deep in-the-money spread trades can be enormous. Don?t execute the legs individually or you will end up losing much of your profit.
Keep in mind that these are ballpark prices only. Spread pricing can be very volatile on expiration months farther out.
Here are the specific trades you need to execute this position:
Buy 39 June, 2013 (FXY) $103 puts at?????$6.70
Sell short 39 June, 2013 (FXY) $100 puts at..??.$4.15
Net Cost:????????????????…..$2.55
Profit at expiration: $3.00 – $2.55 = $0.45
(39 X 100 X $0.45) = $1,755 or 1.76% profit for the notional $100,000 portfolio.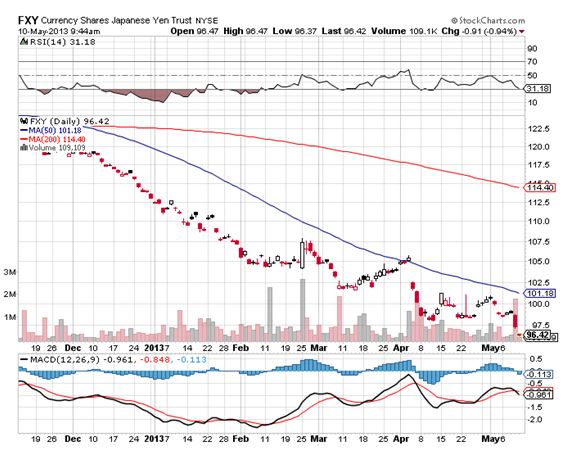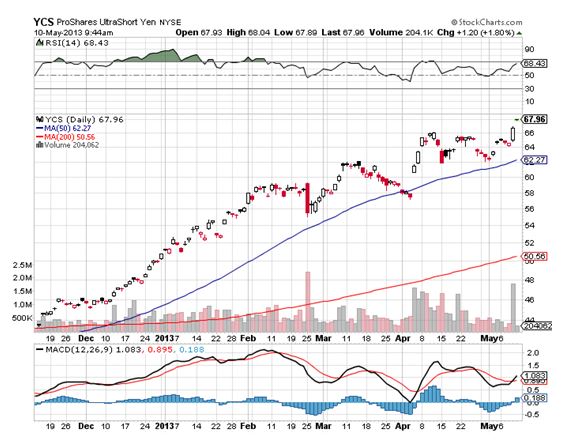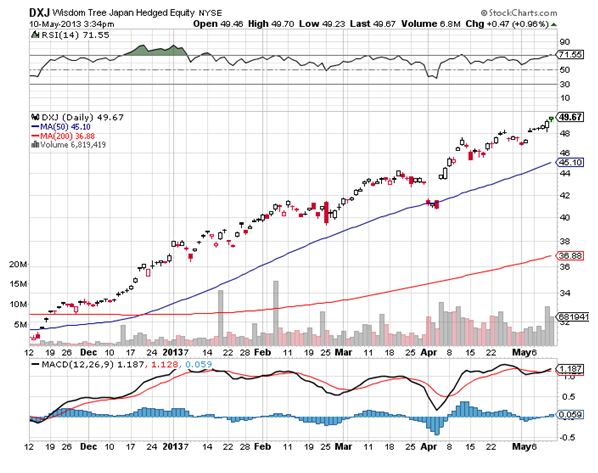 Looks Like We?re Just Getting Started
https://www.madhedgefundtrader.com/wp-content/uploads/2013/03/Japanese-Girl-e1414074431163.jpg
280
400
Mad Hedge Fund Trader
https://www.madhedgefundtrader.com/wp-content/uploads/2019/05/cropped-mad-hedge-logo-transparent-192x192_f9578834168ba24df3eb53916a12c882.png
Mad Hedge Fund Trader
2013-05-10 16:07:26
2013-05-10 16:07:26
Follow Up to Trade Alert - (FXY) May 10, 2013