As a potentially profitable opportunity presents itself, John will send you an alert with specific trade information as to what should be bought, when to buy it, and at what price. This is your chance to ?look over? John Thomas? shoulder as he gives you unparalleled insight on major world financial trends BEFORE they happen.
Further Update to: Trade Alert -(SPY)
Sell the S&P 500 (SPY) May, 2014 $192-$195 in-the-money bear put spread at $2.85 or best

Closing Trade
4-30-2014
expiration date: May 16, 2014
Portfolio weighting: 10%
Number of Contracts = 39 contracts
When the market let?s you out with a nice profit ahead of two major risk events, you take it. We have 64% of the potential profit in the S&P 500 (SPY) May, 2014 $192-$195 in-the-money bear put spread at today?s prices.
We have an important Federal Reserve meeting where they are expected to announce Taper IV, cutting their monthly bond buying to only $45 billion. The Fed is almost certainly going to take a hard look at the slowing real estate market (see today?s letter).
Today is also the end of the month, so you can expect the usual fun and games at the close as fund managers window dress. On Friday, we get the April nonfarm payroll, which could be anywhere. Go toss a coin.
The cruel lesson of the past two months has been to take profits quickly, to take the money and run. So, let?s do so.
If our remaining (TLT) put spread expires at its maximum value, and we get the (VXX) back up to cost, then the model trading portfolio will be up 13% on the year. I have had to work three times harder to make that 13% than I did to earn last year?s blowout 68% profit. It seems like every time I punch through to a new performance all time high, an invisible hand pushes me back down again.
I warned readers many times in 2013 that the market was sucking performance out of 2014 and bringing it forward into 2013. That is exactly what has happened. Almost all managers are down this year, and many hedge funds are getting crushed in these whippy, volatile conditions.
The last two months have been especially difficult. The ranges have been so narrow that it has been hard for anyone to make money. In technical terms, outside reversal days to the downside are then frequently followed by outside reversal days to the upside. This is a traditional trader?s worse nightmare. Only the high frequency traders are laughing their way to the bank.
The goal here is to stay small, nimble, and still standing when trading gets easier in the second half, as it inevitably will. No one ever said trading was fair or easy. That?s show business.
The best execution can be had by placing your bid for the entire spread in the middle market and waiting for the market to come to you. The difference between the bid and the offer on these deep in-the-money spread trades can be enormous.
Don?t execute the legs individually or you will end up losing much of your profit.
Keep in mind that these are guideline, ballpark prices only. They can change substantially by the time you receive this Trade Alert. Spread pricing can be very volatile on expiration months farther out.
Here are the specific trades you need to execute this position:
Sell 39 May, 2014 (SPY) $195 puts at?????$7.60
Buy to cover short 39 May, 2014 (SPY) $192 puts at..??.$4.75
Net Cost:??????????????????…..$2.85
Profit: $2.85 – $2.58 = $0.27
(39 X 100 X $0.27) = $1,053 or 1.05% profit for the notional $100,000 portfolio.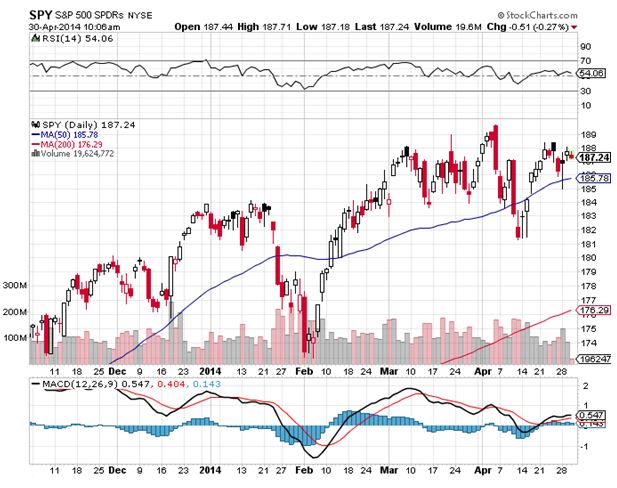 https://www.madhedgefundtrader.com/wp-content/uploads/2014/04/Burning-Building-e1430840521423.jpg
308
400
Mad Hedge Fund Trader
https://madhedgefundtrader.com/wp-content/uploads/2019/05/cropped-mad-hedge-logo-transparent-192x192_f9578834168ba24df3eb53916a12c882.png
Mad Hedge Fund Trader
2014-04-30 12:28:32
2014-04-30 12:28:32
Follow Up to Trade Alert - (SPY) April 30, 2014