No one has suffered more than I from my slavish devotion to Apple?s products, its performance, and, oops?. it?s stock. A long position in Steve Jobs? creation remains my only losing position of 2013 (remember the January $525-$575 call spread?).
Without the hit I took on that, my Trade Alert Service would be up 33.3% so far this year, instead of only 31%. By comparison, the average hedge fund is up a pitiful 4.5% in 2013. I can hear the pink slips flying already.
However, there seems to be a growing consensus that the long suffering stock is close to hitting bottom, and that we soon need to flip from selling rallies to buying dips. Word on the street is that some of the biggest value players are already starting to scale back in.
There is no doubt that the stock has gotten cheap, possibly becoming the least expensive issue in the entire market. Have you noticed how the number of analyst upgrades has suddenly started to keep pace with the downgrades?
The $137 billion the company carries in cash on its balance sheet is more than the entire market capitalization of rival Samsung. The market is currently putting the enterprise value of Apple at less than that of supermarket chain Safeway (SWY). What kind of crazy world is this?
As with all great trades gone awry, the reasons for Apple?s demise are screamingly obvious with the benefit of 20/20 hindsight. It was owned by just too many damn people! I should have seen the writing on the wall when my cleaning lady, Cecelia, asked me if she should buy more in the day Apple became the largest company in history.
Not only that, the stock has a long history of peaking around new product launches, as it did with the iPhone 5 in September. Compressing several product launches into a short period last fall led to a new product drought in the winter, which unjustly shined a spotlight on Samsung, and sent Apple?s shares tumbling. Blackberry?s (RIM) return from the grave was another contributing factor.
As I told my readers in my ?throw in the towel? piece in January, a different type of physics seems to apply to companies that exceed $500 billion in market capitalization. And even after being in the business for 45 years (50 years if you count the one share of IBM I bought with my paper route savings), I still make the same mistakes as a first year, wet behind the ears intern.
Using the product cycle argument again, now could be the time to buy. Apple will shortly begin gearing up for the late summer launch of its iPhone 5s. There will be other products on the way, as the company seeks to move down the value chain and exploit the market for prepaid, no contract phones, which accounts for about 70% of the global subscriber base. There is also Apple TV, which will probably deliver more hype than earnings, but will be good for the share price anyway.
Then there is the issue of what to do about that cash mountain. A partial return to shareholders could take the form of a higher dividend, a share buyback, or a surprise acquisition. Action on this could be imminent and could deliver an immediate 10% boost to the stock price.
Of course, timing is everything. Propitious may be the one year anniversary of the announcement of Apple?s first ever dividend, which is in the coming week. The last dip could come when the June guidance is doled out in April, which is expected to be horrible. That may give us our final flush. On the other hand, action on the cash surplus could be imminent cancelling out the final capitulation.
Here?s a real curve ball for you. What if a generalized market sell off in the late spring starts driving money into laggard Apple because it can?t go down any further. Could Apple become the new safety trade, the ?RISK OFF? trade? We shall see.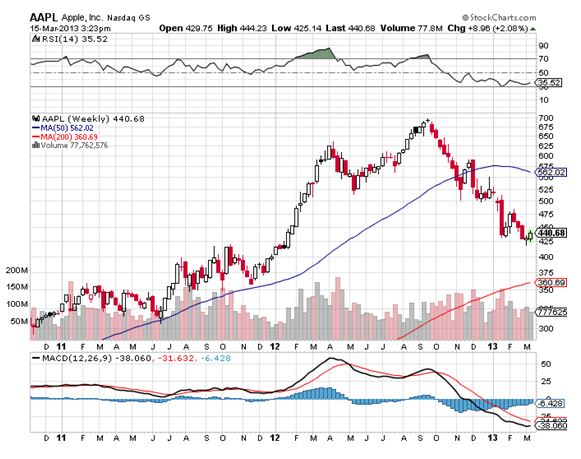 https://www.madhedgefundtrader.com/wp-content/uploads/2012/02/apple_logo_rainbow_6_color.jpg
455
395
Mad Hedge Fund Trader
https://madhedgefundtrader.com/wp-content/uploads/2019/05/cropped-mad-hedge-logo-transparent-192x192_f9578834168ba24df3eb53916a12c882.png
Mad Hedge Fund Trader
2013-03-18 09:16:04
2013-03-18 09:16:04
Has Apple Hit Bottom?