Eighteen months ago, an unknown vaccine developer called Novavax (NVAX) confronted an existential terror: getting delisted by the NASDAQ stock index.
This threat came on the heels of the company's second failed vaccine study in less than three years, plunging Novavax shares to less than $1 for 30 straight days and triggering a warning from NASDAQ.
Desperate to keep the company going, Novavax sold two of its manufacturing plants in Maryland, cutting the payroll by over 100 employees.
By January 2020, Novavax only had 166 employees in its roster and was priced at $4 per share.
By December of the same year, Novavax more than tripled its workforce and the stock has risen to $128 per share.
What a difference a year—and a global pandemic—could make.
To date, Novavax stock has already skyrocketed to over 3,000%—shattering even the wildest dreams of its early investors. And this isn't the best news yet.
Like Moderna (MRNA), another small biotechnology that skyrocketed this year, Novavax is projected to enjoy more room for growth in the succeeding years.
Despite the similarities in their achievements, there has been a notably sizable gap between the valuations of these two biotechnology companies in the Operation Warp Speed list.
The valuation gap would probably make more sense now, especially since Moderna has the golden ticket when it comes to high efficacy results for the COVID-19 vaccine, while Novavax has yet to prove its candidate's worth.
However, Novavax isn't out of the race just yet. Novavax plans to end 2020 with a bang by launching pivotal COVID-19 vaccine trials for its candidate, NVX-CoV2373, in the US and Mexico.
While the old saying, "The early bird gets worm," is frequently accurate and we've seen how first-movers generally attain the highest success, this may not be the case here.
In view of the COVID-19 vaccine race, there's a realistic possibility that Novavax will come out as a bigger winner than Pfizer (PFE) or Moderna (MRNA) in the long run.
Admittedly, it's encouraging for vaccine developers to know that RNA vaccines, such as Pfizer and BioNTech's (BNTX) BNT162b2 and Moderna's mRNA-1273, are effective.
It's definitely even more encouraging to learn that the second type of vaccine, which is being developed by AstraZeneca (AZN) and Oxford, also offer successful trials.
However, the potential of Novavax's vaccine candidate proves that there are many ways to skin the cat.
This protein-based vaccine, which also caught the attention of Microsoft (MSFT) co-founder Bill Gates, is expected to show the best results among all the developers.
Although its competitors are months ahead in their tests, NVX-CoV2373 actually outshone the rest of the developers on key metrics in the monkey and even human tests.
Moreover, Novavax's technology offers versatility, which means it can be applied to other vaccines and treatments as well.
If NVX-CoV2373 gains approval, the company will easily continue this momentum in 2021 and in the next years.
The market opportunity presented by the demand for a COVID-19 vaccine is unbelievable.
Priced at $16 per dose, Operation Warp Speed shelled out $1.6 billion to buy 100 million doses of the Novavax vaccine.
Considering that this is a two-shot vaccine, this would only cover 50 million people.
Although the price may be higher or lower depending on various factors, $16 per dose is a good starting point for a back-of-the-envelope calculation.
What we know so far is that Novavax has already secured agreements to manufacture more than 2 billion doses.
Taking into consideration the price point of $16 for each dose, that easily gives the company a potential revenue of a whopping $32 billion in 2021.
The upside is surreal.
Plus, we still have no guarantee whether the need for a COVID-19 vaccine will be a one-time requirement or a yearly ritual like flu shots, which Novavax also has covered with the production of its new drug, Nanoflu.
As the market continues to swoon over the huge updates from Pfizer and Moderna, it no longer comes as a surprise when other candidates are glossed over.
Novavax isn't about to start selling its COVID-19 vaccine tomorrow, but it'll probably release critical data in the next months.
Assuming that it gets regulatory approval by the first half of 2021, it'll begin to realize the upside almost instantaneously.
At $8 billion market capitalization, Novavax stock could easily triple to $24 billion by the time the vaccine is released.
I believe Novavax offers a potential long, and I find myself getting bullish on this stock.
Although it has a limited pipeline at the moment, I think positive data from its COVID-19 vaccine candidate will serve as a catalyst for this stock to trade much higher in the future.
While I can see that Novavax is widely considered as a dark horse in this race, I believe it's going to be a dark horse that can lead us out of this darkness soon.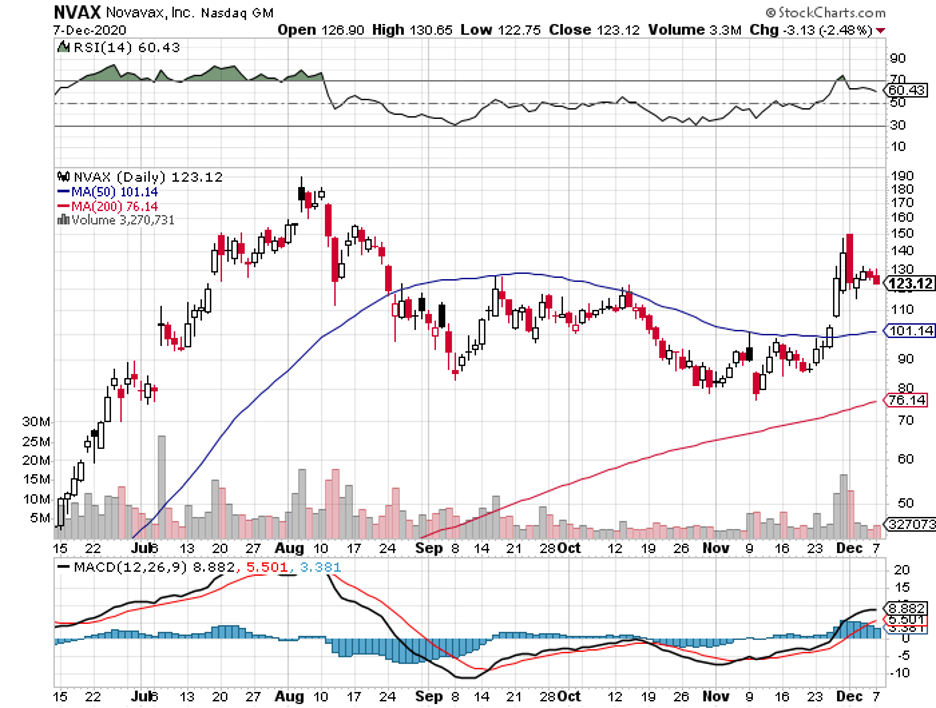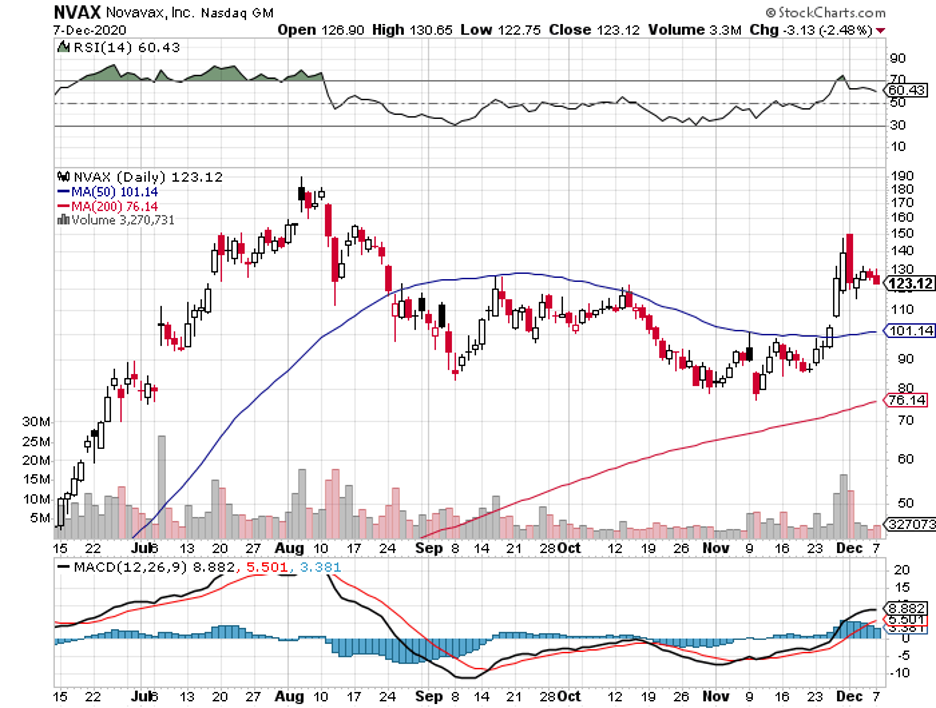 https://madhedgefundtrader.com/wp-content/uploads/2019/05/cropped-mad-hedge-logo-transparent-192x192_f9578834168ba24df3eb53916a12c882.png
0
0
Mad Hedge Fund Trader
https://madhedgefundtrader.com/wp-content/uploads/2019/05/cropped-mad-hedge-logo-transparent-192x192_f9578834168ba24df3eb53916a12c882.png
Mad Hedge Fund Trader
2020-12-08 15:31:42
2020-12-18 00:27:59
Is This Stock A Discount to Moderna?