Featured Trades: (MY ALL ELECTRIC BOOBY PRIZE), (NSANY), (TM), (BYDDF)
2) China's BYD Promises to Take Over the US Car Market. For years now, I have been chronicling in exacting detail my quest to buy an all-electric Nissan Leaf automobile as the ultimate hedge against rising oil prices (click here for 'Getting Something for Nothing'). The crude price spike arrived right on schedule, with gasoline prices topping $4/gallon in San Francisco last week. My local Nissan dealer assures me that the car I ordered a year ago, along with my substantial $75 deposit, will be delivered in May.
Then I received a scratchy, badly echoing telephone call from the Southern Chinese manufacturing mega city of Shensen.? My friend had just driven BYD's (Build Your Dreams) (BYDDF) new E6 all-electric sedan, and he could not sing its praises loudly enough (click here for their website). The car has a 200 mile range, versus the 100 miles for the Leaf. That is made possible by a 60 KwH battery, compared to the 24 KwH battery in the Leaf. Yet the E6 will be offered in the US for $40,000, close to the non-subsidized price for Nissan's new vehicle.
The great barrier to competitiveness for electric cars has always been the cost of the batteries, which now run at $1,000/KwH. So $24,000 of the cost of the $38,000 fully loaded Nissan Leaf is just to cover the 600 pound lithium ion battery. However, by executing a globally integrated manufacturing model, BYD has been able to lower its costs to $500/KwH. This involves making its own chips, directly owning lithium mines, and operating in low wage countries like China and Eastern Europe. I guess this is what happens when a battery company builds a new car from the ground up, instead of a traditional car manufacturer.
BYD plans to launch mass marketing of the roomy, five passenger E6 in the US by the end of 2012. Safety specifications have already been satisfactorily upgraded to meet rigorous American standards. BYD is quietly setting up its own US dealer network. The cars will initially be offered to fleet users, and then the consumer market. It also will roll out a range of all-electric buses, which no one is currently producing here. The company's goals are anything but modest. It plans to become the largest car maker in China by 2015, and the largest in the world by 2020, surpassing the behemoth Toyota Motors (TM).
I rode Warren Buffett's coattails into this stock in 2008, taking a position after he bought 10% of the company for $230 million (click here for the piece). Buffett's partner, Charlie Munger, describes CEO Wang Chuan-Fu as a combination of General Electric's (GE) legendary manager, Jack Welch, and inventor Thomas Edison. After that, the stock rose tenfold.
It has since given up half the gains. The stock has suffered from the general malaise towards Chinese stocks since the government began its war against inflation a year ago, raising interest rates and tightening bank reserve requirements no less than eight times. Investors are also concerned that BYD's rumored secondary share issue, needed to finance its massive expansion plans, could weigh heavily on the stock.
Shares with such enormous earnings potential at this price look like a bargain to me. If I had to name one company that could appreciate 1,000% in the future, this is it. But I don't know when. So this would make it a candidate for burying it in a long term portfolio, rather than a short term trading vehicle.
And what of my Nissan Leaf? What happens to its value if BYD delivers on the E6? How about knocking it down by more than half? I'm starting to wonder if instead of getting the lead on cutting edge technology of the century, I got the booby prize.
–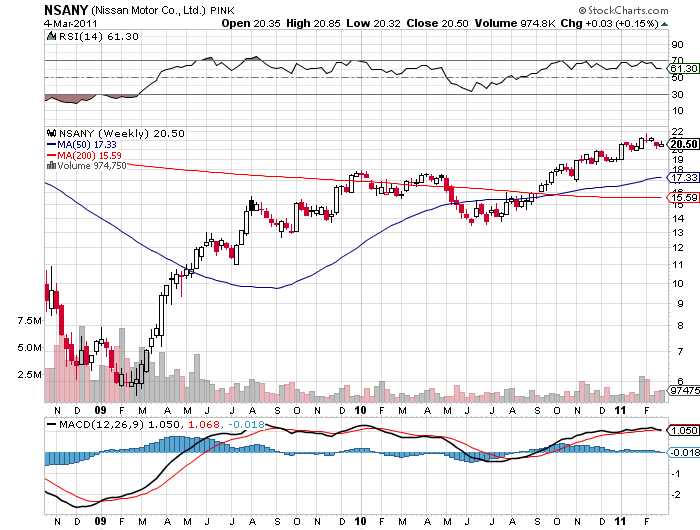 –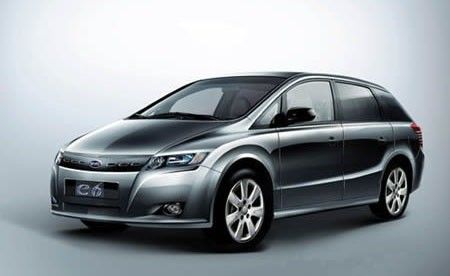 Will BYD's E6 Beat Nissan's Leaf Before the Race Has Started?
–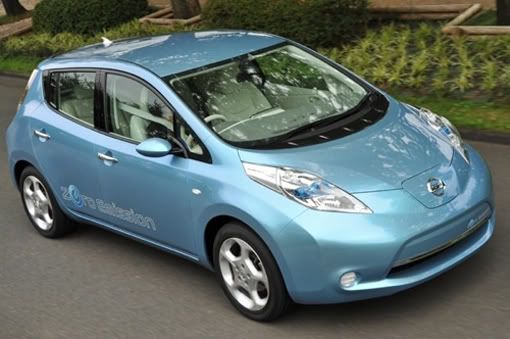 https://madhedgefundtrader.com/wp-content/uploads/2019/05/cropped-mad-hedge-logo-transparent-192x192_f9578834168ba24df3eb53916a12c882.png
0
0
Mad Hedge Fund Trader
https://madhedgefundtrader.com/wp-content/uploads/2019/05/cropped-mad-hedge-logo-transparent-192x192_f9578834168ba24df3eb53916a12c882.png
Mad Hedge Fund Trader
2011-03-08 01:50:57
2011-03-08 01:50:57
March 8, 2011 - China's BYD Promises to Take Over the US Car Market