Below please find subscribers' Q&A for the Mad Hedge Fund Trader May 20 Global Strategy Webinar broadcast from Silicon Valley, CA with my guest and co-host Bill Davis of the Mad Day Trader. Keep those questions coming!

Q: Do you believe chairman Powell when he says no negative rates?
A: I do believe that he does not want negative rates—that would be hugely detrimental to the economy. Europe and Japan have been trying them for the last ten years and they absolutely do not work. When it costs something to deposit money in the bank, people take it out of the financial system and hide it under their mattresses or buy gold (GLD). Although Powell doesn't want negative rates, he may not have a choice; the market's already taking them there in the futures market one year out. If we do get a big second wave of corona in the fall, and we do go to new lows in the stock market, and unemployment goes to new highs, negative rates will happen on their own whether Powell wants them or not.
Q: What is your best metric for determining when this bounce is over?
A: We passed those metrics on when a normal bounce is over weeks and weeks ago, and it just keeps going up. If you'll notice, I have no stocks right now. I have some balanced long and short stock indexes but that's it. My big trade is short bonds. When an asset class is no longer attractive, avoid it like Covid-19.
Q: What range should I wait for to buy the Proshares Ultra Short S&P 500 ETF (SDS)?
A: I'm really only using (SDS) as a hedge to limit the risk on much bigger long positions that I may have. (SDS) doesn't lend itself to normal technical analysis because it is an artificial construct.
Q: What price to get into Tesla (TSLA)?
A: If you look at the Tesla chart, it's almost exactly the same as all of the other FANGS, as it's essentially becoming the next FANG. So, they will trade with the FANGS for that reason, at least in the short term. Don't buy it here, wait for the next major selloff to $600 or so. We actually had a bunch of concierge customers to buy long term leaps under $500 dollars in March, and they got 500% returns in 3 weeks.
Q: Why didn't we just buy the ProShares Ultra Technology ETF (ROM) and go to sleep for five years?
A: If you recall, I was actually recommending just that in March when (ROM) was trading in the $80s, and we actually had a (ROM) position that we got stopped out of. The (ROM) is the 2x long technology ETF that's gone from $80 to $160 since the market bottomed almost 2 months ago.
Q: Why do you keep using deep in the money put spreads and call spreads?
A: You use them when volatility is very high like it is now—right now the Volatility Index (VIX) is at $28. The normal price is at $14 or $15, and we've just come down from $80. Even in the high $20s, you still get huge payoffs (like 10% a month) per call and put spread. As long as (VIX) is that high, we'll keep doing them. They are also the perfect trade to have in range trading markets like we've had for the past month. They give you a nice extra kicker on your P&L.
Q: What is the worst-case scenario?
A: We get a second wave of the virus, another couple hundred thousand Americans die, the stock market goes to new lows, and we have a presidential election. How's that for a worst-case scenario? Other than that, how is your day going?
Q: Do you trade pre and post market?
A: No; I used to when I ran my hedge fund, but I don't do anything now if it's beyond the capability of most individuals. I only want to put out trade alerts that people can get done. So, I'm only trading US hours. The reason you trade overseas is that you always get the highest highs and lowest lows in the Asian markets. During the late 1990s, I was the number one or two volume trader in the Singapore futures market.
Q: Do you think the 200-day moving average will be substantial resistance to the market?
A: I think absolutely yes, and I also believe that the only downside trigger for a major breakdown in the market is a second corona wave.
Q: If we get negative interest rates, would (SDS) fall?
A: No, (SDS) is a 2X bear (SPY) ETF that would go through the roof because negative rates would only happen if the stock market was collapsing. You might get a double on (SDS) on a second corona wave and negative interest rates. That's why I'm keeping my position.
Q: Could the market just keep going up with no major pullbacks if the Fed keeps stimulating the economy?
A: Yes, and that's what has been happening. Jerome Powell has said that the Fed's ability to borrow is unlimited, therefore the amount of stimulus they can keep throwing is also unlimited, and if that's what happens, all of that money will go into financial assets, even if the real economy is in utter freefall (which it has been). You can't rule out anything these days. You always have to trade with the belief that anything can happen at any time.
Q: I need help setting up Long term Equity Participation Securities (LEAPS). Is there a video on that?
A: You can take all the educational videos we have on call spreads and put spreads, and everything applies exactly the same, except that instead of doing a one-month maturity, you do a two-year maturity. If you play around with the maturity tab on your platform, you can find the longest dated maturity on each option series. Sometimes, it's only a year, sometimes all the way up to 2.5 years.
Q: Are there any other options besides the United States Treasury Bond Fund (TLT) to short the bond market?
A: Yes, there's the ProShares Ultra Short 20 Year Treasury ETF (TBT); that's a 2x short bond market ETF. But you don't get anywhere near the leverage that we have in the (TLT) put options spreads.
Q: Do you expect a return in inflation with all the stimulus going on?
A: Absolutely yes; food prices have already increased 20%—that will be a big inflationary push. Another $14 trillion in government QE and spending hitting the economy is also highly inflationary. And a lot of the price cuts which fueled deflation are ending as global supply chains are cut and the US food distribution system breaks down.
Q: Is the Great Depression on the table?
A: We are in a Great Depression now that is already far worse than the last one, except that this one will be shorter than the decade seen in the 1930s.
Q: How long will it take for unemployment to recover to the December 2019 3.5% unemployment lows?
A: We will never get back to those lows. A lot of that was over employment (artificial employment), with a lot of temporary marginal workers being picked up. And the net effect of the epidemic will be to make businesses forcibly more efficient; that means getting a lot more done with a lot fewer workers. So, I don't think we'll ever see that 3.5% rate again. Economists are predicting that the next new low in unemployment may be 5% or 6%, and even that could take 2 or 3 years to get there.
Q: Will the market soar on vaccine news?
A: Well probably not; I would bet that two-thirds of any real vaccines are already in the price. We are getting vaccine announcements every day and the market is immediately discounting it, so when we actually do get the real thing, we may get a rally of only a few days and that's it. We also won't know for many months if it is real and is moved to mass production.
Q: If you would buy one restaurant, what would it be?
A: None; I would not touch the restaurants here with a 10-foot pole. None of the restaurant chains have any prospect of making a profit, except for maybe the ones that already had takeout models like Subway or Chipotle Mexican Grill (CMG). Some hedge funds are buying Darden (DRI), but with their money, not mine.
Q: Should I double my short position in volatility (VIX)?
A: No, not down here, especially after a huge run in the stock market like we had—a 40% rise off the bottom. If we do get above $50 though, I will be shorting volatility then.
Q: I bought the (BOTZ) AI and robotics ETF, on your recommendation—it's now almost double off the lows. What should I do with it now?
A: Short term, take profits, long term keep it. I think the (BOTZ) doubles again from these levels, and I know some of you out there bought LEAPS on the (BOTZ) at the lows and you're up 1,000% on those. If you have a 1,000% profit take it, you probably won't get another one in your lifetime.
Q: Time to refi the house?
A: No, I think refi rates are artificially high now (and totally out of line with the bond market) because the default rate is so high—8%. Once that default rate starts to drop, the interest rate on mortgages should also fall, and I think you could see 2.5% on the 30-year fixed rate mortgage. Europe has had 0% rates for almost 10 years, and their home mortgages are at 2%, so that's ultimately how low we could go.
Q: Are you worried about the debt related to Crown Castle International (CCI)?
A: No because they're putting all the debt to good use and they can always refi at lower rates. There is no question that the demand for cell phone towers is going to be enormous—epidemic or not, because of the roll-out of 5G phones.
Good Luck and Stay Healthy.
John Thomas
CEO & Publisher
The Diary of a Mad Hedge Fund Trader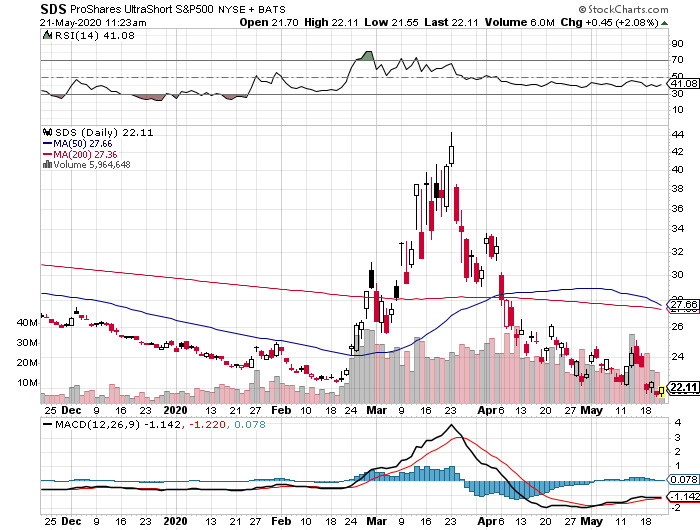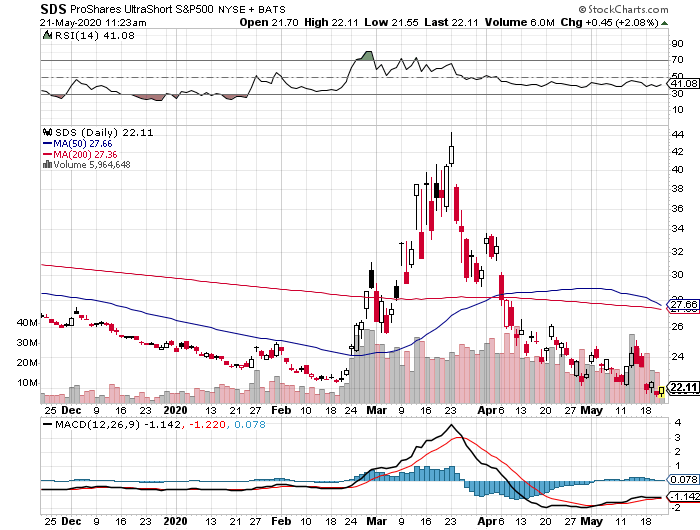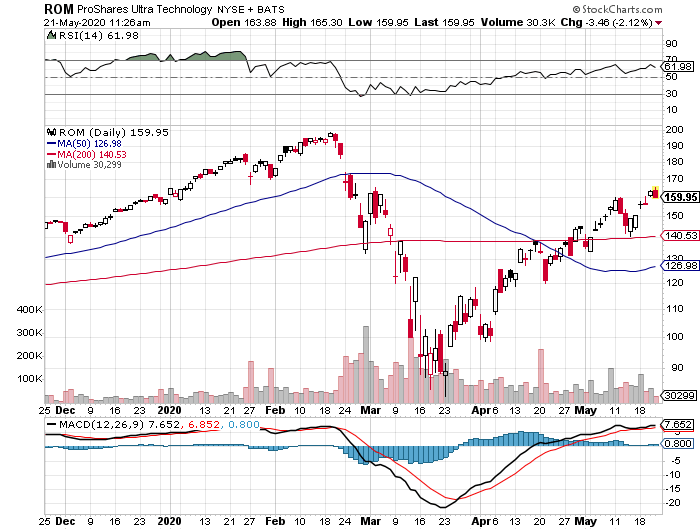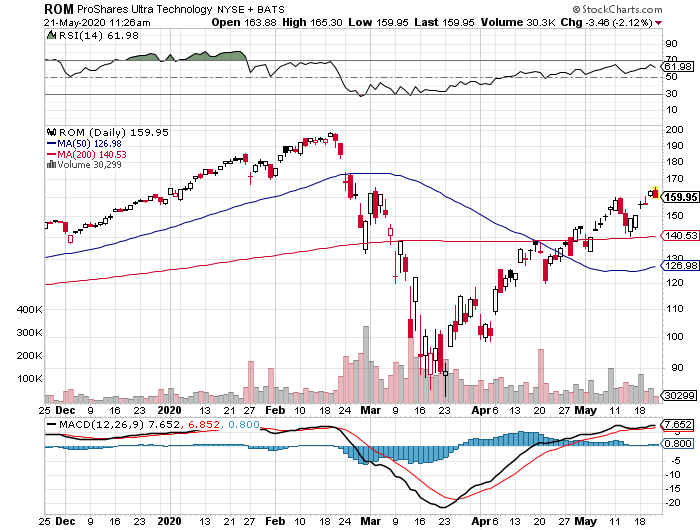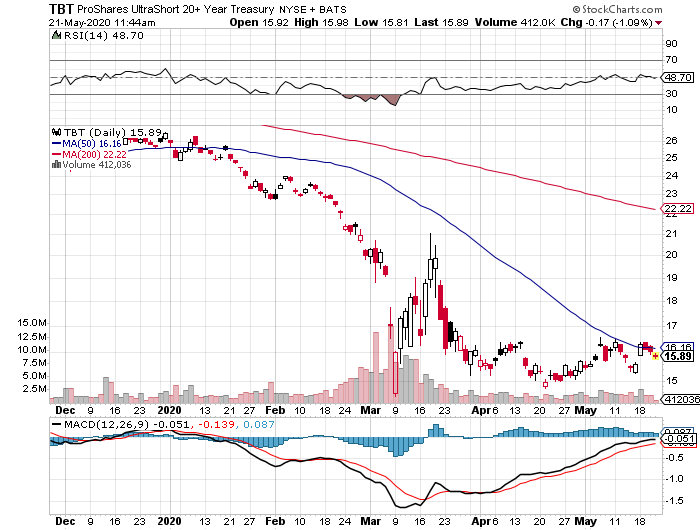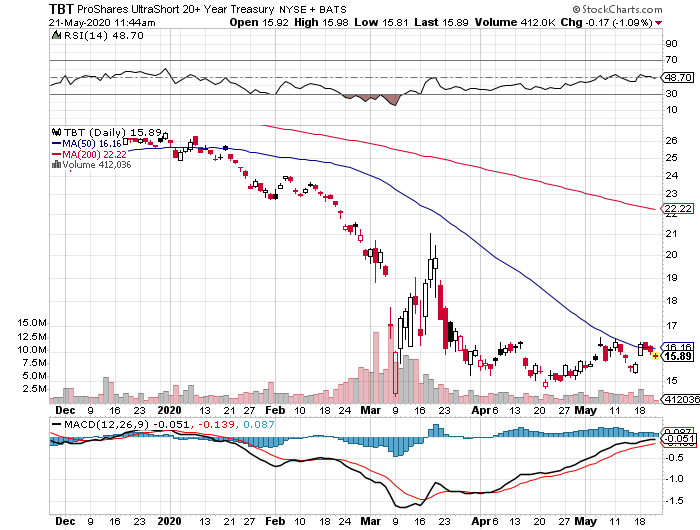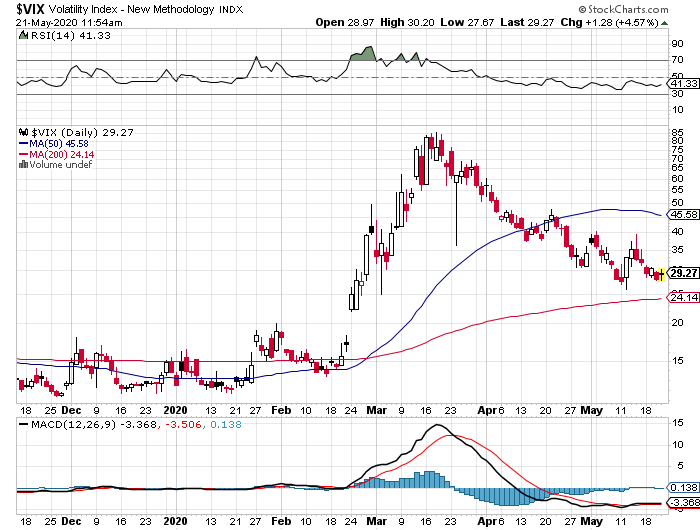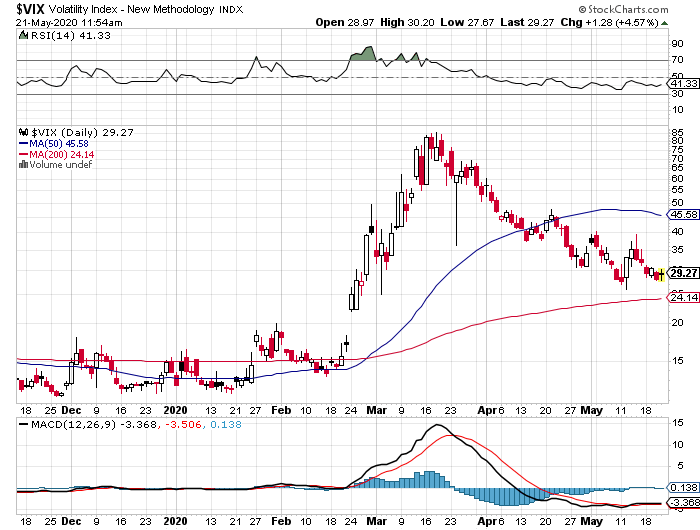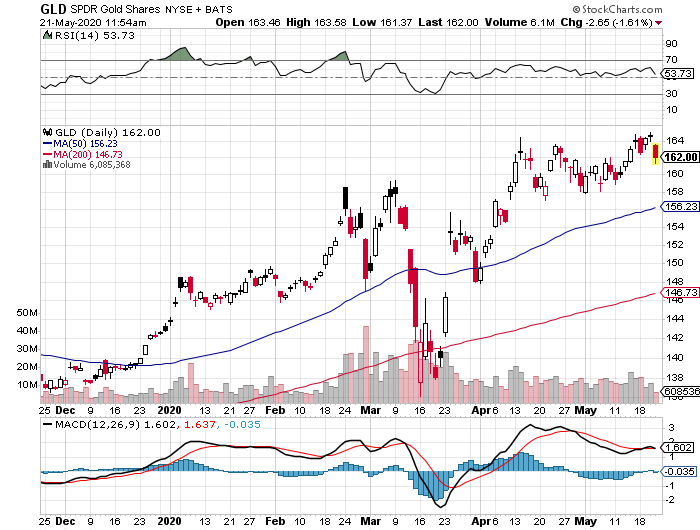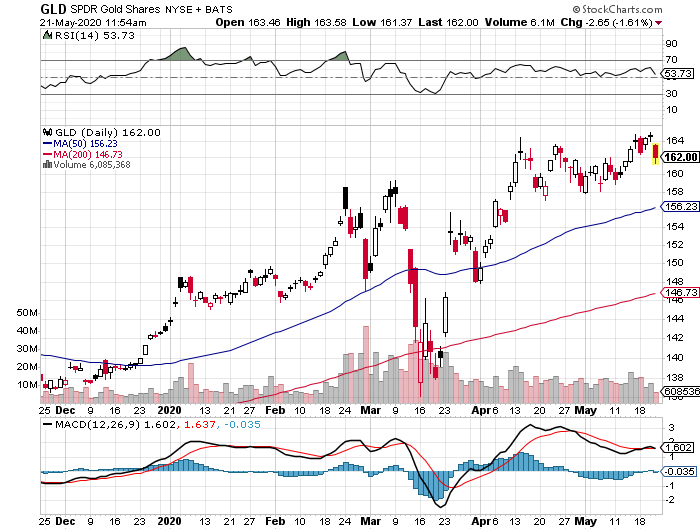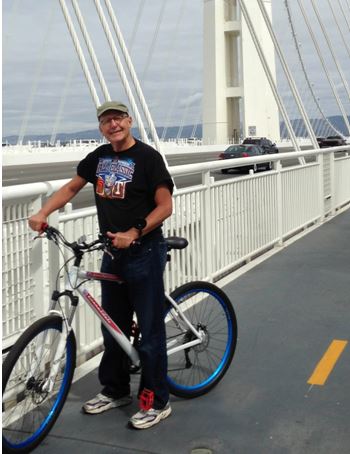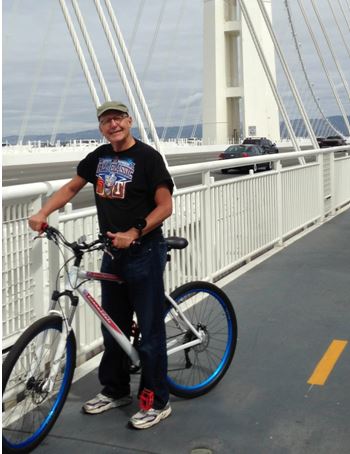 https://www.madhedgefundtrader.com/wp-content/uploads/2014/06/John-Thomas.jpg
454
350
Mad Hedge Fund Trader
https://madhedgefundtrader.com/wp-content/uploads/2019/05/cropped-mad-hedge-logo-transparent-192x192_f9578834168ba24df3eb53916a12c882.png
Mad Hedge Fund Trader
2020-05-21 13:04:52
2020-06-22 11:46:14
May 20 Biweekly Strategy Webinar Q&A