The COVID-19 race is entering the home stretch, and it could only be a matter weeks before the world finds out which among the leading vaccine candidates will work.
For months, Moderna (MRNA) has been dubbed as the leader of the pack, with the company's shares reaping the rewards thanks to this year's wild growth and promising clinical results.
Now, it looks like Moderna is on the verge of officially claiming the crown as promising reports surfaced from its late-stage clinical trials.
If the Moderna's COVID-19 vaccine candidate, called mRNA-1273, is proven to be at least 70% effective, the company will immediately ask for an emergency authorization to use it on high-risk patients.
Like Pfizer (PFE), Moderna is also expecting results to come as early as October. With potential delays in the trials, the company thinks the data would be released by November at the latest.
Moderna is also looking into building footprints outside the United States.
Part of its efforts to expand its potential market reach for mRNA-1273, Moderna opened a commercial hub – its first ever – in Switzerland, where it has already been collaborating with Swiss drug manufacturer Lonza (SWX: LONN).
This is a good move for Moderna.
After all, Europe presents a substantial market for the COVID-19 vaccine. For context, the European Union has over 446 million people while the US only has 328 million.
To date, Moderna has agreed to supply 100 million doses of its COVID-19 vaccine to the US government for up to $1.525 billion. The contract also provides for an optional additional 400 million doses, depending on mRNA-1273's performance in the trials.
Meanwhile, Moderna already secured a deal with the Swiss federal government to deliver 4.5 million of mRNA-1273.
While it has yet to announce a similar deal with the rest of the EU, the company is reported to be in the advanced stages of its negotiations with other member countries, where it is estimated to provide an additional 160 million doses.
Overall, the global manufacturing projection for Moderna falls somewhere between 500 million and 1 billion doses starting in 2021.
Looking at the agreements, we can conservatively say that mRNA-1273 could rake in $12.4 billion in sales for Moderna by 2022.
Despite the current payment plans implying that each dose of Moderna's vaccine would only cost $15.25, the company already received government funding of roughly $2.5 billion.
Taking those expenses into account, the actual value would be somewhere between $25 and $30 per dose.
In comparison, Pfizer's vaccine candidate with BioNTech (BNTX) is estimated to cost less than $19.50 per dose while Johnson & Johnson (JNJ) announced that it will offer its vaccine at $10 per dose.
Meanwhile, AstraZeneca's (AZN) candidate with Oxford University is expected to be even cheaper at $2.96 to $4 per dose.
With its COVID-19 vaccine rivals offering decidedly cheaper options, Moderna will need to leverage its first-mover advantage if it hopes to fight for a decent market share.
Outside COVID-19 vaccine efforts, Moderna has a rich pipeline, with 23 candidates distributed over 22 programs and 6 modalities.
Aside from the urgent need to offer a vaccine to the world, there is another reason why Moderna is focusing on the COVID-19 program right now.
If proven successful, the program can be used to validate another experimental vaccine, called mRNA-1647, which targets congenital cytomegalovirus infection.
Although CMV is identified as one of the leading causes of birth defects in the US, there remains no approved vaccine for it.
However, there is a catch.
Moderna will not be able to reap the full benefits of the CMV vaccine.
In fact, it will only be able to receive 50% of its profits if it becomes successful since mRNA-4157 is being developed alongside Merck (MRK).
The idea is for the drug to boost the oncology sector of Merck, with the goal of finding another blockbuster like the melanoma drug Keytruda.
As impressive as the CMV vaccine is as a product to launch in the market, there is a huge possibility that Moderna would not necessarily benefit from a large windfall because of it.
Aside from Merck, Moderna is also working with another biopharmaceutical giant and competitor in the COVID-19 vaccine race: Vertex (VRTX).
Moderna and the Massachusetts-based giant are collaborating to develop a treatment for cystic fibrosis, a niche that Vertex has dominated for years.
This is actually their second collaboration, but this project seems a tad more ambitious than the earlier one: Moderna and Vertex are working to develop a one-time treatment for cystic fibrosis using mRNA technology.
Basically, the two companies want to use gene-editing techniques to modify a patient's DNA and correct the cells that cause cystic fibrosis.
The collaboration will span 3 years, with Vertex paying Moderna $75 million upfront. The smaller biotechnology company is also eligible for an additional $380 million in milestone payments plus royalties.
Notably, this is not the first cystic fibrosis treatment collaboration that Vertex formed with gene-editing companies.
Earlier this year, the company also secured a license option with CRISPR Therapeutics (CRSP) to work on practically the same thing.
Clearly, Vertex is hedging its bets on two potential options with this second partnership with Moderna.
Thanks to its trailblazing COVID-19 vaccine candidate, Moderna has become one of the most sought-after stocks of 2020, with its year-to-date growth reaching a stunning 360% last July.
Despite the temptation to bet big on Moderna stocks, bear in mind that early leaders like this biotechnology company will be facing incredible pressure from pharmaceutical titans like Pfizer, Johnson & Johnson, and AstraZeneca – all of which have the capacity to meet the manufacturing and distribution demands across the globe.
At best, a company with Moderna's size would probably receive a slice of the market in the early days.
At worst, it might struggle to keep a foothold as stronger and larger competitors flood the market with cheaper but equally effective alternatives.
Nonetheless, this is not to say that you should completely avoid smaller biotechnology companies just because they are too small to compete with the larger fish.
Rather, I think it would simply be prudent to invest based on each player's proven ability and outlined plans to meet the demand at a mass scale.
Doing so would guarantee that you not only limit your risks but also allow you to reap the rewards of successful vaccine deployment. If you play your cards right, then you might even get a handful of different COVID-19 vaccine winners in your back pocket.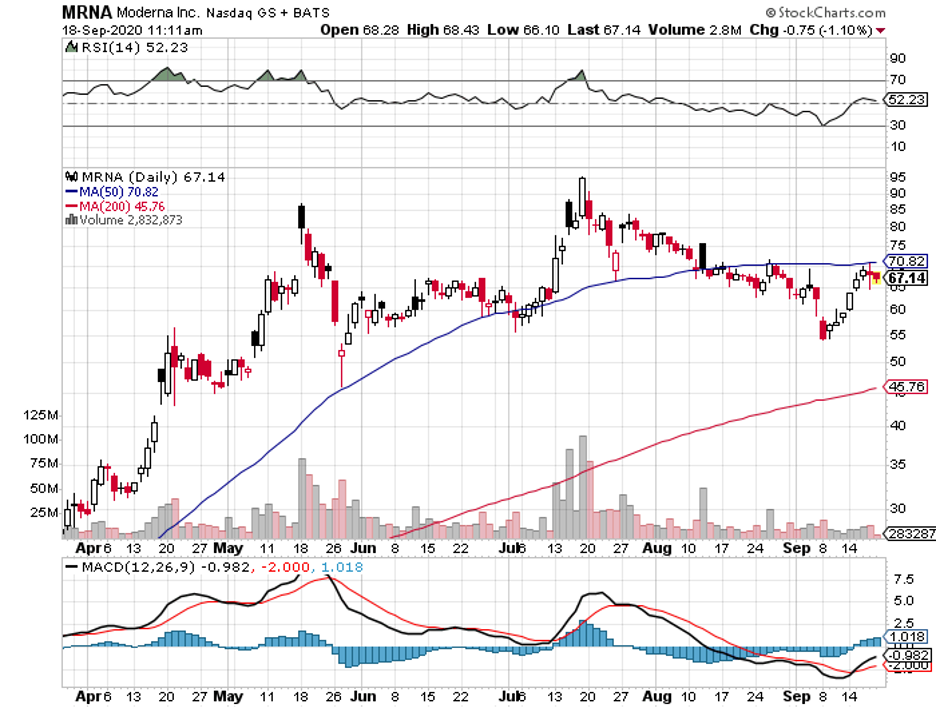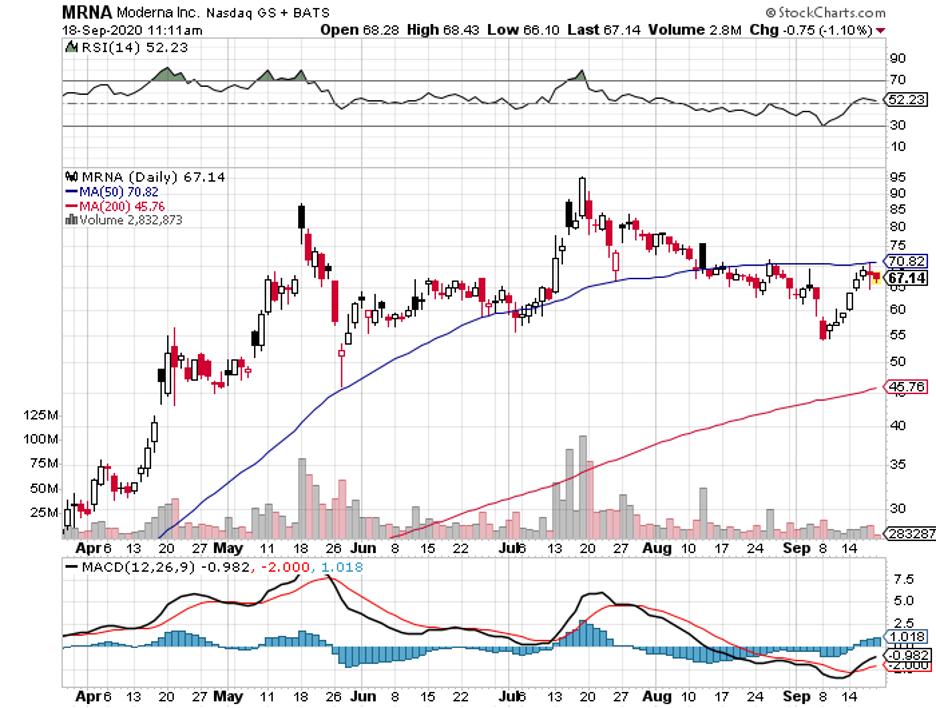 https://madhedgefundtrader.com/wp-content/uploads/2019/05/cropped-mad-hedge-logo-transparent-192x192_f9578834168ba24df3eb53916a12c882.png
0
0
Mad Hedge Fund Trader
https://madhedgefundtrader.com/wp-content/uploads/2019/05/cropped-mad-hedge-logo-transparent-192x192_f9578834168ba24df3eb53916a12c882.png
Mad Hedge Fund Trader
2020-09-24 09:30:48
2020-12-18 00:27:18
Play Your Cards Right With Moderna