Credit where credit is due.
Tiny Moderna Inc (MRNA) has been at the forefront ever since this pandemic broke, with its vaccine program growing in leaps and bounds compared to competitors, like Novavax (NVAX), which has $3.02 billion in market capitalization, and Inovio (INO), which has $2.20 billion.
The latest report on Moderna's progress pushes it much further ahead of its competitors.
Looking at its timeline, Moderna could have efficacy data on its COVID-19 vaccine, called mRNA-1273, by Thanksgiving.
Moderna's vaccine, which is similar to the work of Pfizer's German collaborator BioNTech (BNTX), utilizes a novel approach that inserts small doses of genetic instructions into the cells of humans.
These then trigger the production of harmless proteins, which mimic the SARS-CoV-2 virus. The proteins subsequently alert the body to produce antibodies, making the vaccine a proactive measure that protects people from infection by the actual virus.
Right now, Moderna is in the second stage of the trials. The final stage involving 30,000 people is expected to begin in July.
With the vaccine program well underway, Moderna secured manufacturing capabilities through a strategic collaboration with Swiss biotechnology company Lonza (LZAGF).
This partnership with a manufacturing site ensures that Moderna is on track to deliver approximately 500 million doses of the mRNA-1273 vaccine every year and could handle up to 1 billion doses annually starting from 2021.
With such massive competitors like Pfizer (PFE) and  Johnson & Johnson (JNJ) but also other healthcare heavyweights, such as Regeneron (REGN), AstraZeneca (AZN), Eli Lilly (LLY), and Merck (MRK), the best-case scenario for Moderna is to launch its COVID-19 vaccine before its peers.
Considering the progress it has made so far and the 208% jump in Moderna's shares this year, it looks like investors anticipate that the company can win the COVID-19 vaccine race and capitalize on its future cash-making machine.
After all, no other biotechnology stock has taken more advantage of this health crisis than Moderna. The company exploded from having the biggest IPO in biotechnology history to now being celebrated as the COVID-19 vaccine leader.
Moderna grew from being a biotechnology company worth roughly $4 billion to $5 billion to an impressive $25 billion frontrunner in a few months' time.
This is especially impressive since Moderna commanded this kind of valuation without having any approved product in the market. In fact, this clinical stage biotechnology company is valued more than several companies with marketed treatments.
While it has no product in the market today, Moderna actually has a robust pipeline that boasts 22 mRNA candidates, with 12 of these already in clinical studies. The lineup includes potential vaccines for the Zika virus along with a promising oncology pipeline.
Prior to the COVID-19 pandemic, Moderna's lead candidate was its cytomegalovirus (CMV) vaccine called mRNA-1647. CMV, which affects almost 80% of adults in the US alone, is caused by a virus related to those that cause chickenpox and mononucleosis.
Moderna expects the Phase 2 study analysis for mRNA-1647 to be completed by the third quarter of 2020, with Phase 3 set to start by early 2021.  
The company is also working with fellow biotechnology companies on potential cancer vaccines.
So far, Moderna has been focusing on two candidates which are also currently undergoing Phase 2 testing.
The first candidate is called mRNA-4157, which is a personalized cancer vaccine developed for melanoma patients.
Moderna is evaluating the combination of this vaccine with Merck's top-selling cancer treatment Keytruda. This could turn out to be a potent combination considering Keytruda's track record.
The second candidate is a collaboration with AstraZeneca. The latter licensed the rights to one of Moderna's heart disease drug candidate called AZD8601. If successful, this drug will be marketed to patients in need of coronary artery bypass grafting (CABG) surgery.
Riding the momentum of its COVID-19 vaccine program, Moderna conducted a secondary stock offering last May. With $1.34 billion in gross proceeds from that sale alone, the company ensured that it's well-capitalized to fund its development programs.
While its $25 billion market capitalization is pennies compared to fellow COVID-19 vaccine leaders JNJ and Pfizer, the smaller biotechnology company is definitely giving these behemoths a run for their money.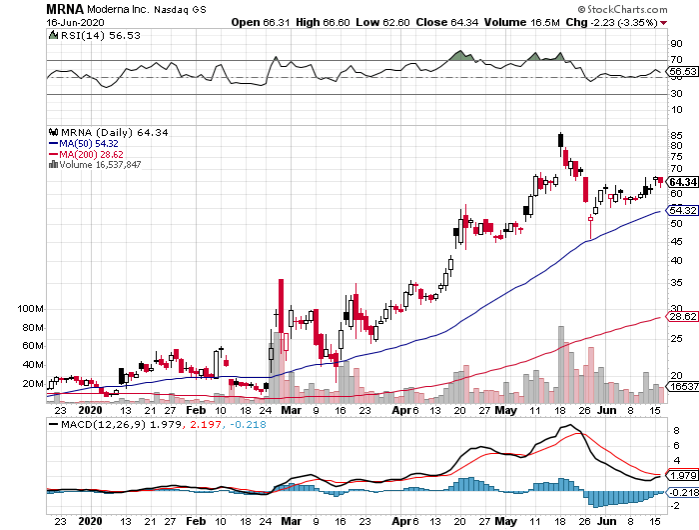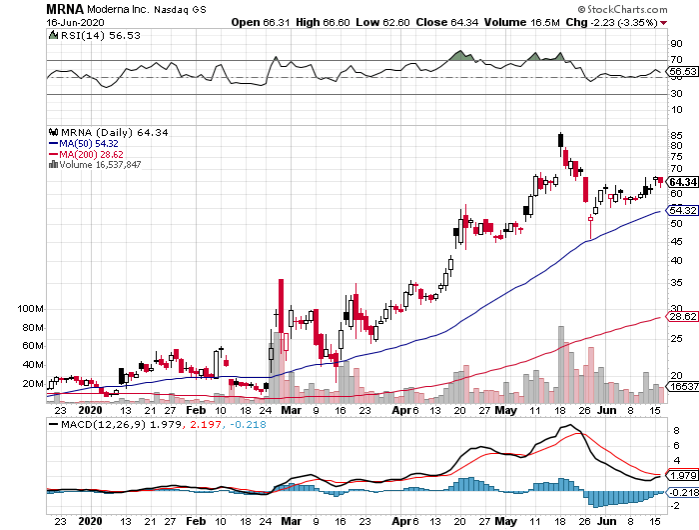 https://madhedgefundtrader.com/wp-content/uploads/2019/05/cropped-mad-hedge-logo-transparent-192x192_f9578834168ba24df3eb53916a12c882.png
0
0
Mad Hedge Fund Trader
https://madhedgefundtrader.com/wp-content/uploads/2019/05/cropped-mad-hedge-logo-transparent-192x192_f9578834168ba24df3eb53916a12c882.png
Mad Hedge Fund Trader
2020-06-30 12:00:04
2020-12-18 00:26:55
Moderna's Big Corona Play for a Small Company