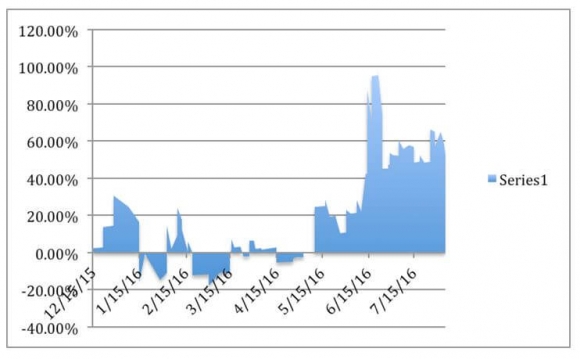 I am pleased to announce the launch of a major new service from the Mad Hedge Fund Trader, THE MAD OPTIONS TRADER.

The service will focus primarily on the weekly US equity options expirations with the goal of making profits at all times.
The trading will take place in the S&P 500 (SPX), major industry ETFs like the Financials Select Sector (XLF), and large capitalized single names, such as Facebook (FB), JP Morgan Chase & Co. (JPM), and Apple (AAPL).
The service will be provided by my old friend and fellow comrade in arms, Matt Buckley (click here for his bio), of Top Gun Options, one of the best performing trade mentoring outfits in the industry.
Matt knows what he is talking about. An independent audit shows that he has racked up an incredible 53.03% performance, net of commissions and fees, so far in 2016 which has been one of the most difficult years in trading history.
That works out to an average 7.92% a month, or an incredible 95.09% a year.
I have known for some time that fortunes were being made in weekly options where stories of tenfold returns are not unheard of. It is a strategy that is perfectly suited to these highly volatile, uncertain times, with most options positions expiring within four days.
Matt allows us to fill that gap in our product offerings.
The Mad Options Trader provides essential support for the active trader, and will include:
1) Instant Trade Alerts texted out at key technical levels. Alerts will be sent out on the opening and closing of every filled position.
2) Weekly Market Strategy Webinars held every Monday at 1:00 PM EST to give you a head?s up on the week ahead.
3) A weekly Live Trading Room held every Tuesday from 10:00 to 11:00 AM EST to give followers active real time trading experience.
What I love about Matt is that he eats his own cooking. Many of the Trade Alerts he recommends are executed in his own personal retirement account with real dollars.
To see how he has performed so far in 2016, please check out the daily chart below.
The Mad Options Trader is available as a $2,000 per year upgrade to either The Diary of the Mad Hedge Fund Trader or Global Trading Dispatch, the core research and trade mentoring service of the Mad Hedge Fund Trader.

The annual cost:
Diary + Mad Options Trader - $4,500.
Global Trading Dispatch + Mad Options Trader - $5,000.
Good Luck and Good Trading,
John Thomas
Publisher and CEO of The Mad Hedge Fund Trader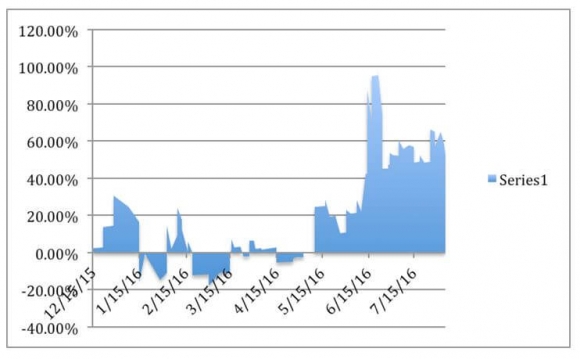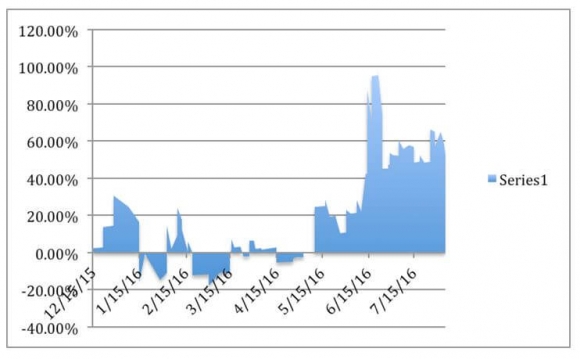 Mad Options Trader 2016 YTD Independently Audited Performance