Pfizer (PFE) has been widely recognized as one of the leading and largest vaccine makers in the industry.
Now, one of America's biggest biotechnology companies will throw its weight behind German firm BioNTech (BNTX) in its quest to develop a COVID-19 vaccine.
Prior to this announcement, BioNTech has already been working inside China in collaboration with Chinese biopharmaceutical company Fosun Pharma (SHA: 600196).
Its partnership with Pfizer will entail efforts outside China and will be in collaboration with the University of Pennsylvania and the Bill and Melinda Gates Foundation. Specifically, the work will be done at sites in the US and Germany.
What we know so far about this experimental COVID vaccine is that it's called BNT162.
Like the experimental vaccine from Moderna (MRNA), BioNTech's version is also based on messenger RNA. Clinical trials will start by April.
BioNTech shares were up 55% following the announcement of this collaboration with Pfizer. Meanwhile, the giant biotechnology company's shares jumped by 3.8%.
Before this coronavirus vaccine collaboration, BioNTech and Pfizer were already partners.
In 2018, the two companies agreed to work together in developing flu vaccines based on mRNA.
However, this recent expansion of their partnership gained more attention because of the intense focus on the efforts to combat the novel coronavirus.
The output of this partnership won't be kept within the confines of the companies though. 
According to Pfizer, any information or tool it comes up with will be shared with the entire scientific community.
The company also pledged its assistance to small biotechnology companies working on COVID-19 treatments and vaccines, going as far as offering its manufacturing power to help speed up the process.
Aside from its coronavirus efforts, the giant biotech has been working on plans to bolster its revenue streams.
Addressing the loss of exclusivity for seizure disorder drug Lyrica, an issue that weighed on the company's top and bottom lines last year, Pfizer has been gearing up to merge the Upjohn unit with Mylan (MYL).
The merged companies will be called Viatris.
This is a good strategy. Since Upjohn is home to Lyrica and several older drugs nearing the end of their patent exclusivity, separating this unit will allow Pfizer to streamline its portfolio.
Instead of holding on to Lyrica as an anchor, the "new" Pfizer will focus on its new line of blockbuster drugs like breast cancer medication Ibrance and blood clot treatment Eliquis.
Apart from these, Pfizer is investing more on marketing its rising stars like Vyndaquel. The company's pipeline is also filled with potential blockbusters particularly its 20-valent pneumococcal vaccine.
Although the Upjohn-Mylan merger will inevitably lower Pfizer's dividend, shareholders of the giant biotech will still own part of Viatris. That means they would have a share in the dividend of the merged companies as well.
The combination of the dividends from both Pfizer and Viatris would total to roughly the same amount as the "old" Pfizer, which currently yields 5%.
What we're experiencing right now is definitely unprecedented. COVID-19 has mutated from a respiratory disease affecting a single province in China into a global threat endangering everyone's physical and financial well-being.
However, there's always good news.
From an objective perspective, this coronavirus crisis has provided a rare opportunity for investors. After all, stock market corrections are actually quite common occurrences.
Looking at each correction in equities in the past, you can see that these were eventually triggered by a bull-market rally.
Remember, the ongoing vaccine research conducted by companies worldwide will yield results sooner or later. So even if COVID-19 is here to stay, it will no longer be a deadly threat in the long run.
In times like these, I think it's more prudent to consider major biotechnology stocks when looking to invest.
This is because they have a higher capacity to keep trucking through this health crisis and to deal with its aftermath.
Despite the growing fear that this pandemic will lead us to a recession, Pfizer can still be easily categorized as a profitable company.
Considering that it's trading at merely 13 times its expected earnings, this stock is quite a bargain.
Pfizer has a strong cash flow. Its long history shows that it has also weathered economic storms.
More importantly, it has a product pipeline that we find essential regardless of pandemics and strict quarantines. It doesn't hurt that they're priced attractively as well.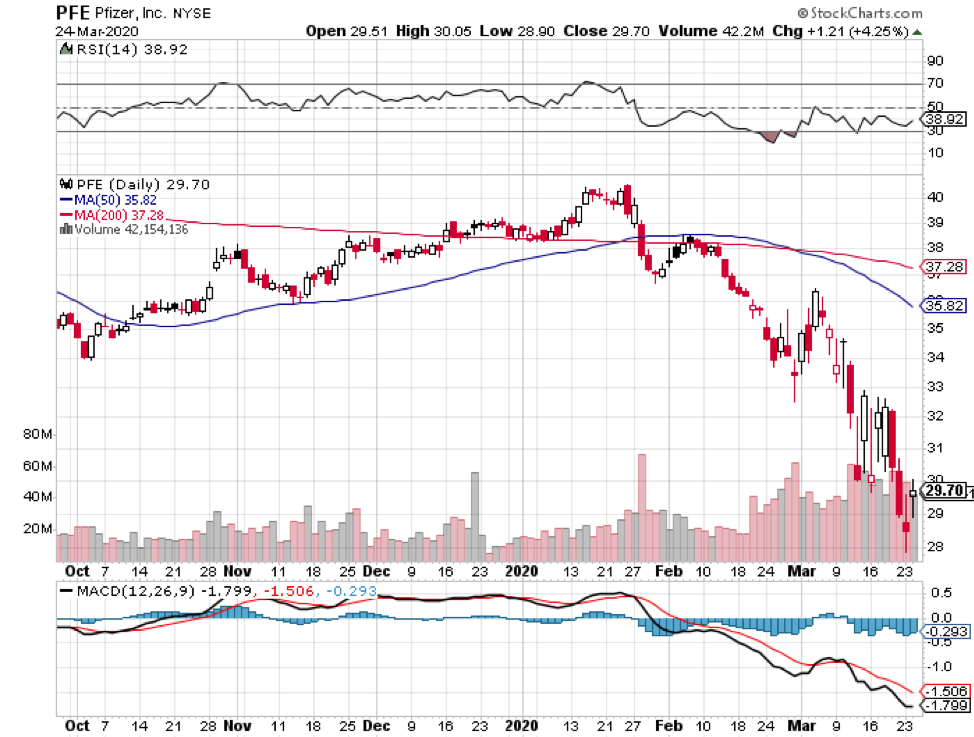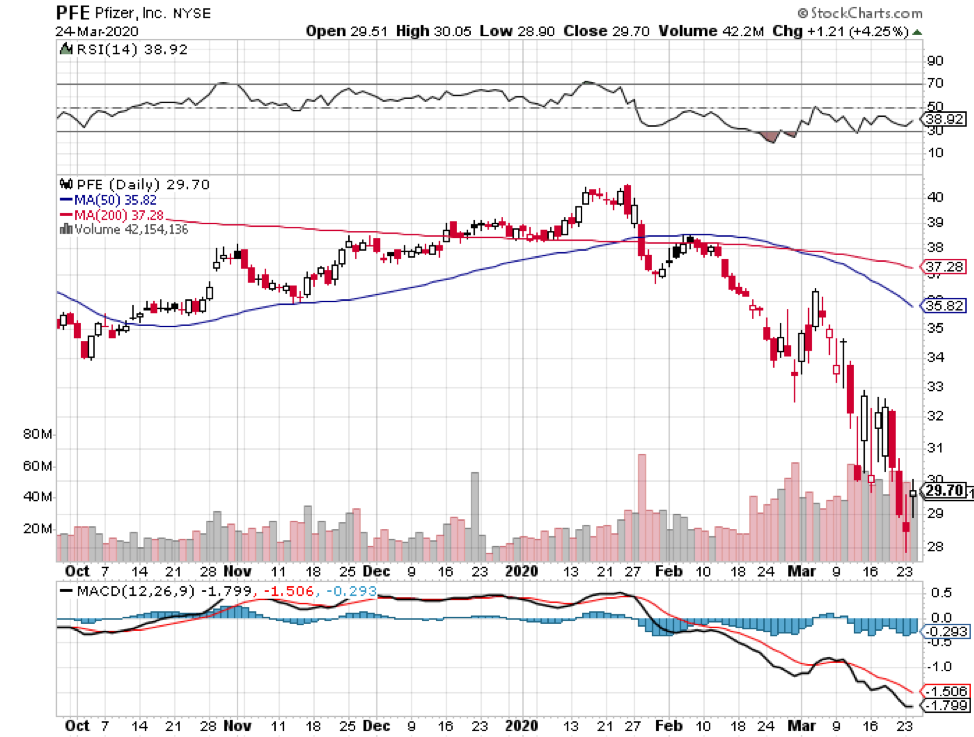 https://madhedgefundtrader.com/wp-content/uploads/2019/05/cropped-mad-hedge-logo-transparent-192x192_f9578834168ba24df3eb53916a12c882.png
0
0
Mad Hedge Fund Trader
https://madhedgefundtrader.com/wp-content/uploads/2019/05/cropped-mad-hedge-logo-transparent-192x192_f9578834168ba24df3eb53916a12c882.png
Mad Hedge Fund Trader
2020-03-26 15:00:29
2020-03-26 15:39:24
Pfizer Pushes Ahead with a Corona Cure