Long-term readers of this letter are well aware of my pleadings with them a couple of years ago to buy Apple (AAPL) stock at $250 with a target of $1,000. Certainly, the 200 readers who work for Apple noticed. ?That was back when the main concern about the company was that Steve Jobs would die young.
In view of the upgrades present in the iPhone 5 announced today, I am going to have to raise my long term target for the shares to $1,600. ?And it could achieve that lofty price in as little as two years.
First, the specs: The new iPhone will be thinner, faster, and lighter, with a longer battery life. ?The new phone is a paper thin 7.6 mm thick and weighs 112 grams, 18% thinner and 20% lighter than the model 4s. ?The screen gains ? inch to 4 inches in able to accommodate a full HD format.? The new A6 processor is twice as fast as the old one. ?It offers full 4G LTE connectivity to handle wireless video. Talk time is extended to 8 hours, and 10 hours for web surfing. ?The camera jumps to a near professional 8 megapixels. ?In short, it is head-and-shoulders above any potential competitor.
You can preorder the phone from Friday. ?Some analysts see 50 million phones shipping in the next quarter and 170 million in all of 2013, generating 85% of the company?s total revenues. ?The order flow is expected to be so massive that economists think it could add as much as 0.3% to US Q4 GDP.
Apple is the ultimate value play. ?Looking at the forward financials, the stock is still astoundingly cheap, despite a 70% gain so far this year. ?It is selling at a bargain basement 11X 2013 earnings ex-cash. It has a dividend yield of 2%, no debt, and is growing at 15% a year.
By comparison, the S&P 500 is growing at 5% a year at best, offers a dividend yield of less than 2%, has debt of 35% of capital and sells at a 14X multiple. ?In other words, it is more expensive, slower growing, yielding less, with fewer assets backing the shares. ?Why anyone looks at other stocks than Apple is beyond me.
On top of this, Apple has a cash mountain of $120 billion which is growing at a prolific rate, and it has a fantastic lineup of new products in the pipeline. ?The recent Samsung patent win will do a lot to scare away potential competitors. ?The franchise value of the company is huge.
You can also throw in the longer term arguments for the company that I have made before. ?After being shunned for decades, Apple products are now in the process of going mainstream corporate. ?A future China deal will give it access to 600 million new subscribers there. ?Any other new products on top of the iPhone 5, like Apple TV, an iPad mini, or enhanced iPods, will just be cream on the cake.
The trick is how to buy the stock, as it has been all year. ?We seem to get one 20% dip a year, as we saw in April this year and October, 2011 ? usually around an earnings disappointment or a generalized market selloff. ?Use the next one of these to load the boat. ?This is the stock you sock away for your kids? college educations or your own retirement, as I have done.
Steve Jobs would be smiling.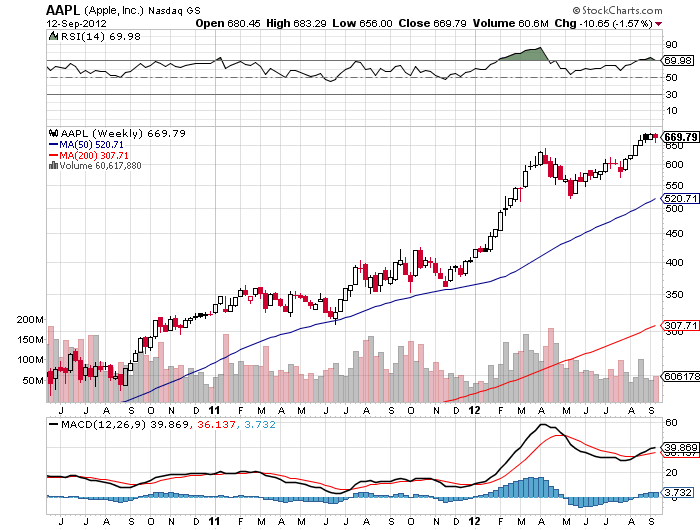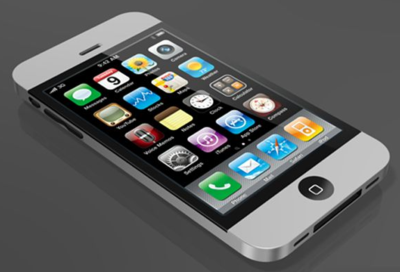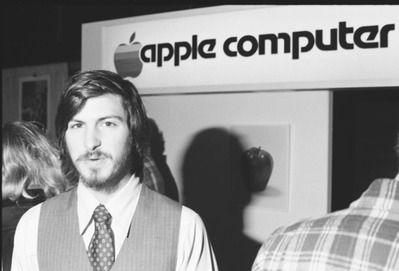 Nice Job, Steve!
https://www.madhedgefundtrader.com/wp-content/uploads/2019/05/cropped-mad-hedge-logo-transparent-192x192_f9578834168ba24df3eb53916a12c882.png
0
0
DougD
https://www.madhedgefundtrader.com/wp-content/uploads/2019/05/cropped-mad-hedge-logo-transparent-192x192_f9578834168ba24df3eb53916a12c882.png
DougD
2012-09-13 02:37:30
2012-09-13 02:37:30
Raising My Apple Target to $1,600.