Milan, Italy appears to be a city entirely populated by fashion models riding bicycles on the city?s frenetic, cobblestone streets. That is one?s first impression coming out of the monolithic Milano Centrale train station, built by Mussolini to reaffirm faith in his state. Despite years of allied bombing during WWII, the building is as imposing as the day it was built.

You Think It?s Easy Fitting into a Size 0?
I am here for a day, transiting from my flight from Mykonos in Greece to the train to Zermatt in Switzerland. There I wind up my trip every year with a stiff dose of penance for my gluttonous ways in the form of daily 10-mile Alpine hikes with a 4,000 foot vertical climb.
Milan?s breathtaking August sales make it a mandatory stop each year. There, you can buy the best designer clothes for 90% off because they are the remnants of last year?s collection. I buy clothes for all my kids, all my friends, and even people I don?t like, because the prices are so irresistible. I?m talking a pair of pants for $5 and shirts for $3. Even the extra suitcase I bought to ship everything back was half off. Note to travelers: Corso Buenos Aires is the street to visit.
Here is another tip to future travelers to the fashion capital of the world. Avoid those romantic sidewalk cafes and eat indoors. The clouds of mosquitoes emanating forth from the sewers will eat you alive. The Italians deal with this by placing Japanese mosquito coils under every table. But they can?t catch them all. Better to eat than be eaten. Indoors is also the de facto Italian no smoking zone as well.
On an extra afternoon to spend in this amazing city. I visited Michelangelo?s Last Supper at Santa Maria della Grazie monastery, looking for evidence of the conspiracy theories long ascribed to this masterpiece.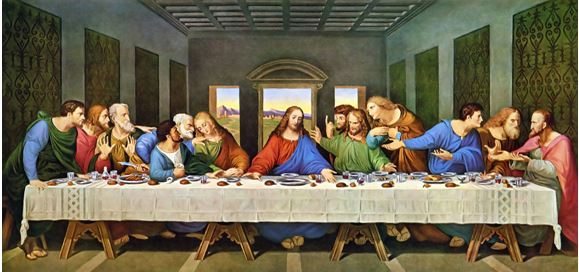 Strolling though the Galleria, the world?s first shopping mall, I stopped by the famed mosaic of a bull set in the floor to step on his balls. Done correctly, it is a swinging, rotating motion. Local custom says this is good luck. Was this the beginning of proto-feminism in the 18th century?
Yes, that was a McDonald?s shop in the background. The city has since banished it from the Galleria, as it is not representative of Italian culture in this important national landmark. Today, you will find a new Prada shop there, packed with Chinese elbowing each other to pay $4,000 for a handbag they can easily pick up in Shenzhen for $10.
I managed to scoot into the main Brioni store just before closing. There, I watched two Russian Mafia types in their thirties buy a half dozen exquisitely tailored, 200 thread count suits each for $8,000. That?s $96,000 worth of clothes?. for guys!
Alas, they don?t carry an American size 48 long in stock, it would have to be a custom order, so I left with only a couple shirts and some $200 ties in hand. In any case, I happen to know that I can get the identical suit at the Brioni shop Caesar?s Palace in Las Vegas for half, thanks to flaccid Uncle Buck, plus they likely have my size.
The next morning found me in a mad dash back to the train station, my taxi driver artfully weaving in and out of traffic, where I boarded a first class Eurostar train. The engine powered North towards the Italian Alps, passing through the Milan slums. Retracing the route seen in the classic Sinatra prisoner of war escape flick, Von Ryan?s Express. Unlike in Frank?s day, first class cars now include screens showing a Google mapping function showing the scenery ahead?from a viewpoint 200 feet above the train. Cool!
Next stop: Zermatt, Switzerland, and the Matterhorn.
To be continued.
https://www.madhedgefundtrader.com/wp-content/uploads/2013/08/John-Thomas-Milan.jpg
454
337
Mad Hedge Fund Trader
https://www.madhedgefundtrader.com/wp-content/uploads/2019/05/cropped-mad-hedge-logo-transparent-192x192_f9578834168ba24df3eb53916a12c882.png
Mad Hedge Fund Trader
2013-08-09 01:03:25
2013-08-09 01:03:25
Report from Milan