Aducanumab isn't going gently into the night.
Positive data from Eli Lilly (LLY) breathed renewed interest in the efforts to find a cure for Alzheimer's disease, the most common form of dementia and the sixth leading cause of death among Americans.
With 1 in 10 people aged 65 and older suffering from this condition, it's no wonder that Big Pharma has invested so much in searching for a treatment.
Lilly's candidate, Trailblazer-ALZ 2, is in its Phase 2 trials. Results showed that the progression of moderate Alzheimer's disease among patients who took the drug showed a 32% decline compared to a placebo.
In a sector riven by failure and with a potential target market as lucrative as $30 billion annually, investors welcomed Lilly's news with enthusiasm.
If successful, Trailblazer-ALZ 2 could reach $5 billion in peak sales. As expected, the results boosted Lilly's stock, with it rising by 14% from $166 to $190.
While the Lilly study is promising, it involved only 272 patients.
This is easily dwarfed by Biogen's (BIIB) efforts to find a cure for Alzheimer's. As of last count, the giant biotechnology company's previous trial for its own drug, Aducanumab, involved over 3,200 patients.
More importantly, Lilly's Trailblazer-ALZ 2 is projected to hit the market in 2025, while Biogen's Aducanumab is "ready to go."
Aducanumab is a monthly infusion designed as a long-term treatment for generally healthy individuals who are beginning to show symptoms of Alzheimer's disease.
Although this treatment has yet to be approved, the FDA is said to be in favor of its approval.
Outside the US, Biogen has also filed for potential approval in Japan and Europe. All approvals could come by early to mid-2021. 
If approved, Aducanumab is expected to reach $12 billion in peak sales.
While this plan is still up in the air, the $12 billion in sales alone could easily justify the entire company's current valuation.
Despite the uncertainty, Biogen remains promising thanks to the high potential of the existing drugs in its roster and its R&D unit.
In terms of pipeline, the company has at least 30 active clinical programs. Eight of which are already in Phase 3 and filed, including Aducanumab.
In recent years, Biogen has been focusing on expanding its neuroscience segment.
With over $28 billion potential market size, it no longer comes as a surprise why Biogen is pouring in cash in this particular sector.
Bolstering its efforts in the neuroscience segment, Biogen has recently invested in the Series A round of Atalanta Therapeutics, a Boston-based pioneering neurodegenerative diseases biotechnology company founded in 2018.
Attracted by Atalanta's research on siRNA, which are molecules that can "silence" genes in the brain, Biogen and another biotechnology bigwig, Genentech (DNA), invested a combined $110 million to get a piece of the action.
Specifically, Biogen signed up to collaborate with Atalanta on treatments for Huntington's along with several other central nervous system disorders.
As for Genentech, the $73.9 billion valued company's deal with Atalanta covers Alzheimer's and Parkinson's.
In both agreements, Atalanta gets upfront payments, milestones, and royalties.
What we know so far is that Atalanta's siRNA can silence Huntington's disease gene for at least six months. It can also alleviate symptoms affecting the spinal cords, but this part of the research has only been done on nonhuman primates.
Biogen, which has a market capitalization of $41.15 billion, has seen its share price fluctuate dramatically due to concerns over its Alzheimer's drug.
The company withstood significant volatility in 2020, experiencing over 40% price swings in both directions. This is primarily because of the ups and downs of its Aducanumab trials, which heavily swayed the opinion of market participants.
Moving forward, I expect Biogen to have a massive year this 2021.
That's the upside of this stock.
Even at its midpoint and if major treatments like Aducanumab fail to gain approval, I still anticipate a respectable year for this biotechnology company. That kind of security is worth paying attention to, and it can also signal its capacity to drive strong rewards.
Biogen has been shunned in the past year due to its volatility.
After all, who would want to invest in an unpredictable drug like Aducanumab when there are major stock indices and newcomers like Moderna (MRNA) making record-breaking highs?
For investors willing to look beneath the surface though, Biogen offers so much more than what meets the eye.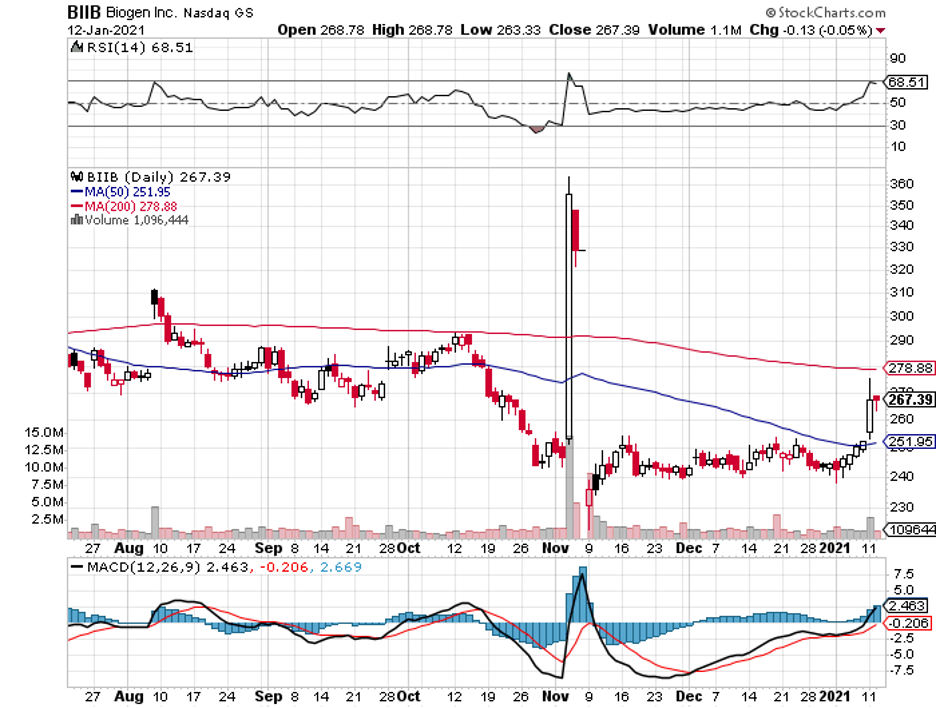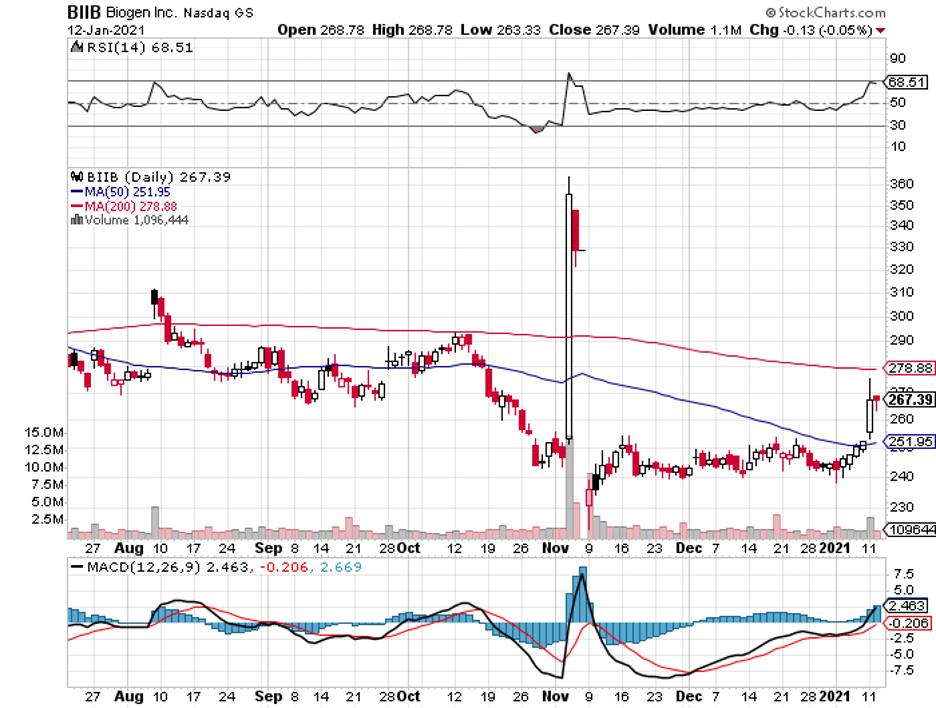 https://madhedgefundtrader.com/wp-content/uploads/2019/05/cropped-mad-hedge-logo-transparent-192x192_f9578834168ba24df3eb53916a12c882.png
0
0
Mad Hedge Fund Trader
https://madhedgefundtrader.com/wp-content/uploads/2019/05/cropped-mad-hedge-logo-transparent-192x192_f9578834168ba24df3eb53916a12c882.png
Mad Hedge Fund Trader
2021-01-14 14:00:37
2021-01-16 20:46:59
Are These The New Neuroscience Trailblazers?