The coronavirus disease (COVID-19) outbreak continues to inspire terror across the globe.
To date, there are roughly 398,107 confirmed cases and over 17,454 documented deaths, pushing communities to take proactive measures to stem the tide of this global pandemic.
In its wake, an increasing number of government officials and health professionals like the US Centers for Disease Control (CDC) have advised patients to take advantage of telemedicine and virtual health systems as much as possible. This is particularly helpful for those with respiratory symptoms since using these platforms could minimize contact with others along with the spread of the virus.
One of the no-brainer beneficiaries of this advice is virtual healthcare services provider Teladoc Health (TDOC).
Basically, companies like Teladoc offer personalized care without the need for patients to leave their houses. Although the kinks have yet to be worked out, the telemedicine sector should be expected to skyrocket in the weeks and even months ahead.
In fact, Teladoc shares gained 9% since February 19 -- a good sign for the company especially since the broader market went down by roughly 20% over the same period.
Earlier this month, Teladoc disclosed that the number of patient visits registered in its system showed a 50% increase week over week.
Ever since COVID-19 hit the country, the company has been fielding at least 15,000 visits on a daily basis, reaching over 100,000 weekly. Teladoc shared that it has been experiencing "visit demand consistent with peak flu volumes."
The convenience that companies like Teladoc provide can ease the burden on the broader healthcare system, which has been overworked with COVID-19 cases.
Another factor that could have contributed to Teladoc's increasing patient load is the decision of some major health insurers to waive the patient costs for telemedicine visits.
So far, Humana (HUM), Aetna (AET), and Cigna (CI) confirmed that this policy will be relaxed throughout the national health emergency.
Needless to say, this announcement was highly appreciated by their clients, with Teladoc reporting that over half its patient visits in the past weeks are from first-time users.
However, this isn't exactly Teladoc's first big break.
Even prior to the pandemic and the recommendations from health experts, Teladoc has been quite impressive on its own.
Throughout the years, Teladoc has been consistent in reporting strong growth metrics. Since it went public in 2015, the stock has skyrocketed to 330% compared to the 30% gain for the S&P 500.
 Reviewing its fourth-quarter earnings report for 2019, it's clear that this is a stock for long-term investors. Based on the management's commentary and how the story is playing out in the past months, there's a good possibility that investors will be richly rewarded as well.
In 2019 alone, Teladoc added a total of 14 million new members to record an impressive growth rate of 61%. The company closed the year with 36.7 million patients registered in its system.
In terms of revenue, Teladoc delivered $156.5 million, showing off a 27% jump year over year.
This is particularly impressive as it eclipsed the high end of its guidance, which fell somewhere between $149 million and $153 million. It also beat the consensus estimates of analysts at $152.95 million.
This increase in revenue was bolstered by strong growths both in the US and the international markets. Its subscription-access fees reached $127 million, which was a 24% increase year over year.
Fees collected from visits showed quicker growth to contribute $29.5 million, demonstrating a 47% jump compared to the same period in 2018.
Total office visits increased by 44%, climbing to 1.24 million and surpassing the company's guidance range of 1 million and 1.2 million as more and more patients opt for the subscription-based plans.
Meanwhile, its paid memberships in the US climbed 61% year over year to reach 36.7 million while its fee-only access soared by 104% to jump to 19.3 million members.
While 2019 was definitely a good year for the company, it's difficult to downplay the reality that its impressive adoption curve recently could make 2020 an even better year for Teladoc.
Looking at how the company has been thriving, two things could happen for Teladoc.
One possibility is for it to develop into one of the most disruptive companies in the industry. The second possibility is that it will get acquired by a bigger player.
No matter what happens, the outcome will be a win-win for its investors.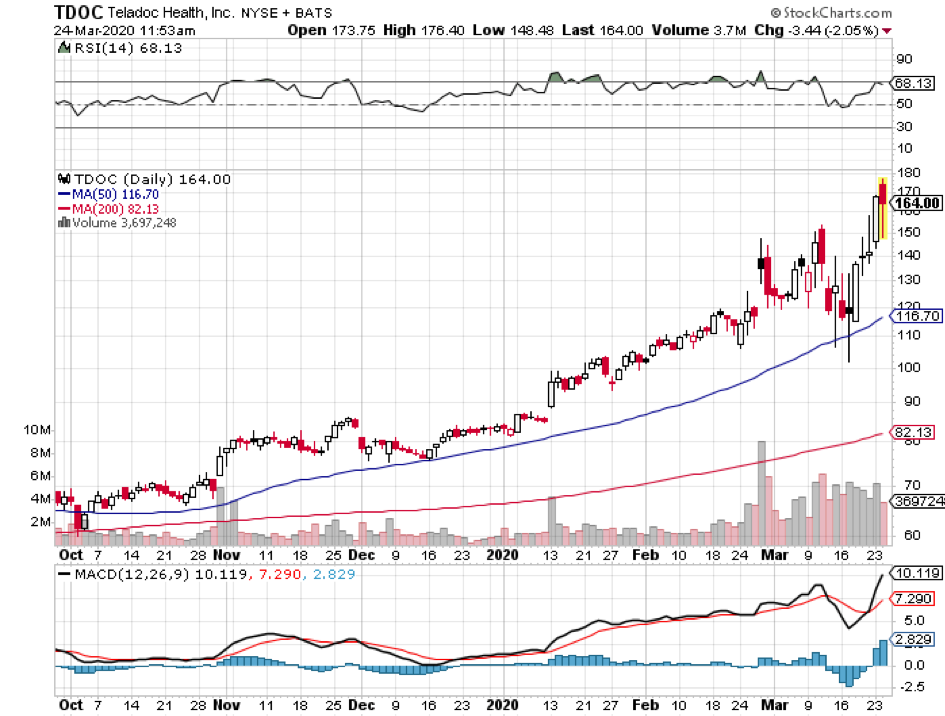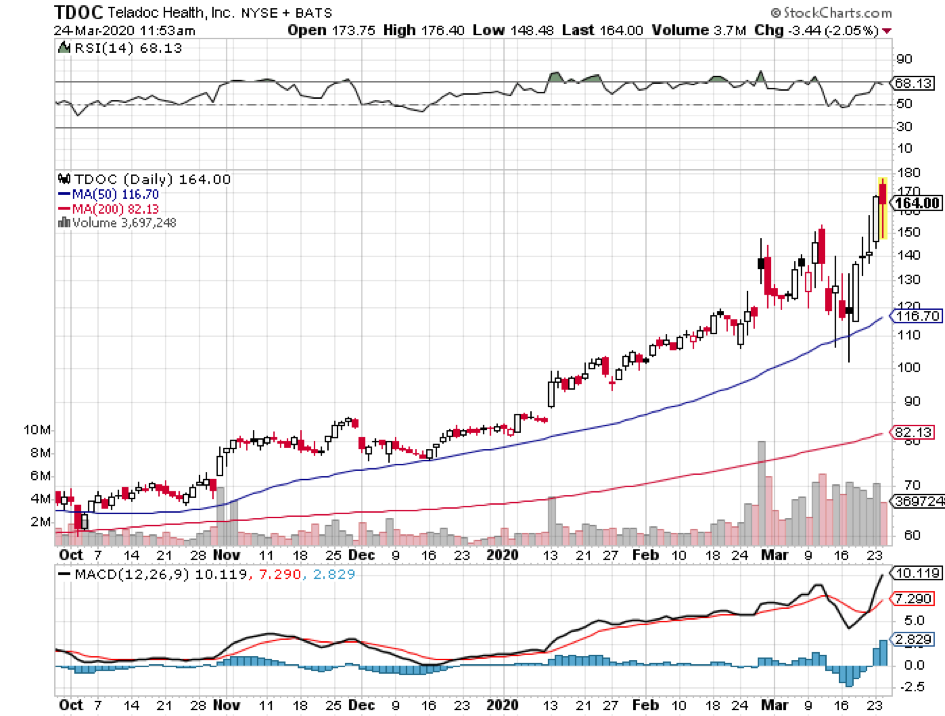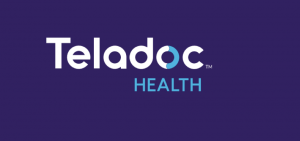 https://madhedgefundtrader.com/wp-content/uploads/2019/05/cropped-mad-hedge-logo-transparent-192x192_f9578834168ba24df3eb53916a12c882.png
0
0
Mad Hedge Fund Trader
https://madhedgefundtrader.com/wp-content/uploads/2019/05/cropped-mad-hedge-logo-transparent-192x192_f9578834168ba24df3eb53916a12c882.png
Mad Hedge Fund Trader
2020-03-24 13:00:09
2020-03-24 12:53:37
The Big Corona Play with Teladoc Health