The global economy has been dealt a massive blow because of the coronavirus disease (COVID-19), which has now spread across 181 countries — and it's showing no signs of stopping anytime soon.
The recent situation report reveals that COVID-19 has caused over 53,975 deaths and more than 1,030,000 confirmed cases worldwide.
To add to that, the International Monetary Fund recently disclosed their concerns that the pandemic could push the world economy on the brink of a depression. What's worse is that the fear brought by this possibility is already mirrored by major stock indexes across the globe.
Amid the economic turmoil, the Trump administration came up with an emergency package worth $2 trillion in an effort to help companies particularly in the aviation and healthcare sectors.
However, that won't be enough in the long run, not even by a little bit.
This is why several biotechnology companies have been scrambling to find a vaccine and a treatment for this quickly spreading disease.
In March, Biogen (BIIB) announced its decision to team up with Vir Biotechnology (VIR) to join the race in looking for a cure for COVID-19.
Due to the urgency of the situation, both companies took an unusual move to simply start working together before even finalizing the details of the agreement. What they only have at the moment is a signed letter of intent.
What we know so far is that Biogen will take charge of the cell line and process development along with the manufacturing of Vir's monoclonal antibodies.
Vir is a biotech company developing treatment for infectious diseases; its partnership with Biogen will help the smaller biotech to manufacture its COVID-19 drug candidate on a bigger scale. It's also interesting that the company's current CEO served as Biogen's CEO up until 2016.
Prior to this deal, Vir has long been regarded as a biotech company with a strong financial position.
In the third quarter of 2019, the company raked in $320.2 million in cash, cash equivalents, as well as short-term investments. Vir's balance sheet shows roughly $22.5 million in terms of long-term liabilities. Its recorded $1.4 million in revenue for the quarter.
In terms of its COVID-19 efforts, the company started working on a potential cure in January. Basically, Vir is looking into its library of antibodies to find which one could be used to neutralize the novel coronavirus.
This is actually promising since the company already succeeded in utilizing the same technique for Middle East Respiratory Syndrome (MERS) and Severe Acute Respiratory Syndrome (SARS), which are also caused by coronaviruses.
Apart from its COVID-19 efforts, Vir's pipeline includes a number of potential vaccines and treatments for tuberculosis, HIV, and Hepatitis B Virus (HBV).
If you're planning to buy this stock, make sure to do so before its lock-up period expires on April 8 to maximize your money's worth.
Between the two companies though, Biogen has been gaining more attention as a more attractive investment since it's a blue-chip stock selling for cheap these days.
Biogen is a frontrunner in the multiple sclerosis and spinal muscular atrophy space. The giant biotech is also a leader in the development and manufacturing of biosimilars, which are cheaper versions of biologically based therapies.
Its pipeline also has a number of high-value clinical assets particularly for hard-to-treat neurodegenerative diseases like Alzheimer's and Parkinson's.
Its acquisition of Nightstar Therapeutics and recent partnership with Sangamo Therapeutics (SGMO) have also transformed Biogen into one of the red-hot players in the emerging gene therapy market.
Biogen is also sitting on $4.5 billion in cash with a relatively reasonable debt-to-equity ratio of 48.2.
Hence, this giant biotech has no issues paying a dividend and can also be considered more or less immune to the threats of COVID-19. This makes it a stock capable of weathering the ongoing pandemic and even the resulting economic crisis.
Looking at the pipeline of the company, Biogen currently has over 25 drug candidates. Five are already in Phase 3. Meanwhile, its win against Mylan's (MYL) for its blockbuster Tecfidera ensures that Biogen won't face competition for this moneymaker until 2028.
However, all eyes are focused on its Alzheimer's drug Aducanumab.
Since the company's announcement of this treatment, investors have been on a rollercoaster ride with Biogen withdrawing and eventually going back in.
If it gains approval, Biogen shares will definitely soar. If the drug gets rejected, then the stock will suffer from short-term losses.
According to the Alzheimer's Association, there are 5.8 million people afflicted by the disease in the United States alone. Needless to say, this represents a lucrative market for Biogen.
With a healthy balance sheet overall and a steady near-term outlook, Biogen is an attractive stock for bargain hunters looking to add a pretty cheap large biotech stock in their portfolio.
The indiscriminate wave of selling brought about by the pandemic has clearly opened a once-in-a-lifetime opportunity, particularly for patient investors. The fact that Biogen is part of Buffett's own portfolio doesn't hurt its case either.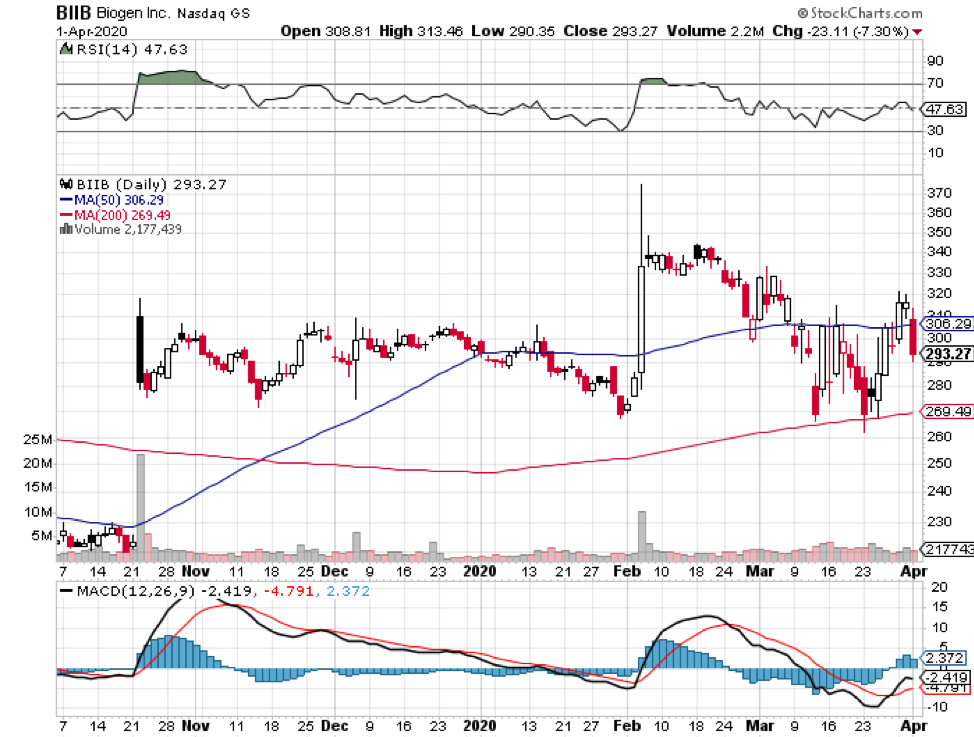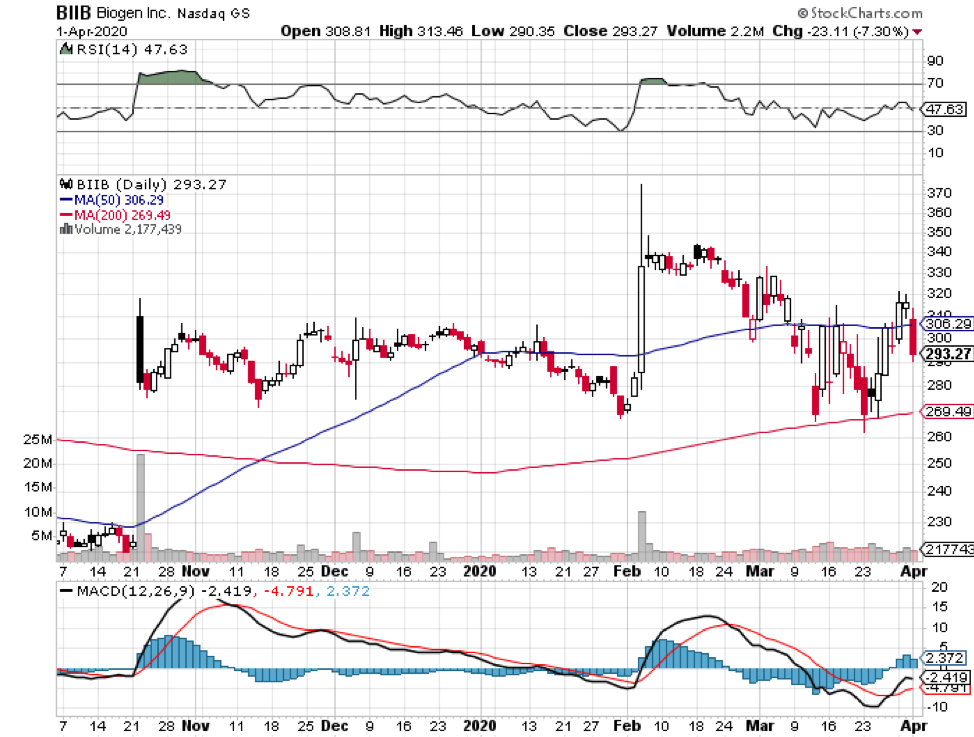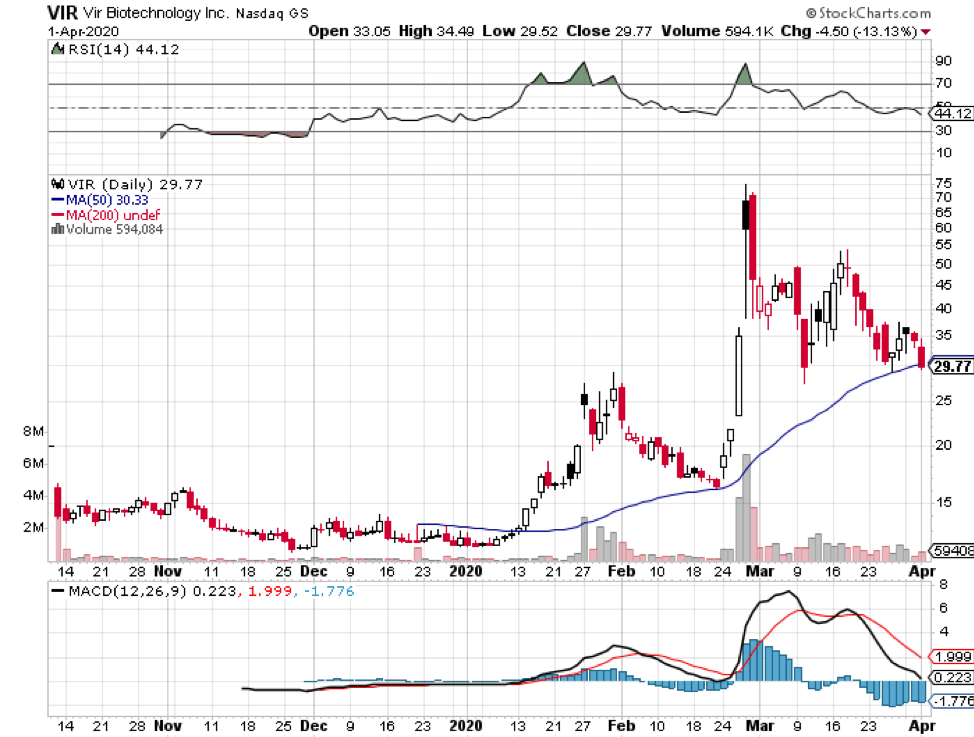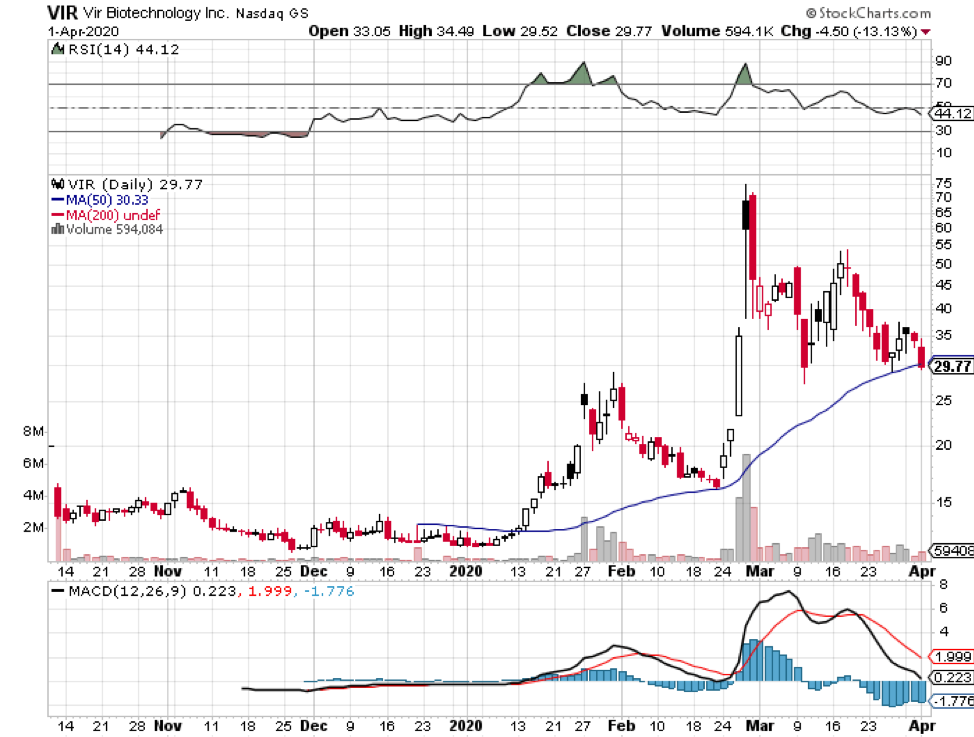 https://madhedgefundtrader.com/wp-content/uploads/2019/05/cropped-mad-hedge-logo-transparent-192x192_f9578834168ba24df3eb53916a12c882.png
0
0
Mad Hedge Fund Trader
https://madhedgefundtrader.com/wp-content/uploads/2019/05/cropped-mad-hedge-logo-transparent-192x192_f9578834168ba24df3eb53916a12c882.png
Mad Hedge Fund Trader
2020-04-03 08:00:20
2020-06-20 20:43:29
The Biogen Partnership That May Save Your Life