Apple's Chief Design Officer Jony Ive, the British industrial designer who made Apple (AAPL) products beautiful, is on his way out.
What else could the man do?
Jonathan Paul Ive was born in Chingford, London in 2967 to a silversmith who lectured at Middlesex Polytechnic.
He pursed automotive design at Newcastle Polytechnic, now named University of Northumbria at Newcastle, and graduated with a BA in industrial design in 1989.
His student successes harvested him the RSA Student Design Award which gifted him a stipend for an exploratory trip to the United States.
Palo Alto, California was his ultimate destination where he befriended various design experts including Robert Brunner—a designer who ran a small consultancy firm that would later join Apple Computers.
Ive signed onto product design agency Roberts Weaver Group following his studies demonstrating his typical attention to detail that he became renowned for.
London startup design agency called Tangerine came calling and Ive used his talents to design microwave ovens, toilets, drills and toothbrushes.
Ive slammed into confict with management at Tangerine who believed his ideas were too modern and exorbitant.
Apple later decided to partner with Tangerine on the basis of some of Ive's former Silicon Valley friends like Robert Brunner delivering Ive to the forefront of Apple design products where he started hatching his plan to be the ultimate designer at Apple.
The rest is history as Ive went on to produce memorable consumer product designs such as the iMac, iPod, iPhone, and iPad.
His last burst of creativity was applied to produce the Apple Watch which was an overwhelming success.
He will now take his show independent but still collaborate with Apple as his main client.
The new design firm will be called LoveFrom.
This announcement isn't a shocker and certainly, he really had one foot out of the door ever since the passing of Former Co-Founder Steve Jobs in 2011 put him on less solid footing.
If you remember, Apple had a secret corridor constructed between Jobs' and Ive's office epitomizing how closely they collaborated on product development as well as how good of friends they were.
Current CEO of Apple Tim Cook is the exact opposite of what Steve Jobs represented and part of the reason why Apple has lacked that game-changing new product resulting in a reduced share price.
Steve Jobs was a visionary and the person to transform his ideas into physical form was Jony Ive.
You could argue that part of Jony Ive succumbed with Steve Jobs as well as his parabolic career trajectory.
That's what all those lines of people camping overnight in front of Apple stores was about.
The cult of Apple was at its peak around 2012 where Apple sold the most iPhones and was miles ahead of competition.
Fast forward 7 years and Tim Cook has allowed the relative competition to catch up and even overtake Apple in numerous metrics.
I would argue that Tim Cook was a dependent stop gap to Steve Jobs but the lack of vision in a position where visionaries are rewarded has been Apple's Achilles heel.
Surely, Apple could have hired an Elon Musk after Tim Cook steadied the rutter.
The results have been monetary success, milking the famed iPhone business for what it's worth plus more, but missing the boat on premium content.
They could have bought Netflix (NFLX) while it was less potent with the glut of cash in reserve, or they could have penetrated the enterprise business with acquiring Salesforce (CRM) at an earlier stage.
And during this period, Chinese phone makers caught up big time with Huawei now offering a better and cheaper iPhone alternative.
What Jony Ive was leaving the headquarters of Apple represents is the death of hardware.
Out with the old and in the new, and the new is software and the direction Apple is doubling down on.
Apple's services of iTunes, the App Store, the Mac App Store, Apple Music, Apple Pay, and AppleCare, has become Apple's "new" business.
Apple's services segment did sales of $11.5 billion in revenue, up from the $9.9 billion services earned in the second quarter of 2018.
A new all-time record was set for services revenue this quarter.
Apple Pay is available in 30 markets and expect to go live in 40 markets by the end of 2019.
Apple now boasts 390 million paid subscriptions across all of its services, an increase of 30 million sequentially and by 2020, Apple will pass half a million paid subscriptions.
Apple hopes to penetrate further into the magazine business with Apple News+, a $9.99 per month service that offers unlimited access to more than 200 magazines.
Apple plans to surpass $14 billion in services revenue per quarter by 2020.
This is what Apple is doing now and the sad fact is that Ive and his special skills do not fit seamlessly into the main growth drivers of the company anymore.
Software engineers are being cherrypicked left, right, and center as Apple avoids making any big capital investments aside from leasing new buildings to install an army of fresh programmers.
Apple reported $11.45 billion in services revenue topped analysts' expectations of $11.37 billion.
Apple also reported services margins of 63.8% for the quarter.
Services now accounts for about 20% of Apple's revenue, up from 16% a year earlier and 13% in the first quarter.
I will give Tim Cook credit for recovering from the 20% drop in Apple's shares, better late than never.
Now Apple is in the process of shifting up to 30% of their supply chain from China to South East Asia to de-risk from the Middle Kingdom.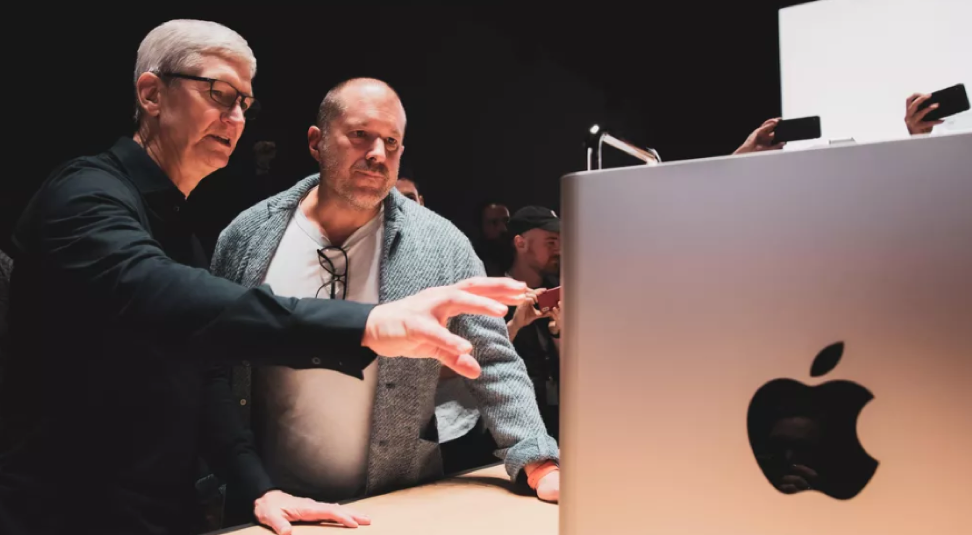 https://www.madhedgefundtrader.com/wp-content/uploads/2019/07/aapl-design.png
535
972
Mad Hedge Fund Trader
https://www.madhedgefundtrader.com/wp-content/uploads/2019/05/cropped-mad-hedge-logo-transparent-192x192_f9578834168ba24df3eb53916a12c882.png
Mad Hedge Fund Trader
2019-07-01 09:02:20
2019-08-05 17:49:36
The Death of Hardware