It was only a year ago that I was driving around New Zealand with my kids, admiring the bucolic mountainous scenery, with Herb Albert and the Tijuana brass blasting out over the radio. Believe me, the tunes are not the first choice of a 15-year-old.
Today, it is all a distant memory, with any kind of international travel now unthinkable. For me, that is like a jail sentence. It is all a reminder of how well we had it before and how bleak is the immediate future.
Stock traders have certainly been put through a meat grinder. The best and worst months in market history were packed back to back, down 39% and then up 37%. At the March 23 low, the Dow average had fallen by 11,400 in a mere six weeks. Those who lived through the 1929 crash have lost their bragging rights, if there are any left.
However, like my college professor used to say, "Statistics are like a bikini bathing suit. What they reveal is fascinating, but what they conceal is essential."
Most of the index gains were achieved by just five FANG stocks. Virtually all of the gains were from "stay at home" companies taking in windfalls from cutting-edge online business models. The "recovery" had a good week, and that was about it.
The other obvious development is that if any business was in trouble before the health crisis, you can safely write them off now. That includes retailers like Sears (S), JC Penny's (JCP), Macy's (M), almost all brick-and-mortar clothing sellers, and the small and medium-sized energy industry.
The worst economic data points since the black plague are about to hit the tape. Some 30 million in newly unemployed is nothing to dismiss, and that number grows to 40 million if you include discouraged workers.
That is 25% of the workforce, the same as peak joblessness during the great depression. But $14 trillion in QE and fiscal stimulus is about to hit the market too.
Which brings us to the urgent question of the day: What to do now?
It's a vexing issue because this is not your father's stock market. This is not even the market we'd grown used to only six months ago. All I can say is that the virology course I took 50 years ago today is worth its weight in gold.
I think you would be mad not to count a second Covid-19 wave into your calculations. This could occur in weeks, or in months, after the summer respite. This makes a second run at the lows a sure thing. I don't think we'll make it, but a loss of half the recent gains is entirely possible.
That takes us back down to a Dow Average of 21,000, or an S&P 500 (SPX) of 2,400.
If you are a long term investor looking to rebuild your retirement nest egg, there are only two sectors left in the market, Tech and Biotech & Healthcare. Looking at anything else is both risky and speculative. So, if we do get another meltdown, these are the only areas you should target.
If I am wrong, the market will probably bounce along sideways in a narrow range for months. That is a dream scenario if you pursue a vertical bull and bear call and put option spread strategy that I have been offering up to followers for the past decade.
Pending Home Sales Were Down a Staggering 20.8% in March and off 16.3% YOY. The worst is yet to come. The West, the first into shelter-in-place, was down a monster 26.8%. Prices still aren't moving because nobody can buy or sell. The way homebuilder stocks like (LEN) and (KBH) are trading, I'd say your home will be worth a lot more in a year when the huge demographic push resumes. I'm not selling.
The 60,000 peak in deaths proposed by the administration only weeks ago is now looking wildly optimistic. Their worst-case scenario of 200,000 deaths, the announcement of which set the March 23 bottom of the Dow Average at 18,200, is now likely.
It will take place when the epidemic peaks in the southern and midwestern states that never sheltered in place or went in late and are coming out early. That second wave may well create a second bottom in stock prices, and that is the one you jump into and buy with both hands.
US Corona Deaths topped 66,000 last week, more than we lost after a decade of the Vietnam War. Total cases exceed one million.
Bank of America sees negative 30% GDP this quarter annualized, so says CEO Brian Moynihan. His economists expect negative 9% in Q3 and plus 30% in Q4. Suffice it to say, this is the ultra-optimistic case. Q4 doesn't include the millions of businesses that will disappear because the Paycheck Protection Plan is failing so badly. Most government aid will take three to six months to hit the economy.
US GDP crashed 4.8% in Q1, the worst quarter since the depths of the 2008 Great Recession. Q2 will be far worse. We are now officially in recession, which should last 3-4 quarters. But is it already in the price? Next week's April Nonfarm Payroll report should be a real humdinger.
Ford (F) lost $5 billion in Q2, and there is no guidance about the future. Avoid (F) on pain of death. Late to electric, they may not make it this time. They're still in the buggy whip business.
Weekly Jobless Claims topped 3.8 million, bringing the six-week total to a staggering 30 million, more than those lost at the peak of the Great Depression. Florida, California, and Georgia led with applications. This implies a U-6 Unemployment rate of 25% with next week's April Nonfarm Payroll Report. And the Dow Average is up 37% since March 23?
The Bond Market crashed on a Trump threat to default on US Treasury bonds, of which China owns $900 billion. It's Trump's retaliation for the Middle Kingdom spawning the Coronavirus, which he calls the "Chinese virus." The (TLT) dropped three points on the news. Good thing I am triple short a market that is about to get crushed by massive government borrowing.
A glut of imported autos is parked at sea, steaming in circles, awaiting a recovery in the US economy. They are no doubt finding company with imported oil tankers. So many unwanted cars coming in the land-based storage areas were overflowing. It's tough to see (F) and (GM) recovering from this. Keep buying made in the USA (TSLA) on dips, which is headed to $2,500 a share.
When we come out on the other side of this, we will be perfectly poised to launch into my new American Golden Age, or the next Roaring Twenties. With interest rates at zero, oil at $0 a barrel, and many stocks down by three quarters, there will be no reason not to. The Dow Average will rise by 400% or more in the coming decade.
My Global Trading Dispatch performance had one of the best weeks in years, up a blistering +8.05%. We are now only 6.67% short of a new all-time high. The 100 new subscribers who came in the previous week are sitting pretty and must think I'm some sort of guru.
My aggressive triple weighting in short bond positions came in big time when Trump threatened to default on US debt. My shorts in the S&P 500 (SPY) helped. I took profits on my last long there the previous week. (SDS), another short play, clawed back some losses.
We closed out up a blockbuster +4.55% in April and May is up +2.11%, taking my 2020 YTD return up to only -1.75%. That compares to a loss for the Dow Average of -18.20% from the February top. My trailing one-year return returned to 38.91%. My ten-year average annualized profit returned to +34.00%. 
This week, Q1 earnings reports continue and so far, they are coming in much worse than the most dire forecasts. We also get the monthly payroll data, which should be heart-stopping to say the list.
The only numbers that count for the market are the number of US Coronavirus cases and deaths, which you can find here.
On Monday, May 4 at 9:00 AM, the US Factories Orders for March are out and are expected to be disastrous. Berkshire Hathaway (BRK/B) and Eli Lilly (LLY) report.

On Tuesday, May 5 at 11:00 AM, the US Crude Oil Stocks are published and will be another bomb. Netflix (NFLX) and Coca-Cola (KO) report.

On Wednesday, May 6, at 7:15 AM, API Private Sector Employment Report is released. Lan Research (LRCX) and Electronic Arts (EA) announce earnings.
On Thursday, May 7 at 8:30 AM, another horrible Weekly Jobless Claims are out. Bristol Myers Squibb (BMY) reports.

On Friday, May 8, the April Nonfarm Payroll Report is printed, the worst unemployment rate since the Great Depression. AbbVie (ABBV) reports.

As for me, to battle cabin fever, I am setting up a tent in my back yard and staying there tonight, just to change the scenery. The girls need one more campout to qualify for camping merit badge, an important Eagle Scout one, and this will qualify.
Stay healthy.
John Thomas
CEO & Publisher
The Diary of a Mad Hedge Fund Trader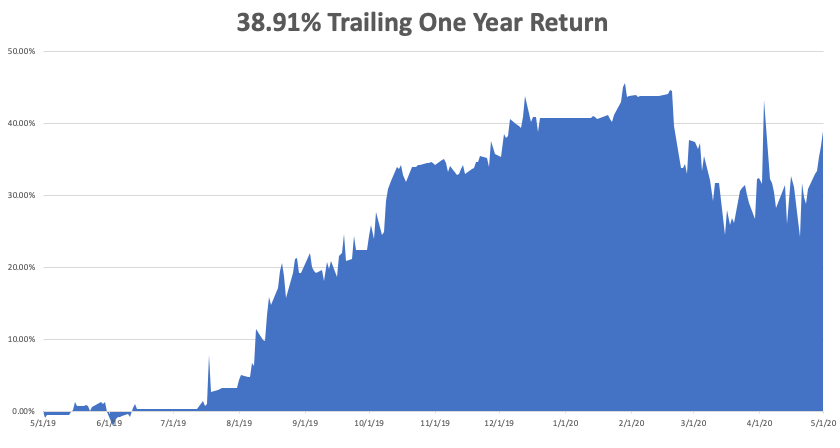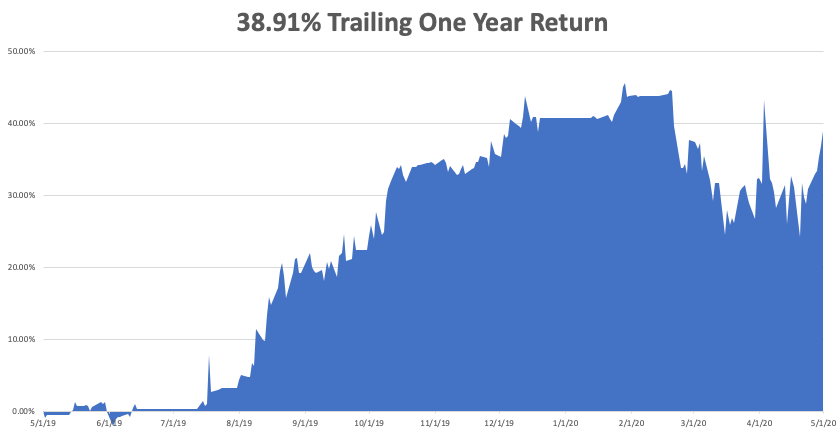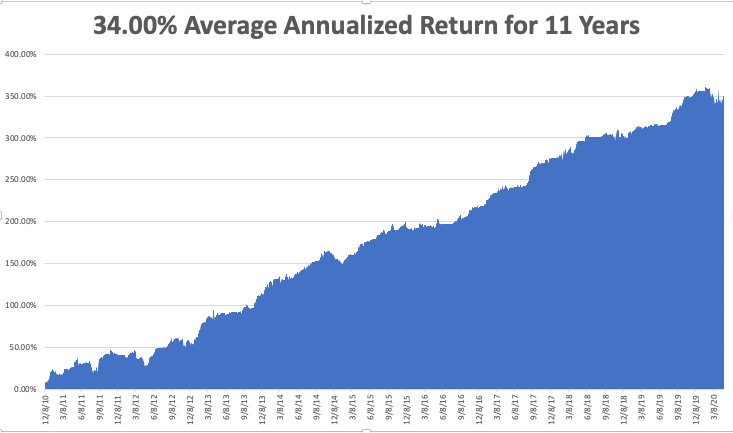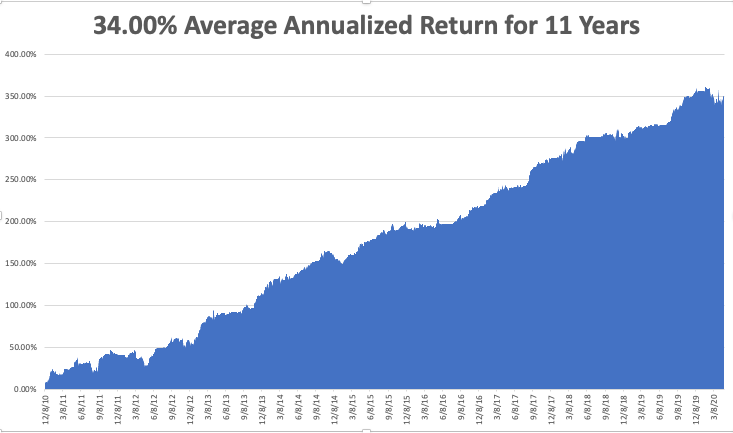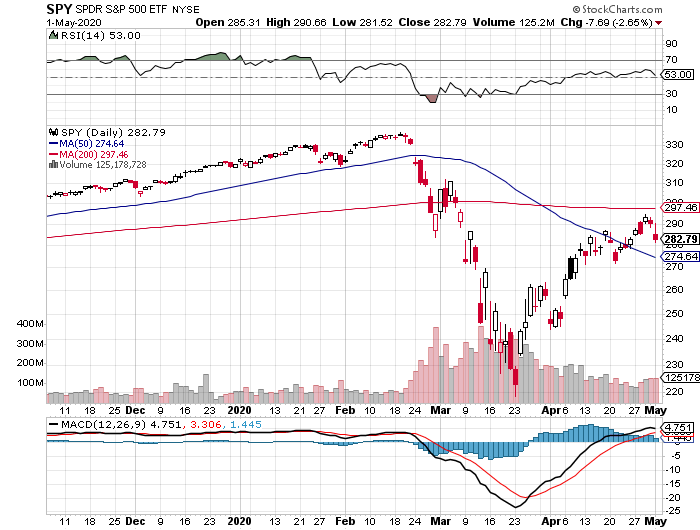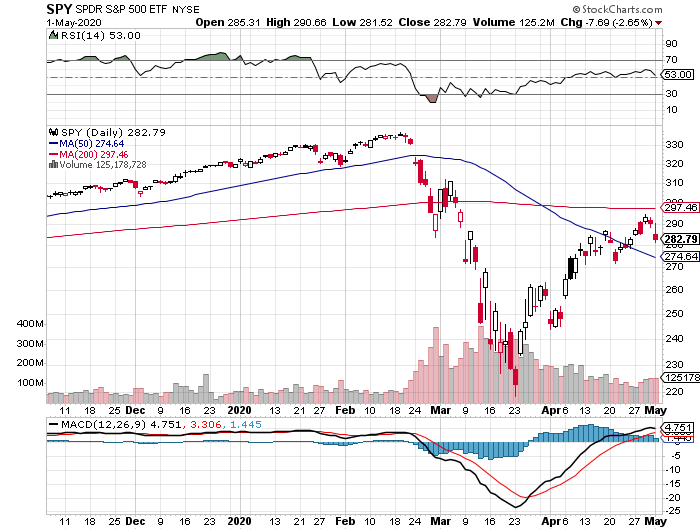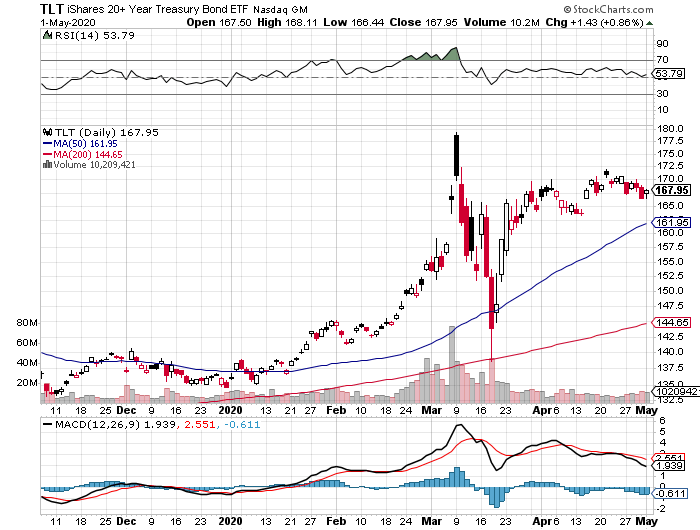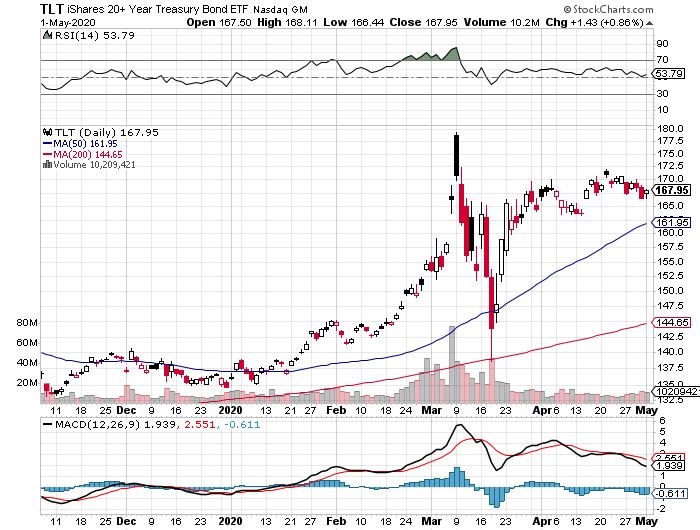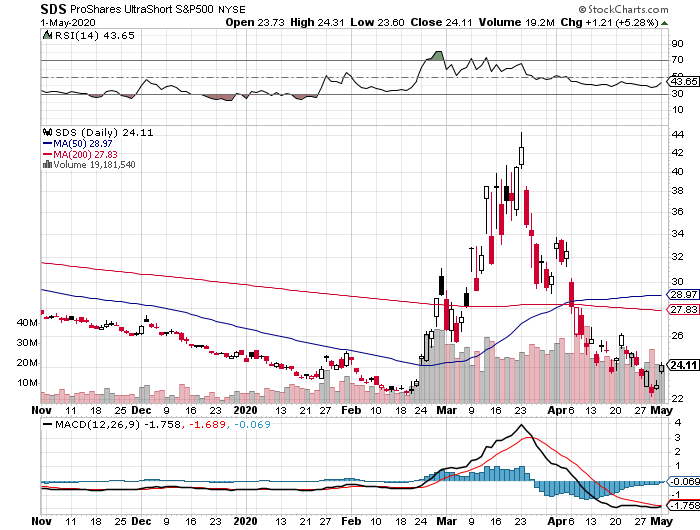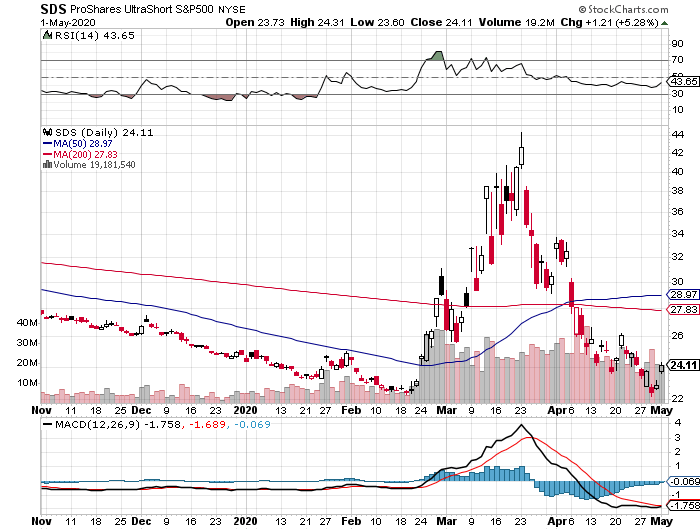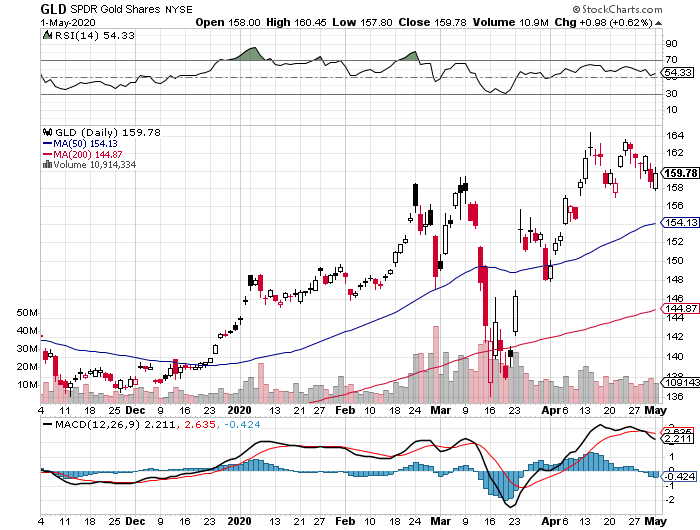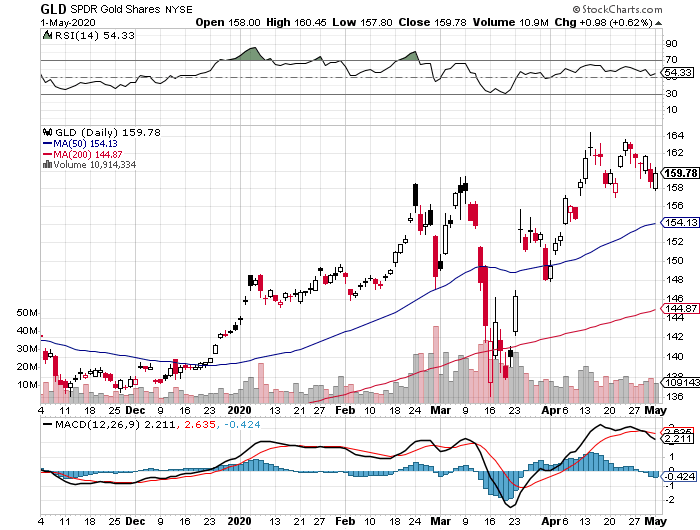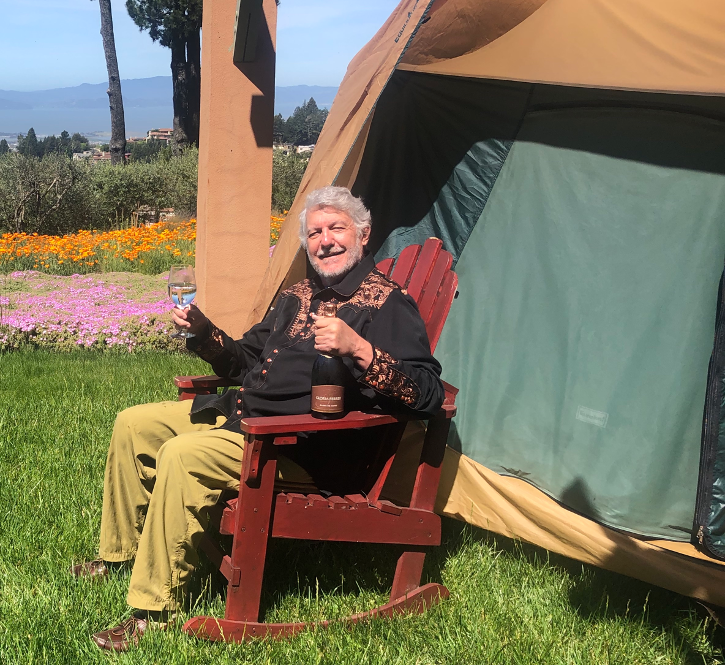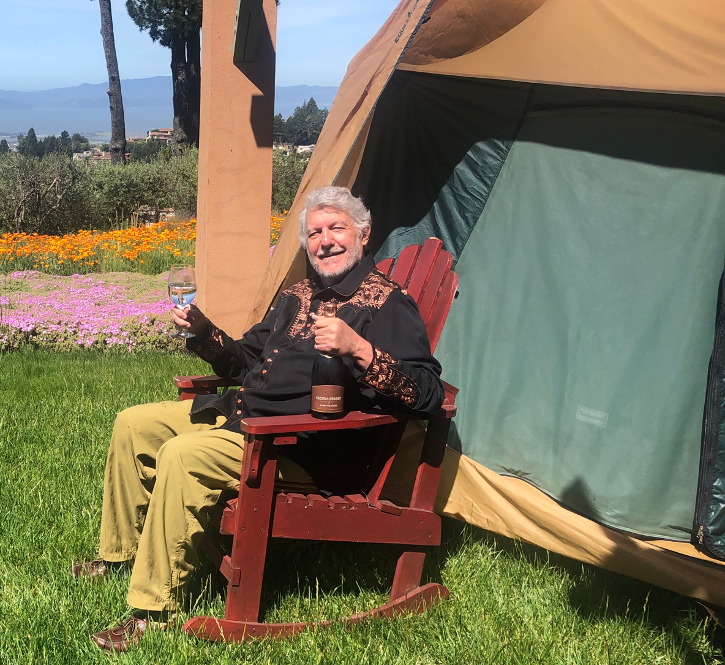 https://www.madhedgefundtrader.com/wp-content/uploads/2020/05/john-thomas.png
665
725
Mad Hedge Fund Trader
https://madhedgefundtrader.com/wp-content/uploads/2019/05/cropped-mad-hedge-logo-transparent-192x192_f9578834168ba24df3eb53916a12c882.png
Mad Hedge Fund Trader
2020-05-04 09:02:50
2020-06-08 12:27:48
The Market Outlook for the Week Ahead, or The Next Bottom is the One You Buy