The blockbuster nonfarm payroll on Friday, coming in at a heady 288,000 has certainly removed any doubt that the US economy will reaccelerate in the fall. Earlier months were substantially revised up.
Monthly job growth of 200,000 plus now seems to be the new norm, after five consecutive months of such prints.
The headline unemployment rate plunged to 6.1%, a new six year low. American H2 GDP growth of 4% or more now seems to be firmly back on the table.
The gob smacking data has left many hedge fund managers confused, befuddled, and questioning the meaning of life. Loads have been playing the short bond, short equity trade all year, to the unmitigated grief of their investors.
Is smart now the new dumb?
As for me, I have been on the long equity side for almost the entire year, except for a few fleeting moments of mental degradation here and there. After spending most of June unwinding a sizeable US equity position into the rally, I now have little choice but to slap some new positions back on.
Still, there is a way to stay invested in the market and sleep at night. That is to focus on sectors and companies that, so far, have been left at the station during the 2014 bull market.
This is why I charged into a long in General Motors (GM) on Friday, the stock, until now, weighed down by past management?s unfortunate proclivity for killing off their customers.
The housing stocks (ITB), inhabitants of the doghouse for the past year, also look pretty interesting here. May pending home sales came in at a robust 6.1%, the best in four years, while pending home sales (contracts signed) leapt a positively eye popping 18.1%, a six year apex.
Revival of a moribund housing market is another piece of the puzzle that gets us to 4% GDP growth this year.
Bonds seemed to sniff out the great things coming by rolling over two days ahead of the June payroll news, diving some two points. Did they have advance notice, or are bond guys just smarter than we dullards in the equity world (true!)?
Rising US interest rates, a byproduct of a strengthening economy, will certainly lead to one thing: a more virile Uncle Buck and a sagging Euro. Interest rate differentials are the primary driver of foreign exchange movements.
So, you always want to be long the currency with rising rates (ours), and short the one with falling rates (theirs). So I am happy to sell short the beleaguered European currency here.
We saw the multi month selloff in the Euro going into the European Central Bank?s announcement of interest rate cuts and quantitative easing last month. Since then we have seen a classic ?buy the rumor, sell the news? short covering rally that has taken the euro up a counterintuitive two points.
The second move is just about to run out of steam.
Weakening data from the European economy, which is trailing that of the US, Japan, Australia, and even China, suggests that the Euro zone will see more easing before it experiences a tightening.
In proposing the Currency Shares Euro Trust (FXE) August, 2014 $136-$138 in-the-money bear put spread, I have been devious in the selection of my strikes. The near $136 put strike that I am shorting here against the long $138 put is exactly 50% of the move down from the double top at the March and May highs.
It also helps that the (FXE) was firmly rejected from the 50 day moving average on the charts.
We are getting a further assist from the calendar, which is giving us an unusually short monthly expiration on August 15. Most of Europe will be closed until then, not a bad time to be short Euro volatility.
I was also in a rush to get these out before the long July 4 weekend sucks out what little premium is left in the options market.
For those who don?t have options coursing through their veins, the ProShares Ultra Short Euro ETF (EUO) makes an ideal second choice. This 2X leveraged fund rises when the Euro falls, not by two times, but enough to make it worth the trouble. Or you can just sell short the 1X Currency Shares Euro Trust ETF (FXE).
Finally, if you are looking for another way to slumber like a baby with your long equity position, you can use a short position in the Euro to partially hedge your stock portfolio as well. US stock market weakness generally triggers a strong dollar and a weak Euro, as financial assets rush into a flight to safety mode.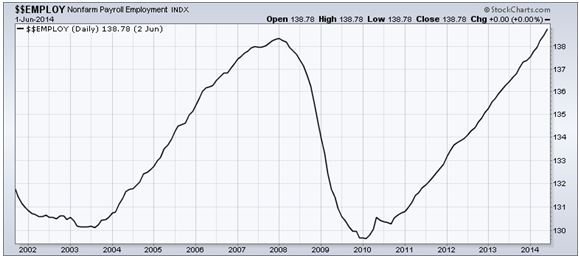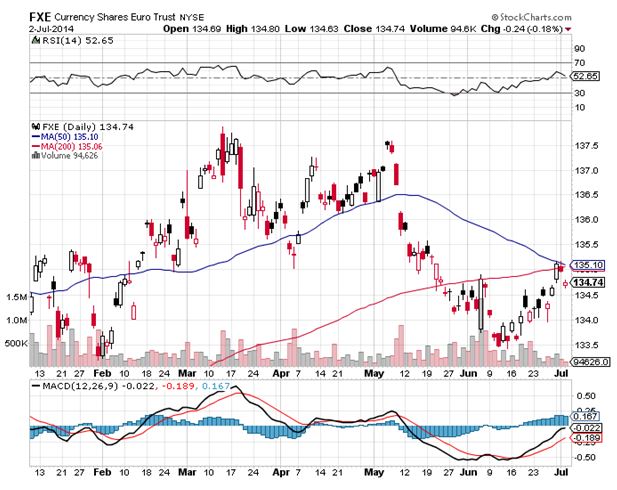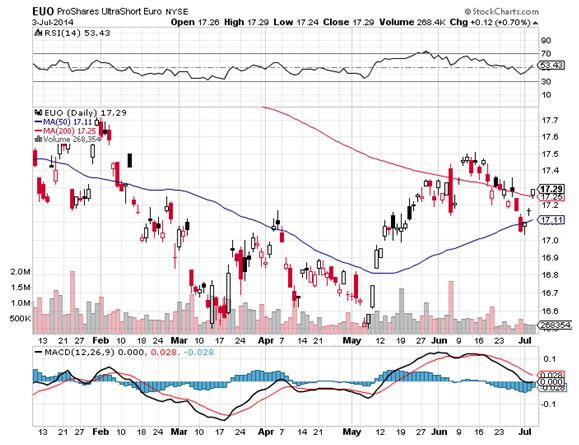 The Time to Dump the Euro is Here
The Time to Dump the Euro is Here
https://www.madhedgefundtrader.com/wp-content/uploads/2014/07/Euro-Symbol.jpg
306
329
Mad Hedge Fund Trader
https://www.madhedgefundtrader.com/wp-content/uploads/2019/05/cropped-mad-hedge-logo-transparent-192x192_f9578834168ba24df3eb53916a12c882.png
Mad Hedge Fund Trader
2014-07-07 09:22:00
2014-07-07 09:22:00
The Time to Dump the Euro is Here