It's time to take a breather.
That is after the 9% spike in Google shares.
The best way to describe results of late for Alphabet is a mixed bag for the company helmed by Sundar Pichai.
Things aren't going bad but not great either.
I'll tell you why.
Alphabet undershot its top-line revenue by about $1.7 billion, a large miss that should disturb investors.
It's definitely not the growth company it once was even though some elements of Alphabet are still growing profusely.
Nothing better epitomizes the state of Google's ad cash cow with its cost-per-click on Google properties from Q2 2018 to Q2 2019 falling 11% showing that they are having a harder time charging customers for clicking their stuff.
But on the bright side, paid clicks on Google properties from Q2 2018 to Q2 2019 was up 28% demonstrating the attractiveness and stickiness of platforms such as YouTube and Google Search.
Two other bright spots were its in-house lineup of smartphones called the Pixel and cloud products, which helped this segment grow to $6.18 billion compared to $4.43 billion last year.
I am actually a huge fan of the Pixel lineup even though I go with an iPhone.
If I did own an Android, I'd choose the latest Pixel with the added bonus of the convenience of Google's best in show software.
Google is coming out with their Pixel 4 later this fall.
Pichai has never dived into the finer numbers of the Google Cloud but he took the time to mention that its cloud division is now an $8 billion and growing business annually.
Alphabet plans to heavily hire an army of warm bodies tripling the cloud staff for their successful cloud unit which is poised to be a mainstay growth driver for Google.
Looking at the imminent future, there are a few bogies in the sky.
The Australian Competition and Consumer Commission is part of a growing chorus of domestic and international regulators looking to subdue Google's big data businesses.
The best-case scenario is more fines in the billions of dollars and the worst case is shriveling access to certain lucrative end markets.
Alphabet has been hard hit by the trend of more stringent global data regulations, and this is just the beginning.
Facebook appears as if it's in a deeper quagmire with multiple regulatory commissions state side smelling blood in shark-infested waters.
There is part of the argument that these practices stem from Alphabet being too dominant and there is some truth in this.
They are literally gunning for the entire internet whether it be travel or eCommerce.
I would say from my experiences with Alphabet that they do push the threshold a tad bit far.
They probably do not need to preinstall YouTube and Google Chrome on Android Devices without the inability to delete them.
If you have tried to delete these apps from Android devices, you are stonewalled, but I do hold the view that users will naturally come to the conclusion these apps are utilities and would download them if not preinstalled in the first place.
Alphabet should be more comfortable in its expertise and leadership position.
After a rapid run-up in share appreciation, Alphabet is due for a short-term pullback which could materialize soon because of regulatory fears.
Traders should look at some short duration bear put spreads on Alphabet.
I am long-term bullish Alphabet.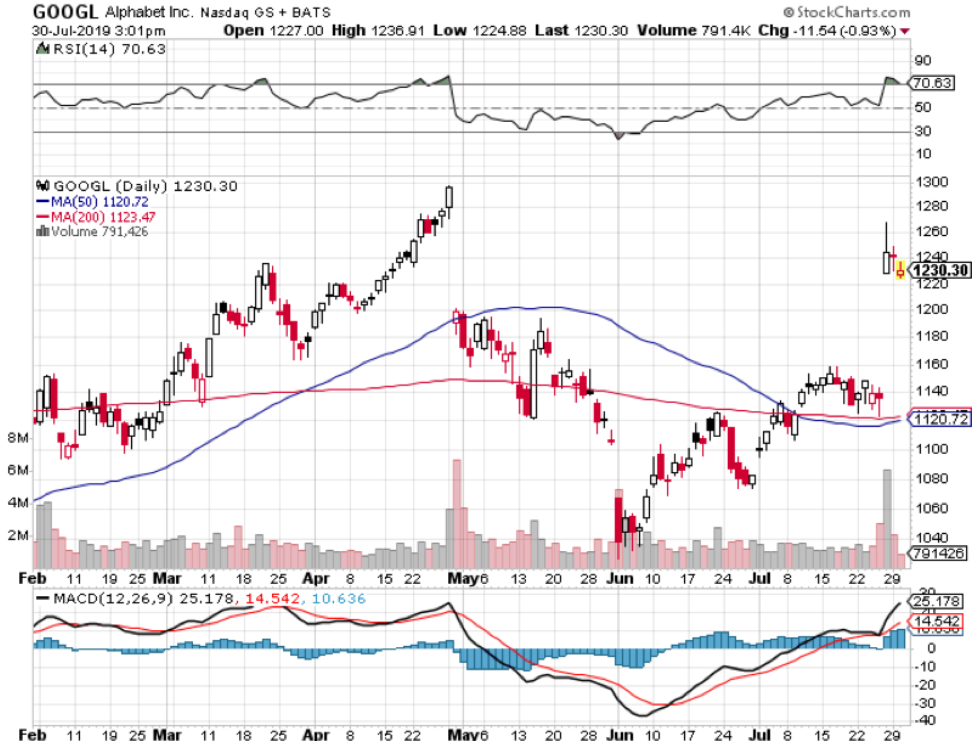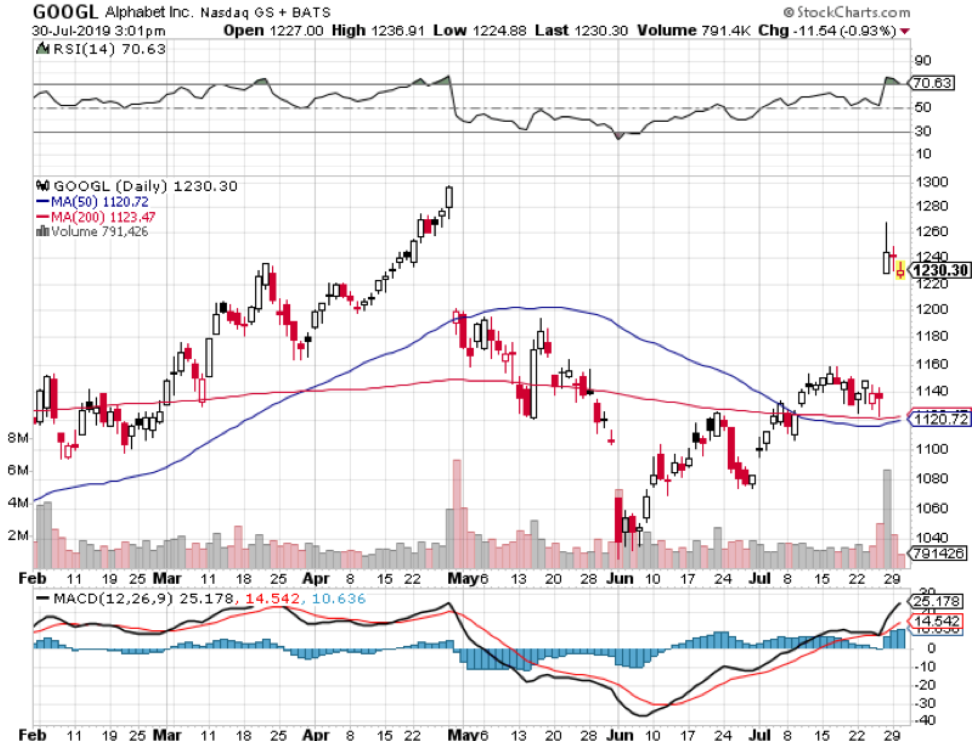 https://madhedgefundtrader.com/wp-content/uploads/2019/05/cropped-mad-hedge-logo-transparent-192x192_f9578834168ba24df3eb53916a12c882.png
0
0
Mad Hedge Fund Trader
https://madhedgefundtrader.com/wp-content/uploads/2019/05/cropped-mad-hedge-logo-transparent-192x192_f9578834168ba24df3eb53916a12c882.png
Mad Hedge Fund Trader
2019-07-31 10:02:08
2019-08-27 14:50:19
Time to Take a Break With Google