As a potentially profitable opportunity presents itself, John will send you an alert with specific trade information as to what should be bought, when to buy it, and at what price.
Trade Alert – (AAPL) ? TAKE PROFITS
Sell the Apple (AAPL) May, 2015 $115-$120 deep in-the-money vertical call spread at $4.95 or best

Closing Trade
4-30-2015
expiration date: May 15, 2015
Portfolio weighting: 10%
Number of Contracts = 26 contracts
You can sell this vertical bull call spread anywhere in the $4.92 neighborhood and make an outrageous 2 week profit of 23%. I want to free up cash so I can buy another Apple vertical call spread with higher strikes and a longer maturity.
If you own the stock, keep it. It?s going to $150 or higher this year.
Take out the cash, and the stock is selling at an earnings multiple of only 11X, making it one of the cheapest stocks in the market that is growing 33% a year.
Apple expects to sell more than 23 million watches this year, making it the biggest new product launch in the company?s history.
At least that?s how the big institutional investors see it in this topsy turvey, yield-deprived world.
Apple blew away even the most optimistic forecasts yesterday, announcing earnings per share of $2.33, versus a consensus expectation of $2.16, and $1.75 last quarter.
The firm earned $13.6 billion in profits on $58 billion in gross profits, the largest quarterly profit in world history.
The company sold a staggering 61.2 million iPhones during the three-month period, 4 million more than expected. Insignificant iPad sales dropped from 13.9 to 12.6 million units. MacBook?s were in line at 4.6 million units.
No mention was made whatsoever of problems with a strong dollar.
The company now sits on an unbelievable $194 billion in cash, the equivalent of the GDP of a medium sized country. Most importantly, Apple is expanding its share buy back program to $200 billion.
Wow!
The best execution can be had by placing your bid for the entire spread in the middle market and waiting for the market to come to you. The difference between the bid and the offer on these deep in-the-money spread trades can be enormous.
Don?t execute the legs individually or you will end up losing much of your profit. Spread pricing can be very volatile on expiration months farther out.
If the price of this spread has moved more than 5% by the time you receive this Trade Alert, don?t chase it. Wait for the next one. There are plenty of fish in the sea.
Here are the specific trades you need to execute this position:
Sell 26 May, 2015 (AAPL) $115 calls at?????$18.00
Buy to cover short 26 May, 2015 (AAPL) $120 calls at…$13.05
Net Proceeds:??????????????????…..$4.95
Profit: $4.95 – $4.00 = $0.95
(26 X 100 X $0.95) = $2,470 or 2.47% profit for the notional $100,000 portfolio.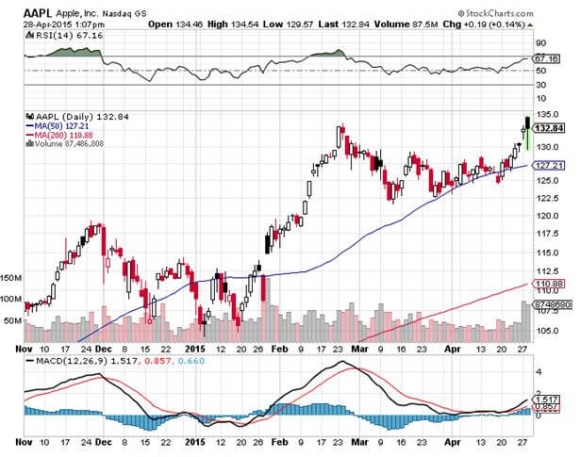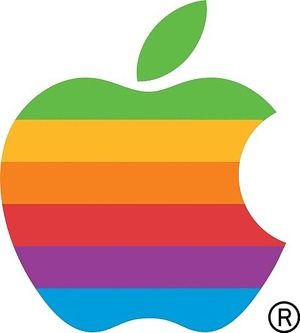 Mad Hedge Fund Trader
https://madhedgefundtrader.com/wp-content/uploads/2019/05/cropped-mad-hedge-logo-transparent-192x192_f9578834168ba24df3eb53916a12c882.png
Mad Hedge Fund Trader
2015-04-28 13:34:35
2015-04-28 13:34:35
Trade Alert - (AAPL) April 28, 2015