When John identifies a strategic exit point, he will send you an alert with specific trade information as to what security to sell, when to sell it, and at what price. Most often, it will be to TAKE PROFITS, but, on rare occasions, it will be to exercise a STOP LOSS at a predetermined price to adhere to strict risk management discipline.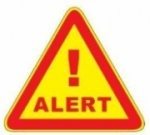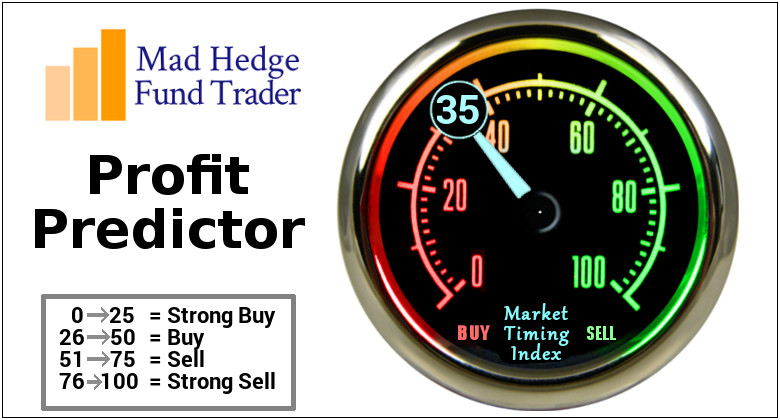 Trade Alert – (BA) – BUY

BUY the Boeing (BA) February 2021 $150-$160 in-the-money vertical Bull Call spread at $9.00 or best
Opening Trade
1-29-2021
expiration date: February 19, 2021
Portfolio weighting: 10%
Number of Contracts = 12 contracts

If you don't do options, buy the stock. My target for (BA) this year is $300, up 58%.
This is a very conservative trade. And the payoff is certainly worth 14 days of exposure.
The stampede into stocks with huge short interests like GameStop (GME) is forcing hedge funds to jump their good stocks (BA) to cover their enormous losses in their shorts.
This has created systemic fears for the stock market as a whole, which are wildly overblown. This is a short-term panic only.
This has pushed the Volatility Index (VIX) up to a sky-high $38, which has the effect of vastly overvaluing stock options. This is a gift for traders like us.
In addition, my own Mad Hedge Market Timing Index is strongly into "BUY" territory at 35. This is the lowest level since before the presidential election three months ago.
I am therefore buying the Boeing (BA) February 2021 $150-$160 in-the-money vertical Bull Call spread at $9.00 or best.
Don't pay more than $9.50 or you'll be chasing.
DO NOT USE MARKET ORDERS UNDER ANY CIRCUMSTANCES.
Simply enter your limit order, wait five minutes, and if you don't get done, cancel your order and increase your bid by 10 cents with a second order.
Morgan Stanley just announced a rare double upgrade on the stock. The 737 MAX is now flying again, the company's largest selling product. The end of the trade wars with China will bring a resurgence of orders there.
The rest of its customers, the major US airlines, are about to enjoy a renaissance after a massive government bailout.
And I have to admit that I am partial to this company, as I am a backup pilot for the WWII B-17 bombers at airshows. During the 1990s, the last of the WWII pilots were dying off and the fear was that no one would be left to pilot the 18 flying examples left. I made a generous donation to the Experimental Aircraft Association and then stepped up to the plate.
For more about this fable company, see my extensive research piece below.
Covid-19 is rapidly approaching its third peak. Total US deaths could exceed the 1919 Spanish Flu 625,000 peak by the time it is all over. We passed all WWII deaths last week.
This is a bet that Boeing (BA) will not fall below $160 by the February 19 option expiration day in 14 trading days.
Here are the specific trades you need to execute this position:
Buy 12 February 2021 (BA) $150 calls at…………..………$45.00
Sell short 12 February 2021 (BA) $160 calls at………….$36.00

Net Cost:……………………………..…….………..………….……..$9.00
Potential Profit: $10.00 – $9.00 = $1.00
(12 X 100 X $1.00) = $1,200 or 11.11% in 14 trading days.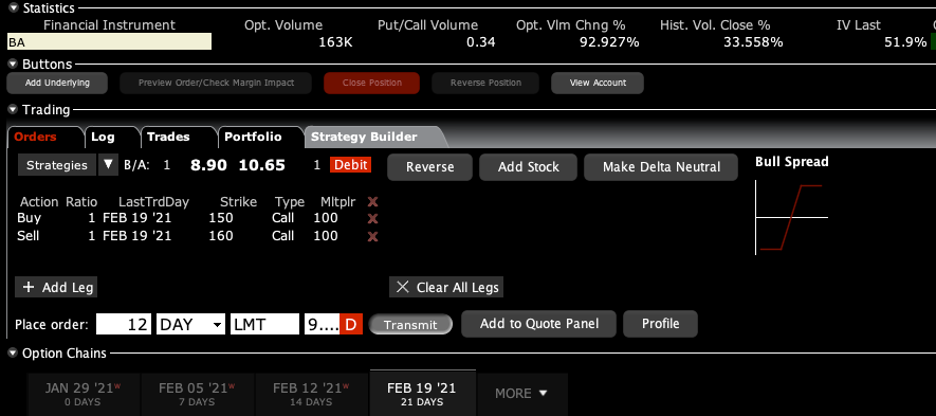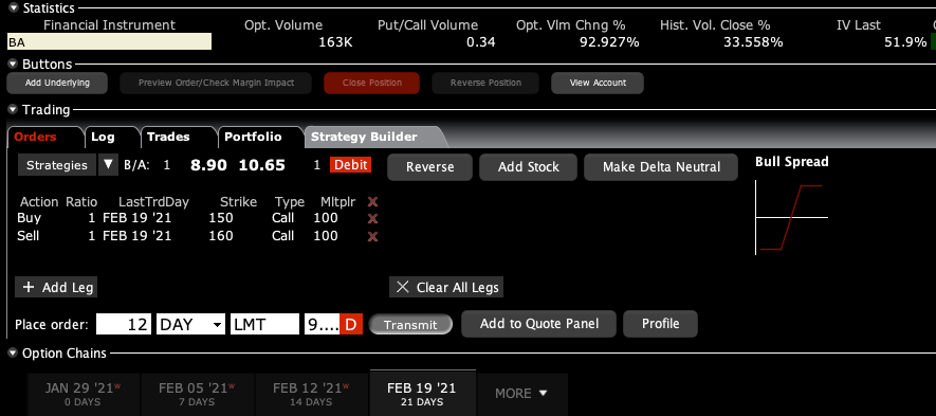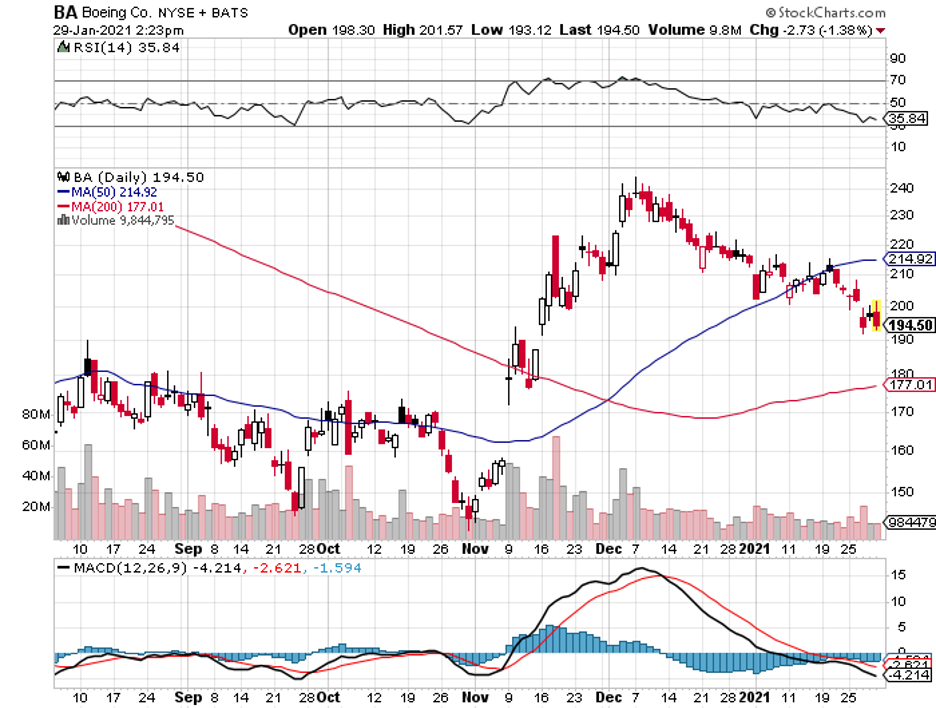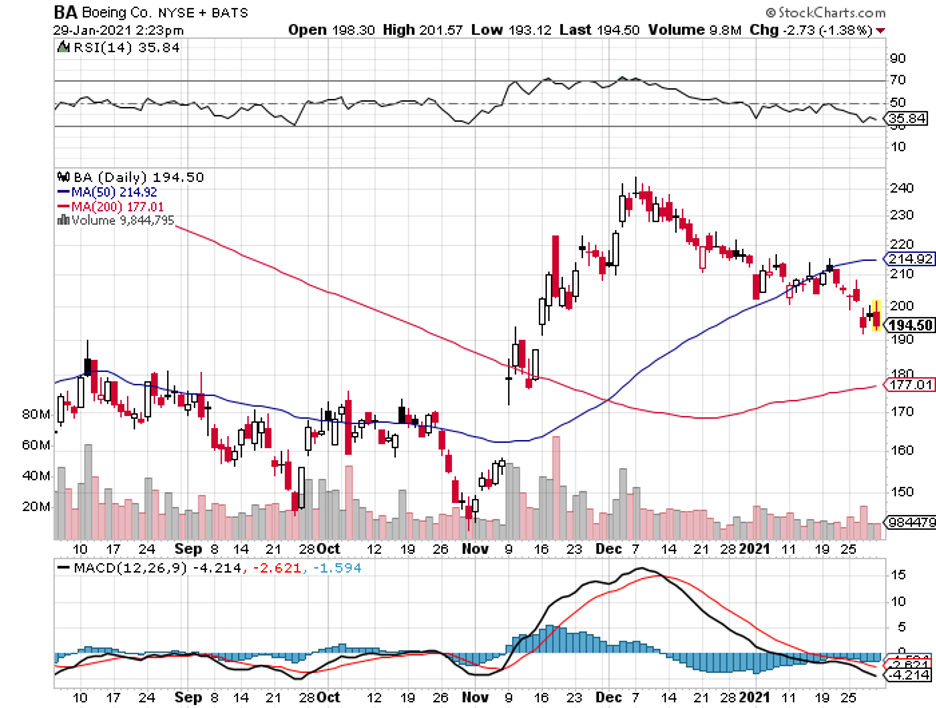 If you are uncertain on how to execute an options spread, please watch my training video by clicking here.
The best execution can be had by placing your bid for the entire spread in the middle market and waiting for the market to come to you. The difference between the bid and the offer on these deep in-the-money spread trades can be enormous.
Don't execute the legs individually or you will end up losing much of your profit. Spread pricing can be very volatile on expiration months farther out.
Keep in mind that these are ballpark prices at best. After the alerts go out, prices can be all over the map.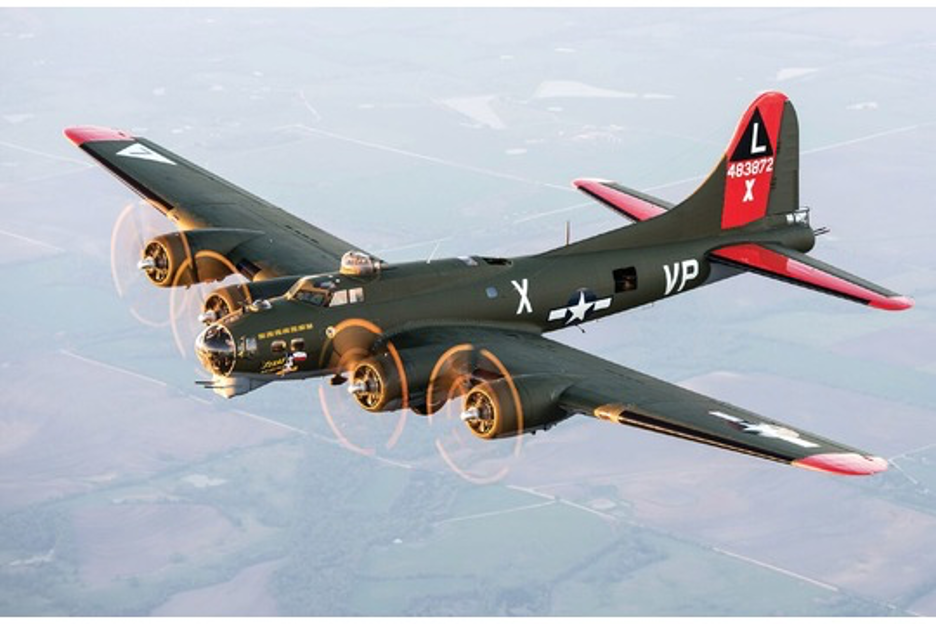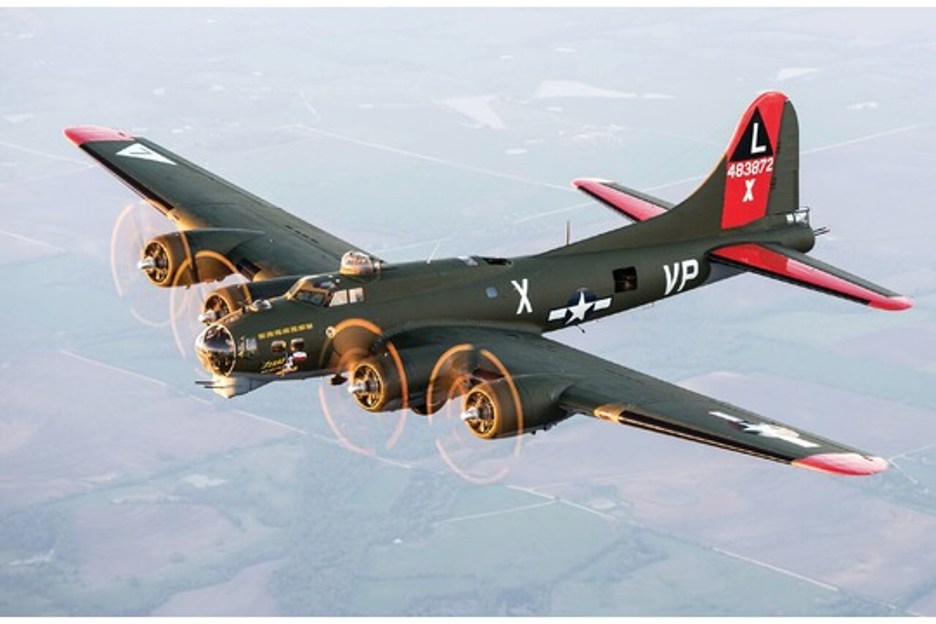 (BOEING STOCK IS READY FOR TAKEOFF), (BA)
Boeing Stock is Ready for Takeoff.
My family has a very long history with Boeing (BA). During WWII, my dad got down on his knees and kissed the runway when the B-17 bomber in which he served as tail gunner (two probable's) made it back to Guadalcanal, despite the many holes in the fuselage.
Some 40 years later, I got down on my knees and kissed the runway when a tired and rickety Boeing 707, held together with spit and baling wire, which was first delivered as Dwight Eisenhower's Air Force One in 1955, flew me and the rest of Reagan's White House Press Corp to Tokyo.
I even tried to buy my own B-17 bomber in the 90s but was outbid by Paul Allen on behalf of his new Flying Heritage Collection at Washington's Paine Field. Note to self: never try to outbid Paul Allen again.
Boeing Built Them to Come Home
So when I received an invitation from senior management to inspect the plane a week before its formal launch, I carved out the extra time from my Seattle strategy luncheon to make a quick trip to the Everett, Washington production facility.
Driving there, you are overwhelmed by the enormous scale of things, with a gigantic hanger lined with spanking new 737s in various stages of colorfully painted foreign airline logos. If Picasso painted on a grand scale, as Christo did, this is what the masterpiece would look like.
The 737 is such a great leap forward on so many fronts that airlines will be forced to buy the plane in large numbers just to stay competitive with each other, as they did with the 747 some 40 years ago.
Fuel efficiency is 50% better than the best engines currently out there. The maintenance cost is 30% lower.
All Nippon Airways, one of Boeing's largest customers, took delivery of the first 737 after a three-year delay. The company expects to reach its maximum production rate of 10 planes a month by end of 2021.
Boeing probably won't become cash flow positive on the product until it has delivered 200-300 aircraft, probably sometime in 2023. After that, the economies of scale really kick in. The company is believed to have some $17-$23 billion in research and development tied up in the plane.
Boeing's immensely profitable defense business still accounts for more than half of revenues. The 737 MAX will no doubt deliver a huge kicker for earnings. Its main competitor, Airbus, does have a minor problem in that its planes keep falling apart fully loaded with passengers.
If you can get (BA) under $160, you'd be getting a best of breed company at a mongrel price.
https://www.madhedgefundtrader.com/wp-content/uploads/2016/02/Alert-e1457452190575.jpg
135
150
Mad Hedge Fund Trader
https://madhedgefundtrader.com/wp-content/uploads/2019/05/cropped-mad-hedge-logo-transparent-192x192_f9578834168ba24df3eb53916a12c882.png
Mad Hedge Fund Trader
2021-01-29 15:16:38
2021-01-29 15:18:51
Trade Alert - (BA) January 29, 2021 - BUY