As a potentially profitable opportunity presents itself, John will send you an alert with specific trade information as to what should be bought, when to buy it, and at what price.
Trade Alert – (DXJ)- BUY-DOUBLE UP
Buy the Wisdom Tree Japan Hedged Equity ETF (DXJ) at $55.17 or best

Opening Trade
3-31-2015
Portfolio weighting: increase from 10% to 20%
Number of Shares = 181 shares
I?m sorry, but I?m not buying today?s dip in the Nikkei Average, nor the miniscule rise in the value of the Japanese yen against the US dollar.
I?m sure it can be totally ascribed to the last day of the Japanese fiscal year today, where traders and investors are unloading their last tag ends of stock before the annual book closing.
What?s more, I believe that the new fiscal year will eventually herald a tidal wave of new money pouring in from domestic institutional investors, out of bonds into stocks.
This has been mandated by no less an authority that the Japanese government, some $120 billion worth.
You also get substantial downside support here in the form of the 50-day moving average, which kicks in at a nearby $53. My bet is that you can trade against this average for the rest of 2015.
You can buy this ETF anywhere in this neighborhood and do well. I expect it to at least double over the next three years. The Japanese upside breakout has only just started.
By doubling up here, this gives us an average cost of $55.51 on the full 20% weighting in the model trading portfolio.
If the price of this spread has moved more than 1% by the time you receive this Trade Alert, don?t chase it. Wait for the next one. There are plenty of fish in the sea.
Here is the specific trade you need to execute this position:
Buy 181 shares of the (DXJ) at..?$55.17
Net Cost:??..(181 X $55.17) = $9,985.77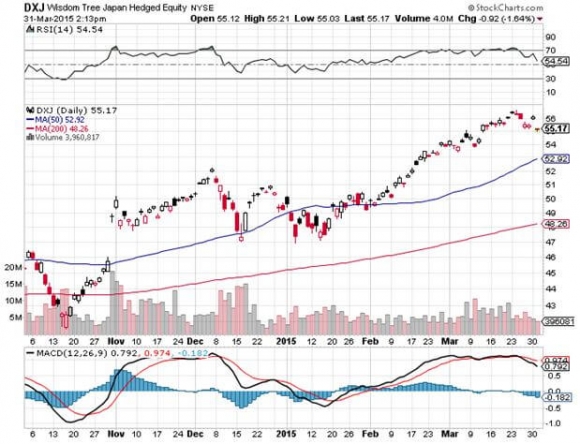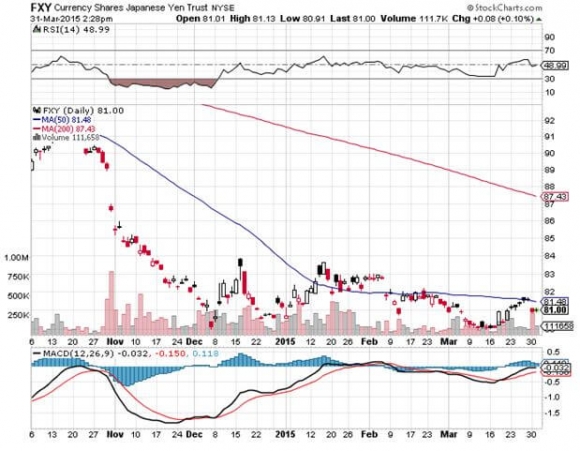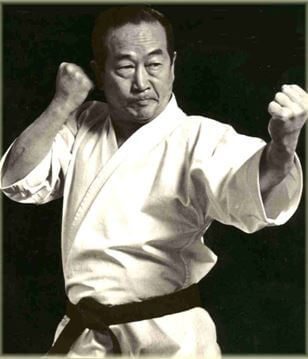 Mad Hedge Fund Trader
https://madhedgefundtrader.com/wp-content/uploads/2019/05/cropped-mad-hedge-logo-transparent-192x192_f9578834168ba24df3eb53916a12c882.png
Mad Hedge Fund Trader
2015-03-31 14:47:47
2015-03-31 14:47:47
Trade Alert - (DXJ) March 31, 2015