As a potentially profitable opportunity presents itself, John will send you an alert with specific trade information as to what should be bought, when to buy it, and at what price. This is your chance to ?look over? John Thomas? shoulder as he gives you unparalleled insight on major world financial trends BEFORE they happen.
Trade Alert – (FXE)
Sell the Currency Shares Euro Trust (FXE) August, 2014 $136-$138 in-the-money bear put spread at $1.98 or best

Closing Trade
7-23-2014
expiration date: August 15, 2014
Portfolio weighting: 10%
Number of Contracts = 58 contracts
?
The market marked our Currency Shares Euro Trust (FXE) August, 2014 $136-$138 in-the-money bear put spread at its maximum value of $2.00 last night. So I am going to accept the invitation to take profits and get out.
For purposes of my P&L I?ll assume that it costs you two cents to execute, so I am posting a selling price of $1.98. That should add 151 basis points to your 2014 performance.
Since I strapped this trade on three weeks ago, the beleaguered continental currency has plunged a whopping two cents against the greenback. The euro has technically broken down on the charts, so lower levels beckon. My European vacation is getting cheaper by the day.
The economic fundamentals certainly argue for a lower Euro ($10 for a Big Mac!!). This may be a rare case where it pays to chase a trade, so I am going to roll down the strikes and put this trade back on at the slightest rally.
There is no way out for the European economy to escape its current malaise than to devalue its currency, by a lot. With China growing at 7.5% Japan at 4%, the US at 2%, Europe is the slowest growing economic block in the world, struggling to reach 1%.
The only way out is for Europe to lower interest rates. European Central Bank president Mario Draghi has nailed his colors to the mast, convincingly stating that he is doing exactly that.
For good measure, he is throwing in a healthy dose of quantitative easing, as well. As a result $1.28, and then $1.26 to the dollar are now within easy reach.
Keep in mind that the options market is highly illiquid now, so don?t hold me to these prices. They are ballpark estimates, at best. It is clear that these desperate policies are already working.
Nothing breeds success, like success!
The best execution can be had by placing your bid for the entire spread in the middle market and waiting for the market to come to you. The difference between the bid and the offer on these deep in-the-money spread trades can be enormous.
Don?t execute the legs individually or you will end up losing much of your profit. Spread pricing can be very volatile on expiration months farther out.
Here are the specific trades you need to execute this position:
Sell 58 August, 2014 (FXE) $138 puts at?????$5.15
Buy to cover short 58 August, 2014 (FXE) $136 puts at..??.$3.17
Net Cost:??????????????????…..$1.98
Profit: $1.98 – $1.72 = $0.26
(58 X 100 X $0.26) = $1,508 or 1.51% profit for the notional $100,000 portfolio.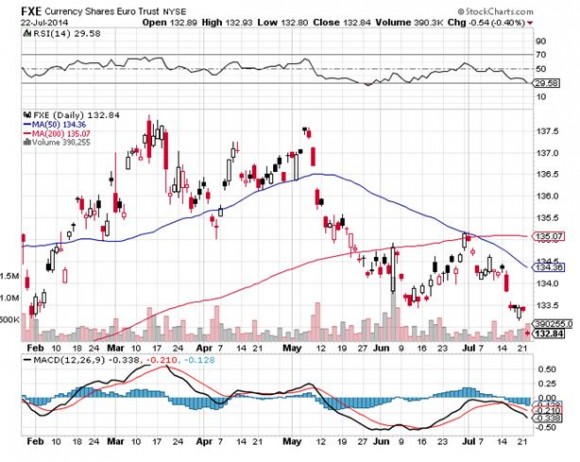 The Time to Dump the Euro is Here
Mad Hedge Fund Trader
https://madhedgefundtrader.com/wp-content/uploads/2019/05/cropped-mad-hedge-logo-transparent-192x192_f9578834168ba24df3eb53916a12c882.png
Mad Hedge Fund Trader
2014-07-23 09:32:35
2014-07-23 09:32:35
Trade Alert - (FXE) July 23, 2014