As a potentially profitable opportunity presents itself, John will send you an alert with specific trade information as to what should be bought, when to buy it, and at what price.
Trade Alert – (PHM)
Sell short the Pulte Group, Inc. May, 2012 $8 puts at $0.05 or best
Opening Trade
5-3-2012
expiration date: 5-17-2012
Portfolio weighting: 10%
($10,000/100/$0..05) = 196 Contracts
Again, taking in more premium income with a short put ratio on a 2:1 basis. If these puts expire worthless in two weeks you should take in (100 X $0.05 X 196) = $980, or 98 basis point for your notional $100,000 portfolio. They are partially hedged by your existing July $7 put position. The goal is to reduce the cost of a losing position and cash in on the accelerated time decay in the final two weeks to expiration. More aggressive accounts can consider doubling the income by selling short closer to the money $9 puts, but be prepared to get out or hedge against the stock with a sudden market drop.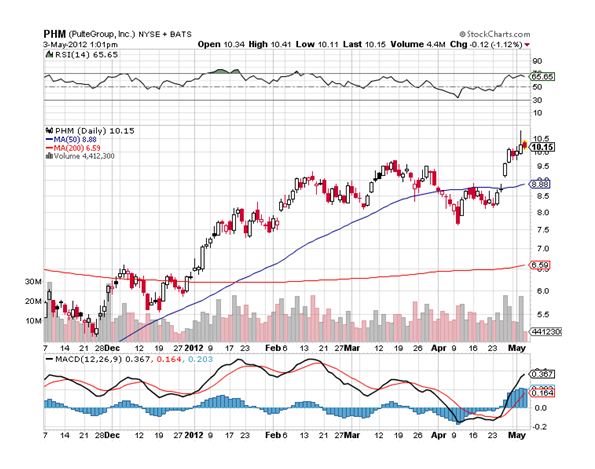 Mad Hedge Fund Trader
https://madhedgefundtrader.com/wp-content/uploads/2019/05/cropped-mad-hedge-logo-transparent-192x192_f9578834168ba24df3eb53916a12c882.png
Mad Hedge Fund Trader
2012-05-03 13:25:47
2012-05-03 13:25:47
Trade Alert - (PHM) May 3, 2012