When John identifies a strategic exit point, he will send you an alert with specific trade information as to what security to sell, when to sell it, and at what price. Most often, it will be to TAKE PROFITS, but, on rare occasions, it will be to exercise a STOP LOSS at a predetermined price to adhere to strict risk management discipline.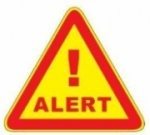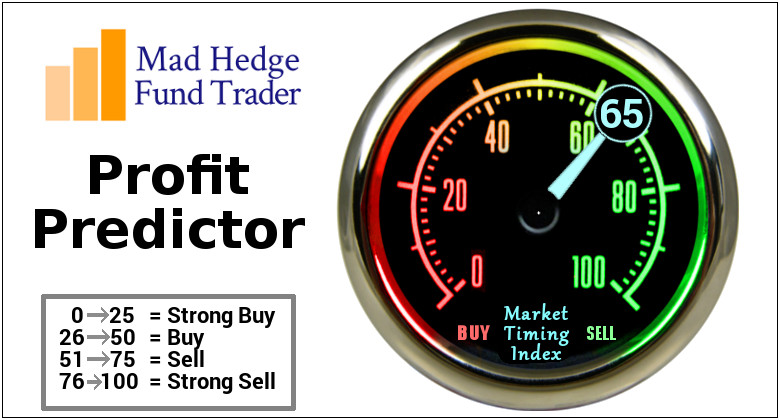 Tech Alert – QUALCOMM Incorporated (QCOM) – SELL – TAKE PROFITS

SELL – TAKE PROFITS QUALCOMM Incorporated (QCOM) February 2021 $135-$140 in-the-money vertical BULL call spread at $4.78
Closing Trade – NOT FOR NEW SUBSCRIBERS
2-17-2021
expiration date: February 19, 2021
Portfolio weighting: 10%
Number of Contracts = 23 contracts

This was a short-term bet that semiconductor company QUALCOMM Incorporated (QCOM) would stay above $140 until the February 19th expiration.
We have two more days left until February expiration but QCOM continues to crawl sideways and today's down day got us closer to $143 which is a little too close for comfort.
I'm using this little intraday bump to take profits as the Nasdaq consolidating is hitting us with just a few days left to go before our positions expire.
We are still accruing 75% of the possible maximum profit which is still quite healthy considering the lack of explosive price action in QCOM.
Well done and on to the next trade.
Our entry point came to us when QCOM sold off over 9% after great earnings.
This is what we call "buy the rumor and sell the news."
Qualcomm's first-quarter sales rose 62% year over year to $8.24 billion. Adjusted earnings more than doubled from $0.99 to $2.17 per diluted share. The revenue result was right in line with Wall Street's consensus estimates, but your average analyst would have settled for earnings near $2.08 per share on revenue.
Looking ahead, Qualcomm expects second-quarter sales to rise approximately 46% year over year to $7.6 billion. Adjusted earnings should land near $1.65 per share, an 88% jump from the year-ago period's result. Here, analysts had been expecting revenue of roughly $7.1 billion and earnings in the vicinity of $1.57 per share.
Here are the specific trades you need to exit this position:
Sell to Close 23 February 2021 (QCOM) $135 calls at………….………$9.83
Buy to Close 23 February 2021 (QCOM) $140 calls at………….……….$5.05

Net Proceeds:……………………..………………………………………..………..$4.78
Profit: $4.78 – $4.13 = $.65
(23 X 100 X $.65) = $1,495 or 15.74%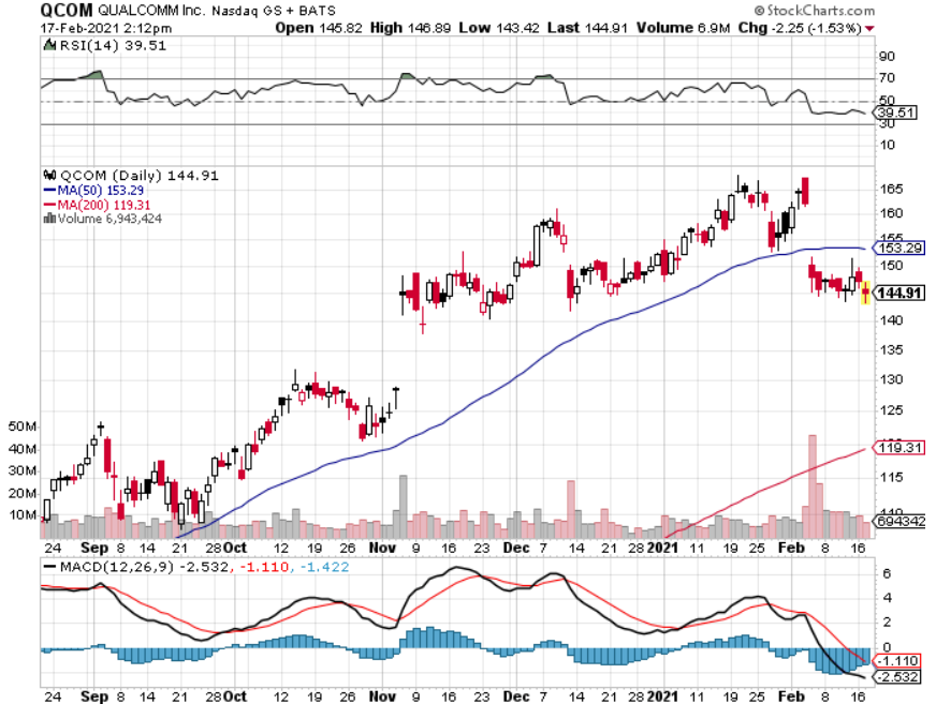 To see how to enter this trade in your online platform, please look at the order ticket below, which I pulled off of Interactive Brokers.
If you are uncertain on how to execute an options spread, please watch my training video by clicking here.
The best execution can be had by placing your bid for the entire spread in the middle market and waiting for the market to come to you. The difference between the bid and the offer on these deep in-the-money spread trades can be enormous.
Don't execute the legs individually or you will end up losing much of your profit. Spread pricing can be very volatile on expiration months farther out.
Keep in mind that these are ballpark prices at best. After the alerts go out, prices can be all over the map.
https://www.madhedgefundtrader.com/wp-content/uploads/2016/02/Alert-e1457452190575.jpg
135
150
Mad Hedge Fund Trader
https://madhedgefundtrader.com/wp-content/uploads/2019/05/cropped-mad-hedge-logo-transparent-192x192_f9578834168ba24df3eb53916a12c882.png
Mad Hedge Fund Trader
2021-02-17 14:38:04
2021-02-17 14:38:04
Trade Alert - (QCOM) February 17, 2021 - SELL-TAKE PROFITS