As a potentially profitable opportunity presents itself, John will send you an alert with specific trade information as to what should be bought, when to buy it, and at what price. This is your chance to ?look over? John Thomas? shoulder as he gives you unparalleled insight on major world financial trends BEFORE they happen.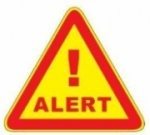 Trade Alert – (SPY)- TAKE PROFITS
SELL the S&P 500 SPDR?s (SPY) June, 2016 $212-$217 in-the-money vertical bear put spread at $4.55 or best

Closing Trade
6-2-2016
expiration date: June 17, 2016
Portfolio weighting: 10%
Number of Contracts = 24 contracts
I am going to use this morning?s dip to come out of the June, 2016 $212-$217 in-the-money vertical bear put spread at cost. This is being prompted by OPEC?s failure to reach a production ceiling once again.
This allows me to de-risk ahead of major market moving events:? the release of the May nonfarm payroll at 8:30 EST on Frida, and the June 14 Fed interest rate decision.
We had a nice profit in this position a week ago, before the dramatic short covering rally ensued. Again, the hard earned lesson is to take the small profits as long as we are living in a 5% trading range. Pigs are getting slaughtered by the pen full.
This year, it seems like every market move is intended to cause maximum damage to hedge funds, regardless of the logic. From here, that means stocks could go up just enough to trigger another wave of stop loss buying, and then fail again.
Humans would be mad to buy stocks up here at the top of a two year trading range, but machines don't care. That is giving us our added upside volatility.
Either way, I?d rather watch from the sidelines for free. The algorithms will take advantage of this poor summer liquidity to whipsaw prices as much as they can.
If we do get an extreme move worth fading, I?ll re enter the trade. If not, then I?ll stay in cash awaiting another soft pitch.
If you have the ProShares Short S&P 500 Short Fund ETF (SH) (click here for the prospectus at http://www.proshares.com/funds/sh.html), or the ProShares Ultra Short S&P 500 Short Fund 2X ETF (SDS) (click here for the prospectus at http://www.proshares.com/funds/sds.html), keep it. You?ll be able to cash in during any summer swoon.
To see how to enter this trade in your online platform, please look at the order ticket below, which I pulled off of optionshouse.
If you are uncertain on how to execute an options spread, please watch my training video on ?How to Execute a Vertical Bear Put Debit Spread? by clicking here at https://www.madhedgefundtrader.com/ltt-executetradealerts/. You must me logged into your account to view the video.
The best execution can be had by placing your bid for the entire spread in the middle market and waiting for the market to come to you. The difference between the bid and the offer on these deep in-the-money spread trades can be enormous.
Don?t execute the legs individually or you will end up losing much of your profit. Spread pricing can be very volatile with only 9 days to expiration.
Here are the specific trades you need to execute this position:
Sell 24 June, 2016 (SPY) $217 puts at????.?.??$8.40
Buy to cover short 24 June, 2016 (SPY) $212 puts at.?.$3.85
Net Proceeds:???????????????????……$4.55
Profit: $4.55 -$4.51 = $0.04
(24 X 100 X -$0.02) = $96. or .88% profit.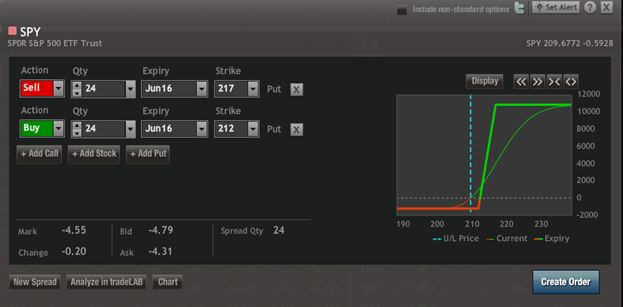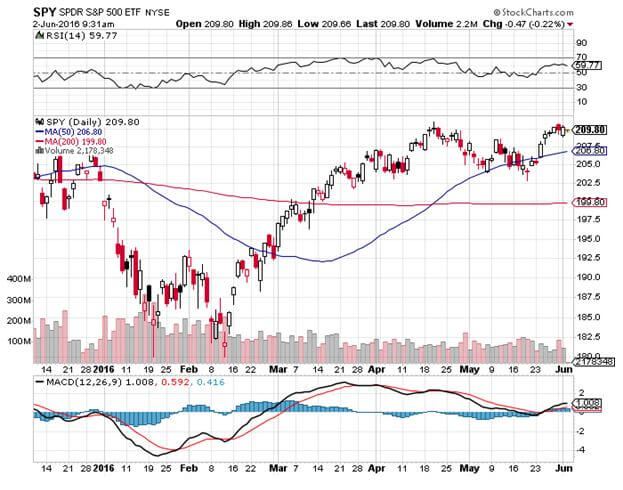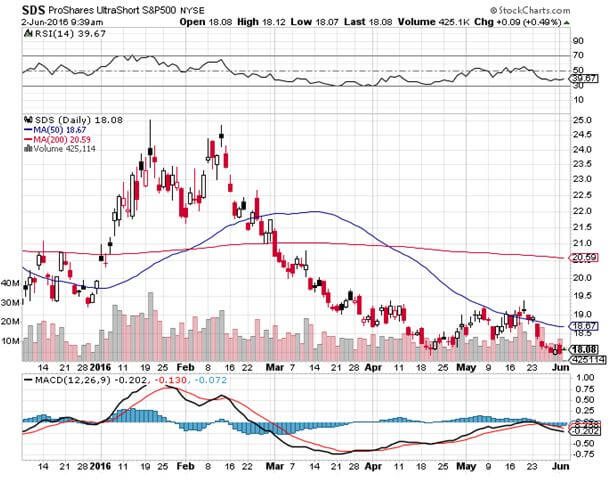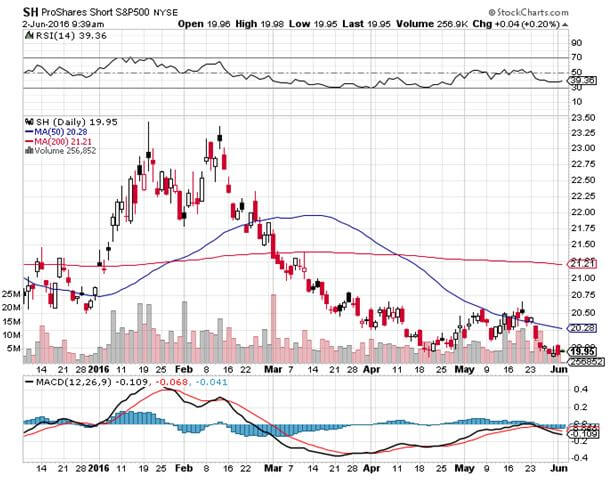 https://www.madhedgefundtrader.com/wp-content/uploads/2011/10/slider-05-trader-alert.jpg
316
600
Mad Hedge Fund Trader
https://madhedgefundtrader.com/wp-content/uploads/2019/05/cropped-mad-hedge-logo-transparent-192x192_f9578834168ba24df3eb53916a12c882.png
Mad Hedge Fund Trader
2016-06-02 10:01:39
2016-06-02 10:01:39
Trade Alert - (SPY) June 2, 2016