As a potentially profitable opportunity presents itself, John will send you an alert with specific trade information as to what should be bought, when to buy it, and at what price. This is your chance to ?look over? John Thomas? shoulder as he gives you unparalleled insight on major world financial trends BEFORE they happen.
Trade Alert – (SPY)
Buy the SPDR S&P 500 (SPY) April, 2013 $145-$150 call spread at $4.35 or best
Opening Trade
3-19-2013
expiration date: 4-19-2012
Portfolio weighting: 10%
Number of Contracts = 23 contracts
Buy on the Cyprus dip. Buying every Euro black swan for the last several years has been a great strategy. This is just a small one that will blow over shortly. It is just a Chiclet in this avian world.
What happens next is that the Fed reaffirms continued monetary easing in the face of improving economic data, sending markets back to the races. The volatility boost of a second down day is also giving us the best call spread prices in several weeks, so I?m dipping my toe on the long side once again.
The attraction of this spread is that the upper strike at $150 is just below a rising 50-day moving average, which should hold repeated attempts to break it. It will be profitable with the (SPY) at all points above $149.35 by April 19, or 22 trading days from now.
Keep in mind that we are four months into one of the greatest stock market rallies in history. The risk/reward is not what it was last November. We are getting only spare change on these spreads compared to what we reaped at the end of 2013, with greater risk. You don?t want to enter a situation where you are picking up pennies in front of a steamroller, which is the surest blow up strategy I know.
The best execution can be had by placing your bid for the entire spread in the middle market and waiting for the market to come to you. The difference between the bid and the offer on these deep in-the-money spread trades can be enormous. Don?t execute the legs individually or you will end up losing much of your profit.
Keep in mind that these are ballpark prices only. Spread pricing can be very volatile on expiration months farther out.
Here are the specific trades you need to execute this position:
Buy 23 April, 2013 (SPY) $145 calls at?????$9.55
Sell Short 23 April, 2013 (SPY) $150 calls at.??.$5.20
Net Cost:????????????…??..?….$4.35
Profit: $5.00 – $4.35 = $0.65
($0.65 X 100 X 23) = $1,495 ? 1.50% for the notional $100,000 model portfolio.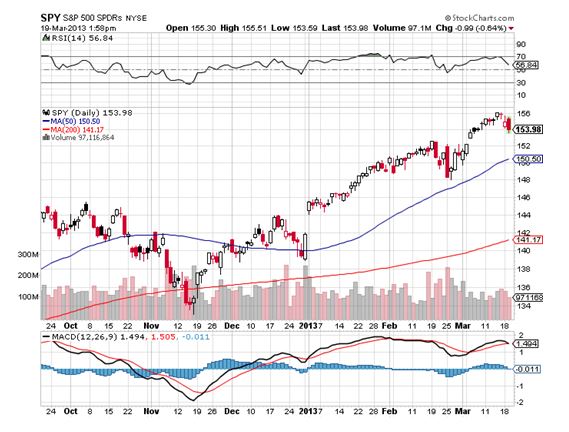 This One is Just a Chick
Mad Hedge Fund Trader
https://madhedgefundtrader.com/wp-content/uploads/2019/05/cropped-mad-hedge-logo-transparent-192x192_f9578834168ba24df3eb53916a12c882.png
Mad Hedge Fund Trader
2013-03-19 14:52:11
2013-03-19 14:52:11
Trade Alert - (SPY) March 19, 2013