The latest update on AstraZeneca's (AZN) COVID-19 vaccine candidate has received a lot of attention from investors.
The company and its research partner Oxford University recently landed a deal to deliver 2 million doses of their COVID-19 vaccine weekly to the UK starting mid-January.
This is on top of the massive deal AstraZeneca sealed with India for emergency use approval as well.
While these are exciting updates, the reality is that AstraZeneca aims to market its COVID-19 vaccine candidate at cost.
As the race to supply COVID-19 vaccine to the world continues, it's undeniable that a huge chunk of the roughly $40 billion COVID-19 revenue would go to the current frontrunners Pfizer (PFE) and Moderna (MRNA).
This is particularly true for Moderna's case as the biotechnology company employed a revolutionary technology to create its COVID-19 vaccine candidate.
The success of its vaccine so far is indicative of future treatments and even vaccines based on the mRNA technology. This offers incredible promise not only for the current pandemic but for a myriad of rare diseases.
In comparison, AstraZeneca and even Johnson & Johnson (JNJ) opted for more traditional approaches for their COVID-19 vaccine candidates.
While these are also promising, it's likely that these companies do not anticipate their COVID-19 programs to be the profit centers for 2021. 
In fact, there are a lot of good reasons to buy AstraZeneca shares right now – and its COVID-19 vaccine candidate didn't make the top of the list.
One of the main reasons AstraZeneca deserves a spot in your portfolio is the fact that it already has an established and successful pipeline.
While its COVID-19 program definitely boosted its popularity, this effort was not altogether necessary in terms of the company's overall growth.
Despite the pandemic that brought down businesses in 2020, including commercial launches of new drugs, sales of AstraZeneca's new products rose 9% year over year.
In fact, throughout the past 12 months, the company managed to generate approximately $1.9 billion in free cash flow.
In the first nine months of 2020, the company reported core earnings growth of 13% year over year, with a 2.8% dividend.
To close the year with a bang, AstraZeneca announced its $39 billion acquisition of one of our closely-watched biotechnology companies: Alexion Pharmaceuticals (ALXN).
Although this initially didn't bode well with its investors, AstraZeneca is set to gain the blockbuster franchise composed of the Soliris-Ultomiris duo.
At its current growth rate, Alexion's prized Soliris franchise is estimated to generate at least $6 billion in sales in 2021.
Meanwhile, Soliris' longer-lasting version, Ultomiris, which was launched in 2018, is projected to rake in almost twice in profits this year.
Both Soliris and Ultomiris require regular treatment, with the former administered every other week while the latter is an infusion needed every other month.
Although there are less expensive biosimilar options already making the in the market today, particularly for Soliris, the move of Alexion to develop Ultomiris as a longer-lasting and more convenient version all but obliterates any future competition.
Simply put, AstraZeneca will have a monopoly of this market once the acquisition is complete by mid-2021.
Speaking of convenient options for prolonged treatments, AstraZeneca recently gained expanded approval for its easy-to-swallow tablet called Tagrisso. This drug is developed for lung cancer patients with tumors caused by specific gene mutations.
The latest approval allows Tagrisso to be prescribed to newly diagnosed patients who just had their tumors removed surgically.
This presents a lucrative market for AstraZeneca considering that these patients undergo therapy for long periods.
More importantly, AstraZeneca doesn't really need to market Tagrisso's value to oncologists.
Clinical results show that the tablet can lower the risk of the disease's recurrence or even death by as much as 80% among their patients.
Putting these results in the context of AstraZeneca's records, Tagrisso's sales for the third quarter of 2020 alone grew by 30% year over year to reach $4.6 billion.
With the recent FDA approval, this number is set to increase to transform Tagrisso into a certified blockbuster drug.
Other than Tagrisso, AstraZeneca has a number of oncology blockbusters in its portfolio and pipeline.
In the first nine months of 2020, the sales of the company's therapies unit rose by 23% year over year to a record $8.2 billion. Admittedly, Tagrisso contributed a substantial amount.
However, it's not the sole growth driver in AstraZeneca's oncology lineup.
Another moneymaker is Lynparza, which showed a 42% jump year over year in its third quarter sales in 2020 to reach $1.9 billion.
This drug, which was initially approved as an ovarian cancer treatment, is now prescribed to treat prostate, pancreatic, and breast cancer. Therefore, the expanded approvals are expected to offer more lift this year.
Another promising addition to AstraZeneca's oncology pipeline is Enhertu, which the company gained from its $1.35 billion collaboration project with Daiichi Sankyo.
Since the two companies started working together last year, Enhertu has received approval for breast cancer patients who relapse or do not respond to standard care.
Aside from this, Enhertu is also under review as a treatment for stomach cancer.
Although the companies are still awaiting approval, the treatment is reported to have a great chance at approval because of its impressive ability to lower the risk of cancer patients' death by 41% compared to chemotherapy.
AstraZeneca's decision to boost its oncology segment by adding the likes of Alexion Pharmaceuticals and collaborating with Daiichi Sankyo guarantees that the company remains in a position to be able to deliver gains no matter what happens to the broader economy.
The continuous success for all the products in AstraZeneca's pipeline could lead to market-crushing gains.
However, investors who own the stock don't necessarily need to rely on luck to know that they are set to get a healthy return.
That assurance makes AstraZeneca a great stock to buy today and hold for a long time.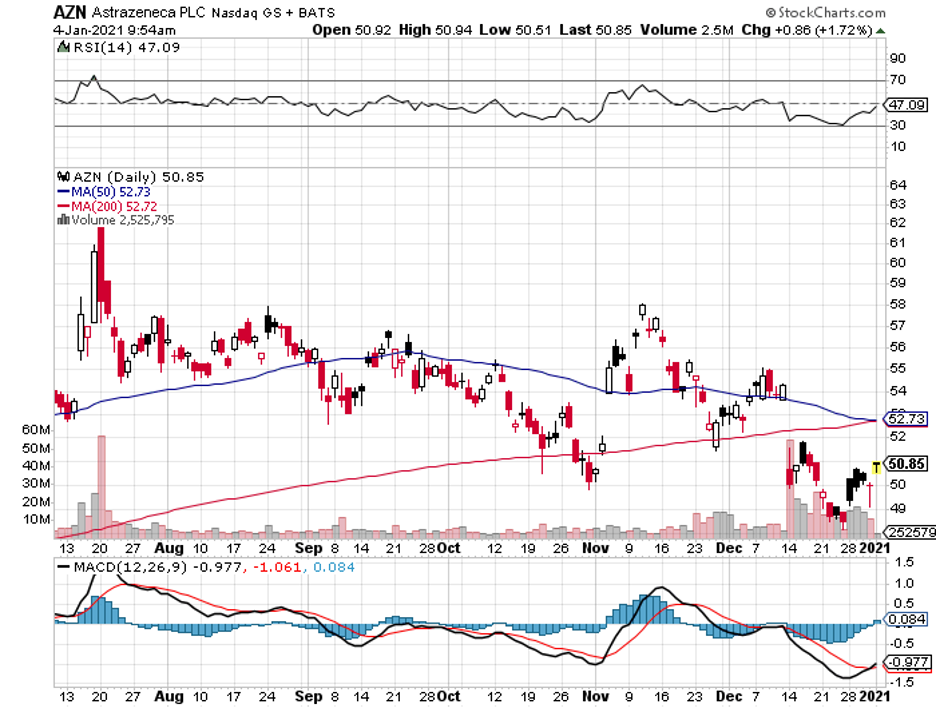 https://madhedgefundtrader.com/wp-content/uploads/2019/05/cropped-mad-hedge-logo-transparent-192x192_f9578834168ba24df3eb53916a12c882.png
0
0
Mad Hedge Fund Trader
https://madhedgefundtrader.com/wp-content/uploads/2019/05/cropped-mad-hedge-logo-transparent-192x192_f9578834168ba24df3eb53916a12c882.png
Mad Hedge Fund Trader
2021-01-05 10:00:03
2021-01-10 00:15:56
Why AstraZeneca Is Not Just A COVID Play