One of my predictions for this year just came true: the biotechnology buyouts have begun.
In my letter last January, I forecasted that the growing popularity of the mRNA technology courtesy of the COVID-19 vaccines from Moderna (MRNA) and Pfizer (PFE / BioNTech (BNTX) would trigger acquisitions of smaller biotechnology companies this year.
I predicted that bigger players in the healthcare industry would scoop up smaller players to stake a claim in this quickly growing space.
Topping our list of buyout candidates is Translate Bio (TBIO)—the very same company hogging headlines in the past days following its $3.2 billion acquisition by Sanofi (SNY).
The all-cash deal values each TBIO share at $38, representing a premium of over 30% above the stock's price. If all goes well, the deal should be completed by the third quarter of 2021.
This is one of the first major moves by Sanofi following the healthcare giant's recent pivot into vaccines.
However, this isn't the first time Sanofi and TBIO worked together.
The two companies have actually started collaborating back in 2018, working on a potential mRNA-based flu vaccine—a project that has Sanofi and TBIO ahead of the pack, with BioNTech and Arcturus Therapeutics Inc. (ARCT) trailing behind.
Sanofi and TBIO's mRNA seasonal flu vaccine candidate is expected to commence with Phase 1 results expected to be out by the fourth quarter of this year.
Considering that Sanofi is one of the leading vaccine makers in the world with roughly $3 billion in sales in flu vaccines alone in 2020, it won't come as a surprise if their candidate breezes through the trials. 
Even prior to this acquisition, Translate Bio has been working on using its mRNA platform to develop vaccines and treatments for a broad range of diseases like liver and pulmonary ailments.
So far, its novel pipeline has 2 clinical-stage programs along with 7 pre-clinical work covering direct therapeutics and vaccines.
One of its lead candidates is MRT5005, which is an mRNA-based therapy for cystic fibrosis (CF).
This is a groundbreaking treatment because it takes advantage of mRNA's capability to deliver proteins to lung cells. It's also extremely non-invasive, as patients can simply inhale the mRNA drug into their bodies.
Other than helping with the treatment of CF, this inhalation delivery system can also open avenues for other pulmonary targets.
Most importantly, TBIO's MRT5005 doesn't only offer treatments. It actually is a cure for CF.
TBIO's work on CF treatment is extremely important. This disease is terrible, recording a median age of death among patients in the US as 30.6 years old. In this country alone, over 30,000 people suffer from the condition, and more than 70,000 are recorded worldwide—and the numbers continue to climb each year.  
In terms of the CF market, the global demand for treatments for this disease is expected to reach $16.3 billion by 2026, hitting roughly 16.8% in CAGR over the years.
With the acquisition of Translate Bio, Sanofi plows ahead of its competitors in the space, including Pfizer, GlaxoSmithKline (GSK), Johnson & Johnson (JNJ), and Merck (MRK), as the sole Big Pharma company with a wholly-owned in-house mRNA platform.
This is on top of Sanofi's recent $470 buyout of another mRNA company, Tidal Therapeutics, to bolster its immuno-oncology and inflammatory diseases segments.
Apart from its aggressive buyout strategy, Sanofi also announced its plan to allocate roughly $476 million annually to a "vaccines mRNA Center of Excellence" with the goal of queuing at least six mRNA-based candidates in clinical trials by 2025.
Allotting $476 million to this plan is a telling move on the company's future direction, as it comprises a substantial fraction of Sanofi's $6.5 billion overall R&D budget.
These moves strongly signal that Sanofi's going all-in on the mRNA platform, which could obviously pose a challenge to the likes of Moderna and, of course, BioNTech.
With smaller cap companies like bluebird Bio (BLUE) and CureVac (CVAC) still up for grabs, it's only a matter of time before another big company decides to follow suit.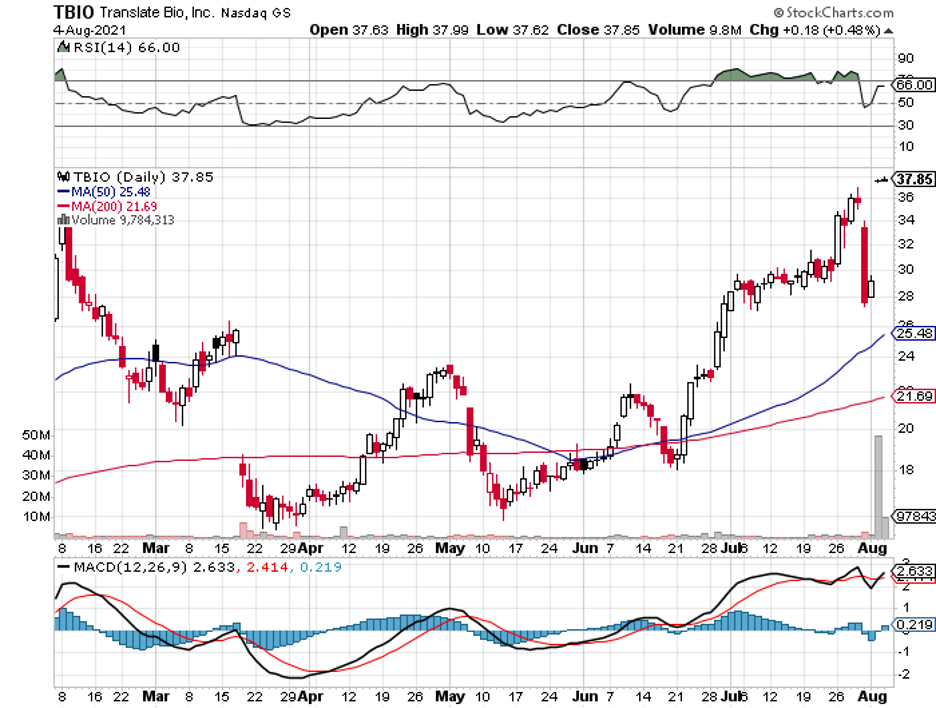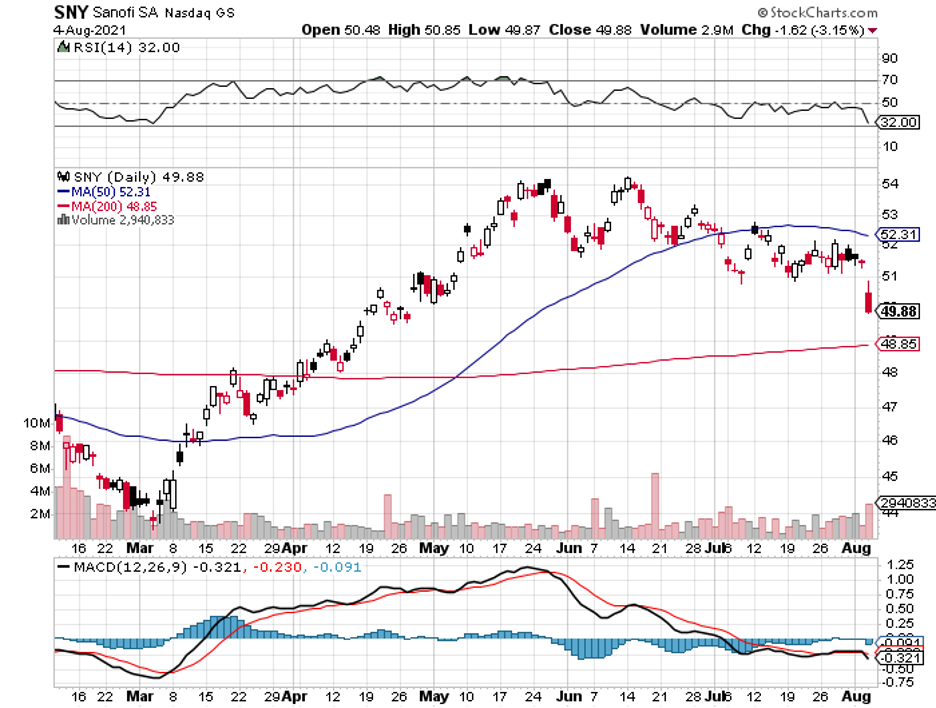 https://madhedgefundtrader.com/wp-content/uploads/2019/05/cropped-mad-hedge-logo-transparent-192x192_f9578834168ba24df3eb53916a12c882.png
0
0
Mad Hedge Fund Trader
https://madhedgefundtrader.com/wp-content/uploads/2019/05/cropped-mad-hedge-logo-transparent-192x192_f9578834168ba24df3eb53916a12c882.png
Mad Hedge Fund Trader
2021-08-05 16:00:53
2021-08-10 21:28:57
Let the Biotech Buyouts Begin