There's a wildly underrated and undercovered biotechnology stock despite its track record of creating long-term value and ability to outstrip its projected operational performance in the past years.
This stock is Bio-Techne (TECH).
Historically, Bio-Techne has reported impressively good margins, which could partly be attributed to the company's incredibly strong intellectual property position.
While Bio-Techne originally concentrated on offering biotechnology solutions, it eventually embraced a diversification strategy thanks to all the dealmaking it has been doing over the years.
Back in the 1990s, Bio-Techne struck deals with promising biotechnology companies like Amgen (AMGN) and even Genzyme to acquire sections of their research departments. 
Borrowing Warren Buffett's expression, Bio-Techne's value can be seen on the "owner earnings" it has been reporting. Thanks to a change in management in 2013, this sleepy high-margin company has been reinvigorated through various strategic acquisitions.
So far, Bio-Techne has three very active divisions.
It has its biotechnology division, which comprises 65% of its revenue and sells proteins, reagents, and antibodies right out of the freezer.
It has its protein platforms, which market instruments that push the use of the products sold by its biotechnology sector.
Lastly, it has its diagnostics sector that supplies equipment, such as those used for protein analysis, to other companies, including Thermo Fisher Scientific (TMO) and Abbott Laboratories (ABT). 
Meanwhile, Bio-Techne has been making progress in stem cell research and Car-T immunotherapy, along with other kinds of cancer research.
Sales have been climbing steadily, increasing by an average of 15.7% over the last five years, with room for margins to pick up as Bio-Techne continues to integrate acquisitions.
To continue expanding its business, Bio-Techne recently shared its decision to buy diagnostics company Asuragen for $215 million.
Founded in 2006, Texas-based Asuragen develops and produces test kits for cancer and genetic carrier testing.
Estimated to contribute $30 million in revenue, Bio-Techne is actually paying only a mere 7 times its sales multiple—with the potential to jump to about 10 times as future contingent payments could boost the purchase price by an additional $105 million.
Even if that happens though, Bio-Techne will still be pumping sales at an extremely favorable multiple compared to its current multiple.
Another major acquisition of Bio-Techne is its 2018 deal with Advanced Cellular Diagnostics, which was executed to boost its diagnostics portfolio.
At the time, Advanced Cellular Diagnostics' top line was already growing by 40% to 50%.
One of the most exciting products this acquisition added to Bio-Techne's lineup is a tumor diagnostic test.
For context, current diagnostic tests are only 75% accurate. In comparison, Advanced Cellular Diagnostics' test is 95% accurate. This makes the latter an extremely attractive product in the industry.
The company also has solid patent protection for new products focusing on gene and gene fragment probes.
Overall, the lineup from Advanced Cellular Diagnostics is estimated to bring in at least $50 million in additional yearly revenue for Bio-Techne.
The fact that it's growing by 50% annually makes the acquisition one of the best buys of this biotechnology company.
Since being founded back in 1976, Bio-Techne has established itself as a steady value creator.
Needless to say, Bio-Techne is a highly profitable business, with earnings anticipated to increase by 15% annually.
Looking at the recurring nature of the company's revenue, its consistent earnings, the potential of its Advanced Cellular Diagnostics purchase, and its prospects for more accretive acquisitions, Bio-Techne should be able to hold its mid-30s multiple to owner earnings.
Despite the pandemic's effect on the biotechnology and healthcare sector in 2020, Bio-Techne still reported a 45% growth in its annual sales to reach $739 million last year.
So far, Bio-Techne is on track for its goal to become an over $30 million type portfolio. In terms of its five-year outlook, the company is targeting to reach $1.5 billion in the next few years.
Surprisingly, it's still operating under the radar of the majority of investors, even in the biotechnology sector.
For biotechnology investors on the lookout for a value creator stock, it's wise to keep an eye on Bio-Techne. Simply checking its bolt-on M&A strategy combined with its steady organic growth rate, this company has the potential to provide long-term returns.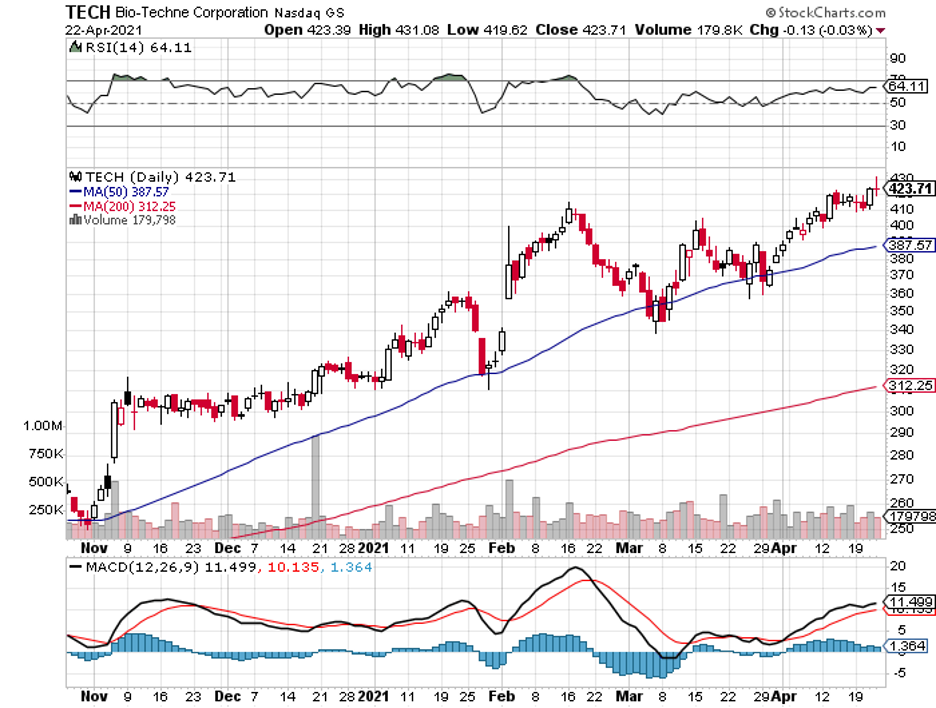 https://madhedgefundtrader.com/wp-content/uploads/2019/05/cropped-mad-hedge-logo-transparent-192x192_f9578834168ba24df3eb53916a12c882.png
0
0
Mad Hedge Fund Trader
https://madhedgefundtrader.com/wp-content/uploads/2019/05/cropped-mad-hedge-logo-transparent-192x192_f9578834168ba24df3eb53916a12c882.png
Mad Hedge Fund Trader
2021-06-17 16:00:56
2021-06-25 21:57:40
Value Creator Stock Operating Under the Radar